Legendarni američki bend kultnoga naziva, "...And You Will Know Us by the Trail of Dead" (znani i kao "...AYWKUBTTOD", te "Trail of Dead"), dolazi nam u klub Orpheum u Grazu 22/05!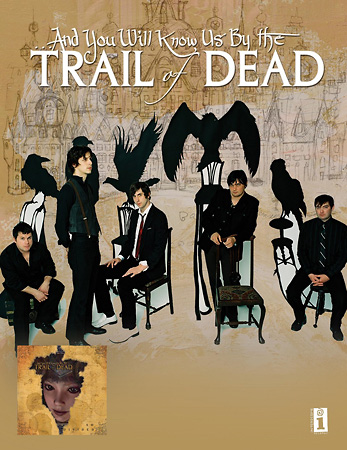 Ovaj sjajan band o kojem ste već
mogli čitati na terapiji
, a bome ih i vidjeti uživo na
sjajnom koncertu
prije nešto više od godinu dana u Zagrebu, vjerujem da je itekako poznat našim čitateljima, ali pro forme kratki bio za uvod (
duži potret pročitajte ovdje
).
Glavna dva kreativca u bendu su Jason Reece i Conrad Keely, prijatelji od djetinjstva, koji se izmjenjuju na bubnjevima, gitari i glavnom vokalu, što u studiju, što na koncertima. (Što između, što unutar pjesme!) Nakon nekoliko odvojenih bendova svakog od njih, dvojac se seli u Austin, Texas i uz pomoć Kevina Allena i Neila Buscha osnivaju You Will Know Us by the Trail of Dead 1994-te godine.
Četiri godine građenja kultnog statusa u indie krugovima ponajviše zahvaljujući ludim live nastupima, su morale proći do prvijenca "...And You Will Know Us by the Trail of Dead" (1998). Već naredne godine im izlazi ništa slabiji "Madonna". Naprosto sjajan
"Source Tags & Codes"
izlazi 2002-te, a onda ponovno dobivamo 2 albuma u 2 godine -
"Worlds Apart"
(2005) i
"So Divided"
(2006).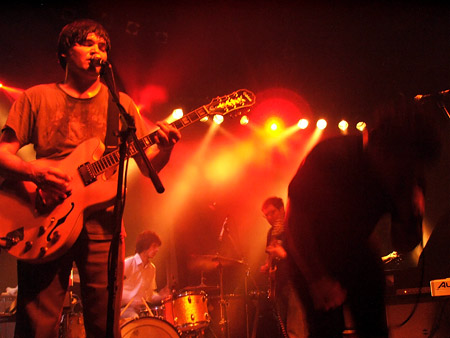 ...And You Will Know Us By The Trail Of Dead @ Zagreb, 02.03.2007. © sale
Kako sam njihov veliki fan, namjera ovog članka nije međusobno uspoređivati kvalitet njihovih albuma, čisto da se razumijemo, jer i njihovi fanovi lome koplja oko svojih najdražih. U svakom slučaju, sjajan bend, sjajnih live nastupa, što postavlja očekivanja za Graz jako visoko.
A ako je suditi po njihovim majspejs stranicama, očekuju nas za zagrijavanje i dvije neloše predgrupe - njemački
The Amber Light
, te kalifornijski
Bellavista
.
sale // 19/05/2008
PS: Inače, dan prije koncerta u Grazu su u bečkoj Areni, da ne bi bilo da vam nismo rekli...