Nakon poduže pauze će Tomi Phantasma u petak 19. rujna u zagrebačkoj Jabuci ponovno održati najpoznatiji mračni parti sa ovih prostora, Twilight Party na kojem će se odigrati warm up za predstojeći
koncert američke electro industrial atrakcije Combichrist
koji će nastupiti 15. studenog u zagrebaćkoj Tvornici Kulture.
Nakon sjajnih nastupa u Aquariusu, zatim sa Rammstein u Areni i Mortiisom u Boogaloou će Combichristu ovo biti četvrti posjet Zagrebu. Ovoga puta će predstaviti svoj novi, šesti studijski album
"We Love You"
na kojem je "ludi norvežanin" frontman Andy LaPlegua još jednom oduševio publiku novom dozom rasturajučih plesnih hitova.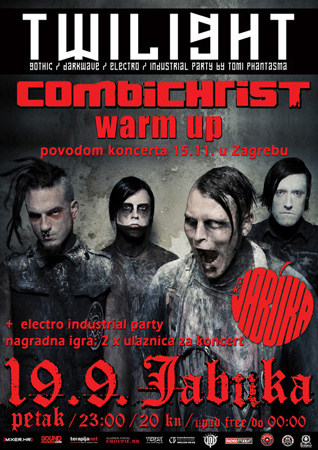 Nakon preslušavanja novog albuma će slijediti audio video presjek hitova Combichrista sve do 01 sat kada će na nagradnoj igri biti izvučena dva dobitnika koja će moći besplatno na koncert Combichrista u Tvornicu Kulture. Nastavak slijedi u sličnom tonu, tj Twilight stilu gdje će Tomi Phantasma vrtit žestoke, mračne i plesne hitove grupa Die Krupps, Nine Inch Nails, Ministry, Laibach, DAF, Covenant, Rammstein, Borghesia, Front 242, Nitzer Ebb, Skinny Puppy, Alien Sex Fiend, Big Black, Einsturzende Neubauten, Oomph!, Christian Death, Killing Joke, Young Gods, The 69 Eyes, The Sisters Of Mercy, The Cure, Bauhaus, Joy Division, Siouxsie, Virgin Prunes, Fields Of The Nephilim, Ultravox, Human League, OMD, Simple Minds, Diva Destruction, London After Midnight, Depeche Mode, Clan Of Xymox, David Bowie, Gary Numan, Orgy, Rosetta Sone, Marilyn Manson, Paradise Lost, Tiamat, Gothminister, Type O Negative, White Lies, Editors, Mortiis, Prodigy,......
Jabuka otvara svoja vrata u 23 sata, a fajrunt je u 05 sati. Ulaz je besplatan do 23 sata kao i happy hour do ponoći, a nakon ponoći je cijena ulaza 20 kn. Dobrodošli!
promo girl // 13/09/2014