U ponedeljak 13. srpnja će na zagrebačkoj Šalati legendarni Billy Idol održati svoj prvi samostalni koncert u Hrvatskoj
! Prije Idola će na pozornicu izaći zagrebački Psihomodo Pop i beogradski Partibrejkersi. Nakon koncerta će se u zagrebačkoj Jabuci (Jabukovac 28) održati službeni after party. Početak partija je u 23 sata, a ulaz je besplatan za sve posjetioce cijelu noć.
Billy Idol u sklopu svoje turneje promovira svoj novi, vrlo hvaljeni album "Kings and Queens of Underground", a pored toga će naravno odsvirati sve svoje hitove poput, "White Wedding", "Hot In The City", "Flash For Fantasy", "Catch My Fall", "Sweet Sixteen", "Rebel Yell", "Eyes Without Face", "Don't Need A gun", "Cradle Of Love", "Speed", "Shock To The System", "Super Overdrive" pa i nekoliko stvari svojeg prvog punk rock band Generation X čiji je i u originalu jedan od najvećih njegovih hitova "Dancing With Myself".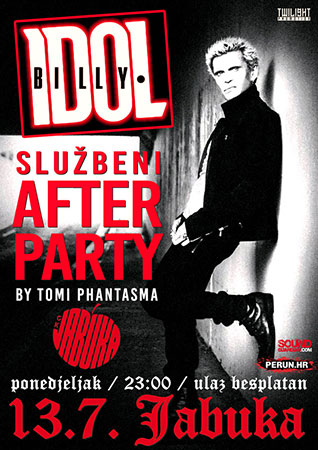 Na afteru naravno nećemo slušat cijelu večer samo Billyja Idola, pa će nam uz Billyja Idola Tomi Phantasma vrtiti glazbu iz osamdesetih po svome "jabučarskom" izboru, a to su bendovi poput; Iggy Pop, David Bowie, Blondie, The Stranglers, The B-52's, The Cramps, The Clash, Ramones, Pixies, Simple Minds, The Smiths, Talking Heads, The Jam, Lene Lovich, Siouxsie & The Banshees, Violent Femmes, Joy Division, Bauhaus, Killing Joke, The Cure, The Sisters Of Mercy, The Cult, Madness, EKV, Misfits, KUD Idijoti, Dead Kennedys, Depeche Mode, New Order, OMD, Ultravox, Human League, Soft Cell, Laibach, Video Sex,...kao i novije bandove koji "furaju" 80's stil; Heroes Del Silencio, Placebo, Editors, White Lies, Nine Inch Nails, Marilyn Manson, Garbage, London After Midnight, Killers,………
Facebook event.
Dobrodošli!
promo girl // 07/07/2015