Scott McCloud, after Paramount Styles concert @ MIKK, Murska Sobota, 19/11/2011.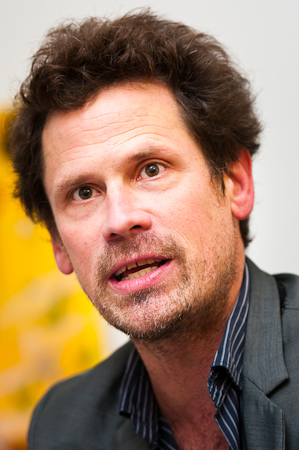 Scott McCloud (Paramount Styles) © Saša Huzjak
A small indie band
After the phenomenal Paramount Styles gig at Tvornica in Zagreb, we instantly wished to see them one more time in Murska Sobota the following night. Thanx to MIKK's promoter Tomica we had the opportunity to do an interview with Scott McCloud. At first we were more excited than schoolgirls waiting to meet Justin Bieber, but Scott turned out to be a perfect conversationalist and such a nice guy. Although he was - like us - at times rightly annoyed by the periodically too gabby audience, he politely took the blame for it, offered us a beer and began talking to us in a good mood. We gave him our compliments for the show but still felt the need to ask him about the noisy crowd during the concert. Scott answeres consideratelly:
- You know how it is when you don't have a good microphone. For this band, especially for the quiet stuff, I need a really good microphone because a lot of it is about the voice. If I don't have the power of my voice to help control and lead the crowd with us, I can't get them to stop talking. Normally I can get them stop talking if it sounds good. But we're a small indie band, we don't travel with our own sound man, we don't have our own microphones so...You get what you get, ever night you try to make it work the best you can.
That night Scott sang a song with the new Slovenian band Werefox that includes ex-members of Psycho-Path, another band that Scott also collaborated with. So what's the story with Scott McCloud and Slovenian bands?
- Well I guess the story is... it's not just even Slovenia, it's also Croatia where you guys are from. With Girls Against Boys we played in Ljubljana like in 1995…
- Yeah, '96. - the fan inside me feels the need to correct him.
- 1996., yes. I met a lot of people there, I met Mate Škugor who you guys know, of course. There was so much going on around that time, you couldn't play in Croatia because there was a war going on. And I met Psycho-Path at the same time so... I've always tried, especially in areas where there are cool bands, or I think they're cool, to offer my support if they're into what I do. To sing a song with them or something to try to help them. So Psycho-Path came on tour with us in Germany and as a support band a few times. But I try to do this because it's like I'm giving respect back.
In the spirit of similar collaborations, on this tour Paramount Styles played with Káča, cellist from Brno, Czech Republic. Scott emphasizes that he cooperates with different musicians, depending on the band's needs and where they play. Different classiclly trained musicians have played with Paramount Styles so far, like Julia Kent from Antony and the Johnsons or Simon Lenski, a famous Belgian musician from a band DAAU. For Scott, Paramount Styles' cello is kind of a secret weapon that enriches the songs. Bir and I nod approvingly while Scott continues:
- For me it is, personally. Some of our music is almost verging Girls Against Boys when it's noisy, but then there are those quiet moments with the cello, it's something that Girls Against Boys never did before. I like that very much beacause for me it's something new. So I've played with a lot of cello players depending on where we play. The thing is finding people that can do cello in rock. And also, cello players are often busy, they can't always do a tour.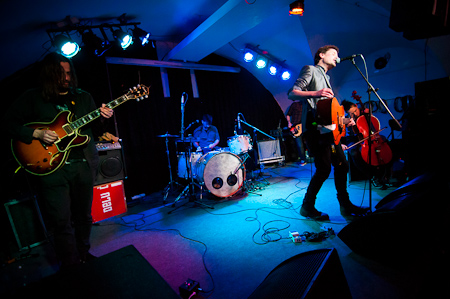 PARAMOUNT STYLES @ MIKK, Murska Sobota, 19/11/2011 © Saša Huzjak
A perfect show
I can't help myself, I have to go back to the concert they played the night earlier in Zagreb and Scott agrees it was a great show. Everyone I've talked to has the same comment: the sound in Tvornica was just perfect, which added to the overall experience.
- You should have recorded that for some live album, seriously!
- Yes. Last night, compared to tonight, the sound was perfect. Last night was a perfect show. Last night in Zagreb was exactly how I want the band to be like - this is exactly my musical vision of what this is all about. I'm so happy when it happens and I get a chance to present exactly how I want the band to be. And last night in Zagreb that's what I got a chance to do - it's exactly what it is supposed to be like.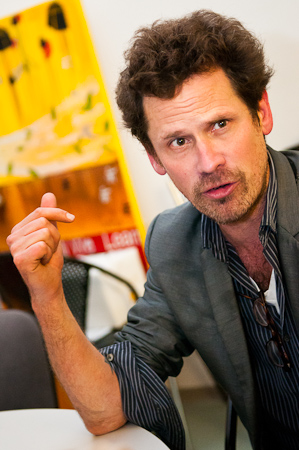 Scott McCloud (Paramount Styles) © Saša Huzjak
As if talking about how fucking good it was in Zagreb during our trip to Slovenia wasn't enough, the two of us feel the need to stress once more how happy we are to have been there. Puberty in your 30s is a really fucked up thing. In Zagreb I've already bothered Scott with all of this, but Bir unfortunately isn't aware of that, so this night it's his turn:
- Did you feel the feedback from the crowd?
- Absolutely! I felt the feedback. I'm a performer; I've been doing this for 20 years, so I also know when it sounds bad. What every person in the band looks for is that opportunity for that right moment, everything sounds right, and you get to make your music and involve all the people. And it's a wonderful night. This time you got lucky!
We laugh at his comment while the puberty shifts into a higher gear. Bieber fans have nothing on us. For anyone who still doesn't get it: I'm talking to a guy who has been my idol for the past sixteen years. Talking about Zagreb takes us further into the past and I have to mention the phenomenal concerts that Girls Against Boys had at KSET. Scott also remembers the atmosphere and the crazy audience from back then.
- I used to always ask Mate when we played there: "What the… Why? Why are people so crazy about Girls Against Boys??" Because every time we played it was at KSET, this tiny place, but it was so, so full! Really dangerously full of people. And it was so crazy, the audience was awesome. The second time I asked Mate what the deal was. I don't know if this is true, you will understand, but he told me that when Girls Against Boys was first around it was the early 90's while you guys were going through this whole war and this crazy thing, so the music everybody could hear left an impression on their brain. He said that's why people still like Girls Against Boys, because a lot of them remember these times that were an important part of your history. I feel so privileged to think that people in Croatia like our music, especially having experienced it in a stressful time like that. To me, the fact that Girls Against Boys music reached a lot of people is amazing!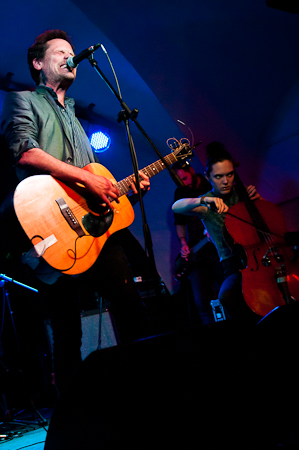 PARAMOUNT STYLES @ MIKK, Murska Sobota, 19/11/2011 © Saša Huzjak
That's typical for the Croatian concert crowd. Everybody knows the story about The National, Bir recalls that even as an unknown band they had more audience on their first appearance at KSET than anywhere else on that tour. And then this summer at Terraneo Festival they were the headliners playing in front of 10,000 people. Hmmm, Scott should drop by to Šibenik next summer, I think to myself. If so many people can come and listen to some Matt Berninger guy pretending to be the great Staples…Who wouldn't fall for a guy with a sexy voice who can write lyrics like
yeah, yeah, yeah, it's alright, it's nothing, so come on
and still make them sound swell?! But, our retrospective is over.
Songs are like stories
Bir wants to know if there is a story between Scott and various cities, concerning the fact that a couple of Paramount Styles songs are named after different cities.
- I'd say I have a romantic view of cities, I don't really know why. Part of it comes from touring for so many years. One of the things I love about touring is making the list of where we're gonna go. And I see city names and I think to myself: Wow, that's interesting, what's that gonna be like... I mean, everybody has their romantic version of cities like New York or Zagreb or Prague... You've heard about different places when you were growing up and you have this psychological idea of what to expect. And a lot of times it's not what you expect. I like that kind of playing with that idea because music is also like this. Rock'n'roll is like very much like that: you have an expectation of a place or a situation, it's a romantic idea - rock'n'roll is pretty romantic really, so are cities. So I like to sing about these things, because I've been to these cities and I've had the romantic version and also the terrible version of being there. I get a chance to know the city but usually not every time every city. I've been to Prague like 15 times in the last 3 years, I have my favorite hotel there, my favorite bar....
- And your favorite girls? - Bir refers to the song title ''Girls of Prague''. But it seems that we've missed the whole point; missed penalty in front of an empty goal. The crowd stands silent, in shock.
- ''Girls of Prague'' is about something else. I've read a magazine article about Eastern European sex trade and sex tourism, which to me seems very lonely. It is a very dark, lonely thing. And I remember in the old days when we were in Prague, there was so much prostitution around, you could see it. And to me that's really lonely and I wanted to write a song about it. So it's about people looking for something and they're not gonna find where they think they're gonna find it.
Let us change to a happier subject, the romantic visions of cities. An old article published by Pero Glodić in Arkzin comes to my mind; a lot of people saw Girls Against Boys songs and some of the lyrics as the perfect soundtrack for driving and traveling?
- Absolutely! With Girls Against Boys the main time I had to think about music was when we were traveling. So I was thinking about songs driving across United States, in the nineties that would be in a van. And you're driving up to a city and you see the skyline coming on the highway and you're thinking "What the fuck am I doing here? What is this place?" And then you meet people there, every city has a different form of cultural life, different way people do things, and it became kind of fascination for me because I travel so much. That's where I think about music, in the van, on the road... I used to sit and write my lyrics in the van, in the middle of the night, driving down the highway. Girls Against Boys mention the cities too, all the time.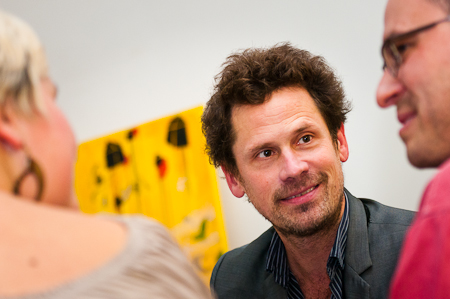 Scott McCloud (Paramount Styles) © Saša Huzjak
- Well then, since you've mentioned you don't have a name for that new song yet, maybe it could have something to do with Zagreb! - I'm laughing but at the same time I think to myself, it would be high time - you've played some great shows there, partied at the riverside bars…
- I could make it a Zagreb thing, yeah, hahaha. Although part of me thinks maybe I've done too many city names so maybe I should take a break? But, yeah, that was crazy. I like Zagreb very much, mostly because I have friends there like Mate and others. Those are like old-school friends and it's so nice to see them again. Part of the reasons I keep traveling around so much is to see all my old friends.
Awww. The robots turn back on. I think to myself, he is such a great guy, that Scott. I'll send him a friend request on facebook. Bir has no clue on what's going through my mind as he proceeds in a professional manner:
- That's nice. It enriches the overall experience.
-
Yeah, it does!
- see? We agree on everything. We're such a good team.
- It's a personal story. A band is like writing a book about your life. It's like a fabric; it becomes a part of you. Your songs are about your life…
- So is there a book about your life coming? - Bir giggles and I already have the title, in my head I'm writing the introduction and I'm thinking about the publisher that would be likely to get mixed up in all of this.
- Well, I've tried writing and… I'll try to write something about it, yes.
My thoughts return to the beginning of this night. Here I am, snug as a bug in a rug, and none of this would have happened if on our way to Murska Sobota Bir and I hadn't met with guys from terapija.net. This year their music portal celebrates its 10th anniversary and Bir comes up with an interesting parallel. Are there any anniversaries in Scott's life coming soon? When we talked in Zagreb, he mentioned the soon 20th anniversary of my favorite Venus Luxure No. 1 Baby…
- Well, I have a brand new baby boy son, - he surprises us with his answer - his birthday is in January, he's gonna be one year old, that's the most important anniversary I have coming up. And I've just turned 44 and it's been 25 years of me doing this. Also it's the end of the tour, I'm ready to take a break.
It's going to be a short break since he wants to make another record with Paramount Styles or maybe an EP. But we are so happy to hear that he's working on a few Girls Agains Boys songs. Another surprise!! But Scott won't let me get to excited.
- Let's see what happens.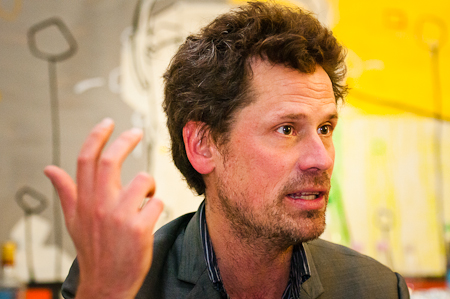 Scott McCloud (Paramount Styles) © Saša Huzjak
Girls Against Boys vs Paramount Styles?
From a small band Soulside to the swift ascent with Girls Against Boys, followed by not nearly as successful New Wet Kojak, with Paramount Styles he is back at the beginning. The circle is closed, but the music is getting better. Despite such remarkable career, it is clear that most of the people are always going to continue referring to his most successful band. Although, if I could force myself to pronounce the blasphemy, maybe I would even agree with Goran Pavlov from Potlista when he says that Paramount Styles are better than anything Scott ever did with Girls Against Boys.
Wait, who am I kidding? I would be happy as a clam at high tide to see them on stage again. Bir is hoping for reunion tour, aswell. Scott is not sure about the tour but he reveals to us that Girls Against Boys have one new song so far and it's a killer! OMG!! Ok, cool it, Martina. I think to myself, he must be tired of us and our questions about Girls Against Boys by now. But Scott proves me wrong, despite such diverse musical career and the occasional solo performances (Scott is going to perform solo in Athens on December 10th), he doesn't get tired of people asking him about Girls Against Boys all the time. In fact, he's proud of it. Well, he has every reason to be.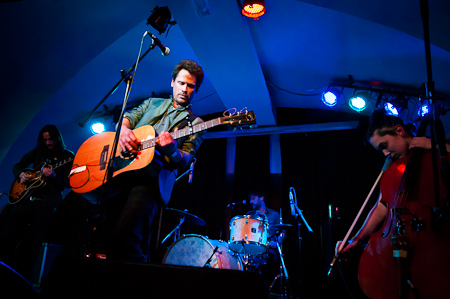 PARAMOUNT STYLES @ MIKK, Murska Sobota, 19/11/2011 © Saša Huzjak
- It's one of those things you appreciate more as you get older. When I was in the middle of it, years ago, I didn't have time to be proud of it because I was too busy trying to make it work. I'm so happy and proud that all these years later people still care about it. It's so flattering. I don't mind talking about it, I expect people to ask me about it and I'm totally happy to talk about it. I mean, I love Paramount Styles very much but what happened with Girls Against Boys at the time we existed was something so phenomenal. It only happens to a few bands. And it only can really happen to me once in a lifetime. I never would expect Paramount Styles to ever, ever attain the same thing. Girls Against Boys was a really special moment, it will never be repeated, I think. So I'm really proud that it was my band, and that we got to do it so well and the music is still so well known.
On our way to Slovenia Bir and I talked about Tod A from Cop Shoot Cop and his collaboration with an Italian ska-gipsy-brass-rock band Figli di Madre Ignota which has nothing whatsoever to do with Cop Shoot Cop's music. Another great band whose frontman ended up doing something completely different, maybe because of the same reasons as Scott. Because he knows Cop Shoot Cop is never going to happen again and it wouldn't make sense…
- Yeah, probably. You know, I love when Girls Against Boys gets together to play, which is rare, but I love doing it. I love playing the old songs. But I wouldn't feel good if I was still only making that kind of music. I mean, if we had stayed together and made five more albums, I think they would have all been the same, just repeating themselves. You have to grow and change and try other things. As an artist, like Tod, you want to experiment. Sometimes you realize experiment doesn't work and sometimes it does but you always keep trying, it's part of making music. You wanna turn yourself on, you can't just repeat yourself. Even if Girls Against Boys would have been more popular I'd still want to try other things. Because it's not about popularity, it's about trying something different.
Paramount Styles definately gave something different so they're pretty satisfied with the tour. At first this band was like a labour of love, Scott says poetically, and now it is getting slowly more and more well known. It's starting to get its own name, more and more people like it. Not just because it is Girls Against Boys related, they like it for it's own. I can see why: the band is evolving. Compared to album versions, the songs sound a lot more powerful when performed live and the general impression is that their last show at Tvornica took things to a higher level in comparison to earlier Paramount Styles concerts in Zagreb.
- Yeah, the band is evolving. I couldn't be happier, every tour we've done is always better and better. And it's a different band. I mean, the other times we played in Zagreb it was a three-piece so it's evolving, it's a full band now, more like a rock band but it still has all these other things that I like. And all these things are always a work in progress. Every musician is just looking for that moment of perfection. And you never get it, you know. You just keep going. We sound better live than on the record, I can tell you honestly. The records have great songs but as a whole I haven't yet achieved a perfect record with Paramount Styles. But live it is getting close, I think.
Need I say once more that the other night in Zagreb they got so damn close?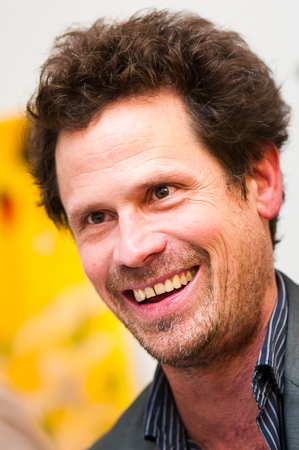 Scott McCloud (Paramount Styles) © Saša Huzjak
Everyday Scott
But what to do after the shows? When you're not in a band, there aren't many things you can do. You listen to the concert and go home back to your everyday life. This weekend we had the opportunity to enjoy two treats in a row, but for Scott things are not that different from the ''usual'', either. We all go back to our needs, jobs and families, and he returnes to his little son.
- He's amazing, a little 10 months old dude. I miss him so much. So I go back and do music and nowadays I also teach guitar. In Paramount Styles I play acoustic guitar, in Girls Against Boys of course I played electric guitar, and I'm a pretty accomplished metalhead. I can play that metal guitar really good. So I teach kids how to play Metallica, Megadeth and all these things. And I get paid, it's somewhat of my part time job. So I'll go back and next week I'll start teaching my kids some crazy songs from like Trivium or some metal band like this. So someday maybe I'll make a metal band, that would be nice. Maybe the Girls Against Boys new stuff will be metal, hahaha.
Hmm, Girls Against Boys with shredding solos, I actually know someone who would like that. We all laugh as Scott continues:
- I grew up listening to metal, early bands like Ozzy Osbourne, AC/DC... All that music influenced GBVS drastically. You can't really hear it in Girls Against Boys because it is fused with all these other things; rock and roll, heavy metal, all that stuff - it's everywhere in punk rock.
It all comes back, that's clear from the Misfits cover that fitted into Paramount Styles set list just perfectly. There's no business like Horror Business. It's all rock and roll!
- Yes. And thanks for coming, by the way! I talked to you last night, thanks for coming again and driving this distance.
Well, after the show in Zagreb we had no choice but to come and see them again. Bir also had other plans but we both agreed that Murska Sobota is not that far away.
-
''What the hell, it's Saturday, let's go to Slovenia!''
- Scott is laughing. Little does he know that fifteen years ago I missed the Girls Against Boys gig in Ljubljana and the opportunity to make an interview with him for the Croatian newspaper Arkzin. Back then I was only sixteen years old, and here I am today, a half of my lifetime later, making up for what I have missed. Paradise happens! The Universe and Bir made sure that everything fits perfectly. And so did a few shows on this tour, Scott continues:
- As a musician, that's what you're looking for. With Girls Against Boys it was the same thing, we played in front of a thousand people every night but still I was unhappy until we got this one or two nights a week when things would work. You can have a bad show in front of thousand people, believe me. Not for the crowd but for you it wasn't good. But that one night when you hit it and it's perfect, that's what you keep looking for. And in Zagreb it happened, and it happened a couple more times on this tour, a few times on the last tour so… It's enough to make me keep trying!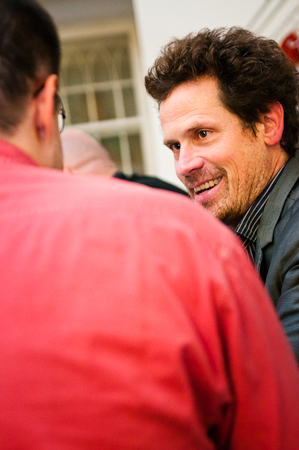 Scott McCloud (Paramount Styles) © Saša Huzjak
Bir noticed that shows like that are great opportunities to win some new fans. He refers to the concept of giving fans the opportunity to pay the amount they want for the music they like and is interested in Scott's opinion on SOPA (Stop Online Piracy Act), the new bill that has been introduced. Everyone knows that for quite some time now the main source of income for today's bands are no longer sold albums but the money they make from sponsors and touring.
- For me it's a new world. Music as I used to know it has no value anymore. Recorded music doesn't have value nowadays. Live music, experience of live show, that's what has value. Which is ok with me, to me it's not that big of a change. It just means that I keep on doing what I like, touring, playing live…Of course I like it when people pay for the music. When we play concerts, people still buy CDs but they do it to support the group. Which is wonderful because you have to support music if you like it. It is true that if everything is totally free online, then nobody pays attention anymore and it has no value. But I don't know where it is gonna go, if everything is available are people gonna stop caring about the music or is it going to go another way. I don't know.
I know myself, I have a bunch of burned CDs in my car and I just toss them around like it doesn't matter.
- Because you didn't pay for it! In the old days, when I was young, I'm sure it was the same for you, you had just a little bit of money, you went into a music store and said "this week I only got so much money, so I'm gonna buy this record''. And you chose really carefully what you are going to buy. And you brought it home and maybe thought you made the wrong choice but you would still listen to that record five-ten times to get something out of it. But nowadays everything's available and nobody really listens to anything anymore. They listen for two seconds, which is regrettable. Some people say it is the death of music. That there's just gonna be Lady Gaga, I don't know. I don't believe that, but it's definitely different.
He's right. I remember my monthly visits to a record store and how excited I was about choosing which album am I going to afford myself that month. Bir also recalls one time he went to the store where he had the chance to listen to some CDs and went out with five of them he wasn't even planning to buy. But that was ages ago…
- Yes, that was it. You listened to some music in the shop and 10 CDs and 200 Euros later went out. But that doesn't happen anymore. I know myself; people ask me what I listen to but I listen to ten seconds of everything. I don't' invest any energy or time because I don't have it. In the old days you heard about some band and wanted to listen to them but the record wasn't out yet, and then you wait for the record, you bring it home, put it on… Unlike today, that was a lot of emotional investment.
How do you spend your time and energy? Do you need a recommendation? Amongst tons of bands with wolves and crystals in their names, for the band with the paramount of style you really ought to find both. And emotions will come along with it.
See it and it will happen
Feel it and it will come
It was a real cool time
Interviewers: Martina & Bir
Text: Martina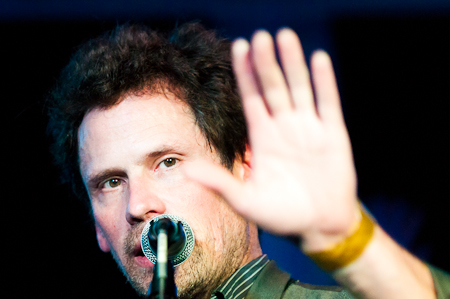 Scott McCloud (Paramount Styles) © Saša Huzjak
terapija // 03/12/2011