Australians have horse for every race and are showing this to the whole world by significant musicians such as AC/DC, Nick Cave, Dirty Three, Kylie Minogue... not to mention others. Just recently we were again reminded of this fact by the band named THE DEVASTATIONS.
Emerged from the remaining parts of the band LUXEDO, this three-man band from Melbourne is actual refreshment in the era of all sorts of " rock-and-roll rescuers". The album atmosphere is night, a bit smoky, sometimes sad, sometimes angry but before all love scented. First we can hear instrumentaly-calexico-like "He Wasn't Like That When I Knew Him"; after that beautiful cave-like "Loene"; followed by the strongest song of the album, tindersticks-like "Previous Crimes"; chris&carla-style "Love Doesn't End Like That" and pulpVsdirtythree "Under". This album has no week spots.
Conrad Standish has a brilliant voice (baritone, is what the experts say), as well as most of C/Konrad who are singing, Tom Carlyon creates some dramatic atmosphere on the guitar, whereas Hugo Cran hits the drums as they should be hit. On some songs they have had big help from their band-mate Emilie Martin, on the violin or vocally, whereas occasional use of keyboards, banjo or other percussions makes the whole atmosphere very nice.
Ten songs said all there was to say about author's feelings at this moment because lyrics such as "i start to shake when i'm alone" or "why the fuck did you leave?" cannot be repeated and cannot stay such for too long so I am expecting happier atmosphere on the next record if this is possible or necessary.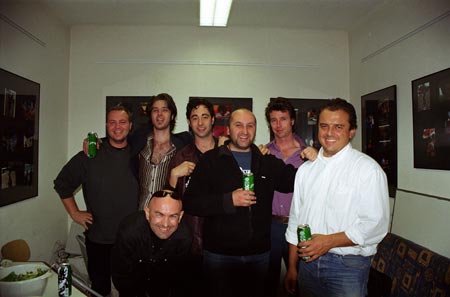 devastations & elektrik buttshaperz
These very nice Australians are at the moment on their European tour, but this time they will only transit Croatia when going from Slovenia to Serbia and afterwards to Bosnia. It is such a pity that domestic organizers were not in a position to bring such a band to Croatia, as this may have been the chance to see them before they become big (however wee may get lucky when they will be returning), what could easily happen with their second record.
Therefore my dear friends, I would recommend you to visit the nearest parts of our neighbouring country, Slovenia where you can see THE DEVASTATIONS, and places these are: MIKK (Murska Sobota) 26th of September 2003 and ORTO Club (Ljubljana) on 27th of September 2003.
grade [1-10]: 9

pedja // 24/09/2003
PS: touched by the hand of lana...