Volio bih da mogu s VELIKIM riječima započeti i završiti ovaj osvrt, jer Greg Dulli, Mark Lanegan i TWILIGHT SINGERS to i zaslužuju. No, kako se obično u takvim slučajevima dogodi, riječi nisu dovoljno VELIKE da bi se opisao događaj koji se zbio sinoć.
U popodnevnim satima gradom i internetom su kolale svakakve priče koje ja sad uopće nebih želio ovdje elaborirati, a zašto najavljeni CASUAL ELVIS nisu nastupili kao predgrupa to znaju oni, organizator i glavne zvijezde večeri. Umjesto njih, zagrijati nas je trebao Jeff Klein, vrlo nesimpatičan mladac pun sebe i multiinstrumentalista TWILIGHT SINGERSa, koji je nedavno objavio i svoj debi solo album, pa mu je to prilika bila da si radi promociju. Srećom nije predugo davio svojim znanjem sviranja gitare i upotrebe raznih efekata.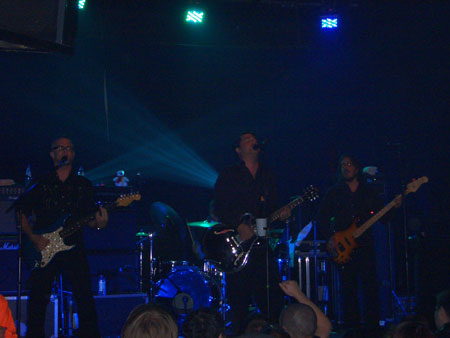 twilight singers © pedja
Oko pola 11 s Towards the Waves introm, na stejdž je ušla četvorka predvođena Greg Dullijem, malo težim i debljim nego što je bio u AFGHAN WHIGS danima, no to se sad fura. Lagana škembica i curice vrište. Krenulo je opasno. Esta Noche, I'm Ready, Bonnie Brae i Too Tough To Die, dio su novijeg opusa TWILIGHT SINGERSa kojeg bi i puno veći bendovi uzeli pod svoje. Klimaks u publici je stvoren, atmosfera totalno nabrijana, a petorka u crnom na stejdžu brije svoju briju. Nafrljeni do daske s ludim bubnjarom ove večeri nije moglo biti promašaja.
twilight singers ft mark lanegan © pedja
S prvim taktovima zadnjeg MASSIVE ATTACK hita Live With Me na stejdžu im se pridružuje Mark Lanegan, što atmosferu u prvim redovima dovodi do usijanja. Velemajstor je svoje četiri pjesme odradio čvrsto se držeći za mikrofon s obje ruke i pomičući samo usta za vrijeme pjevanja, bez obzira dal to bila bluzerska I'll Take Care of You ili rokenrol žestica Sideways in Reverse. Straaašan doživljaj!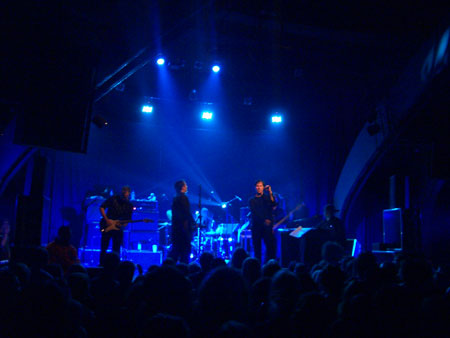 twilight singers ft mark lanegan © pedja
Mark odlazi, a Greg smiruje situaciju s Amazing Grace koja prelazi u King Only. Na Teenege Wristband umalo da se nisam srušio u nesvijest, al ne zbog "kelja" kojeg je bilo svuda oko mene, nego zbog jačine ove pjesme. Btw. nije da sam mu brojao ali stradala je bar jedna kutija cigareta u tih dva sata svirke od strane glavnog u bendu. Ovi ostali su si tu i tam sramežljivo zapalili. Živjeli stalci za mikrofon s držačima za pivu i čikobernicom!!!
Umjesto najavljene 66, Dulli je u sklopu Papillona, odrecitirao "It's in our heart It's in our head It's in our love Baby it's in our bed", refren pjesme Debonair, što su prvi redovi zdušno popratili odobravanjem.
S Forty Dollars i porukom "love is all you need, and all you need is love, she loves you yeah-yeah-yeah" završavaju oficijelni dio koncerta. Za mene prekratko, no ispalo je da je prošlo skoro satipol od početka svirke.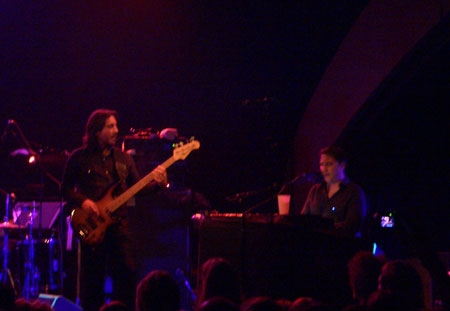 twilight singers © pedja
S Timberlakeovom LoveStoned za klavirom započeti bis na ovakvom koncertu, na što mi je Ramljak ukazao nakon koncerta, treba imati hrabrosti, a kad još k tome ta ista pjesme završi s Wolf Like Me od TV on The RADIO, onda to dokazuje genijalnost čovjeka kojem smo se te večeri došli pokloniti, što bi reko gorespomenuti. Za kraj su još sačuvali Lanegana da nam s Black is the Color of My Hair zaželi da dobro spavamo i da se nadamo ponovnom susretu s Greg Dullijem u bilo kojoj inkarnaciji.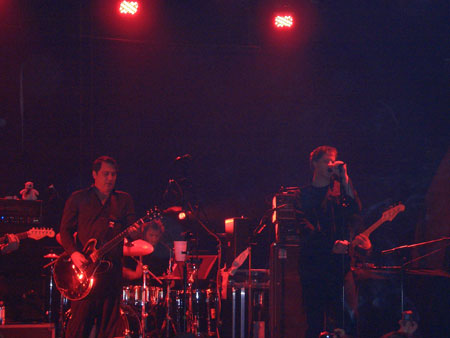 twilight singers ft mark lanegan © pedja
Ako bi trebao jednom rječju opisati kakav je bio koncert, bila bi to FAKINGREJT!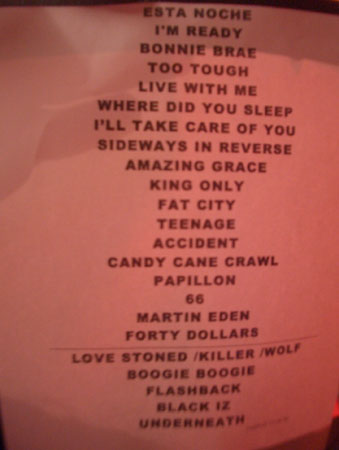 mali video isječak koncerta...

pedja // 07/12/2006

> vidi sve fotke // see all photos
PS: Mate, hvala još jednom!