''Psychobilly odmetnici'' iz Rusije, zvucilo je previse dobro da nebi otiso to pogledati.
Uvijek mi je zelja bila ici na neki koncert u Rusiju, a dok mi se to ne ostvari ovo je bila prilika da vidim neki ruski bend kod nas.
Postoje od 1989. godine i svirali su sa velikim imenima psychobilly scene po cijeloj Evropi, a sada su se predstavili i nama u ugodno popunjenom Ksetu.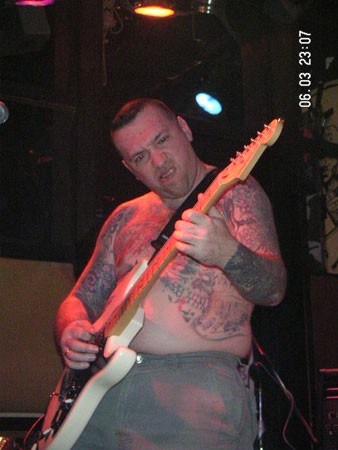 THE MEANTRAITORS (Rus) © faic
Koncert nije bio los, odlicni su muzicari, al meni se nekak previse furaju na Meteorse, cak im je i logo benda na foru Meteorsa, sve u svemu super koncert kakvih bas i nema u nasim krajevima.
Predgrupa su bili WELCOMIN' COMMITTEE IN FLAMES, japansko-hrvatska kombinacija garage trasha u pravom smislu rijeci!
Gledao sam ih puno puta do sad, al ovog puta su rasturali totalno!
Koncert im je zavrsio ispred stagea uz podrsku domacih fanova, super!
WELCOMIN' COMMITTEE IN FLAMES (Zg/Tokyo) © faic
E da, i japanka je bila obucena u japansku skolsku uniformu…
faic // 13/03/2007

> vidi sve fotke // see all photos