Te 1990 njihov je debi album, A Catholic Education, proglašen jednim od najboljih, ako ne i najboljim ostvarenjem godine. I dok su perjanice tadašnje scene (COCTEAU TWINS, RIDE, MY BLOODY VALENTINE, NIRVANA…) već poodavno rasformirani, deformirani i raspušteni, oni pokreću svoju etiketu PeMa na kojoj objavljuju osmi studijski album.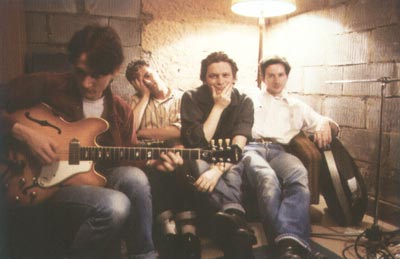 TFC cca 1989
Oni koji dosad nisu čuli za njih, vjerojatno nikad i neće. I netrebaju. No ima onih koji s velikim iščekivanjem očekuju svako njihovo izdanje. Neki su se navukli još na prvi singl "Everything Flows", neki na remek djelo zvano Bandwagonesque (koji je stao rame uz rame s veličinama kao što su NIRVANIN Nevermind, Loveless od MY BLOODY VALENTINE ili
Out of Time od R.E.M.
), a neki su se predružili nešto kasnije uz "Star Sign", "What You Do To Me" ili "Your Love is the Place Where I Come From". Ko na najbolju drogu, kad se jednom navučeš na TFC, teško ih se riješiti.
Iako TFC nisu bend koji štance hitove, njihova pretprošlogodišnja kompilacija Four Thousand Seven Hundred And Sixty-Six Seconds: A Short Cut To Teenage Fanclub, pokazala je da im ideja i odličnih pjesama nikad nije nedostajalo. Stoga ih nisu uzalud prozvali "The Second Best Band in the World".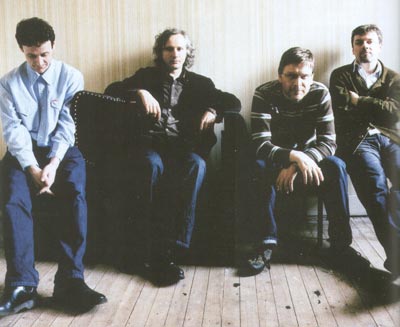 TFC cca 2005
Kad bi htio klišeizirati, mogao bi reći da je Man-Made njihov najzreliji album dosad. To je i istina. Istina je i da su TFC zreli otkad su počeli svirati, ali nikad nisu prezrelili ili istrulili. Tako na Man-Made nismo dobili ništa novo, osim što su im se kose prorijedile i prosijedile, melodije BYRDS vs BEACH BOYS prisutne su i ovdje, no sve je manje i manje je gitarskih distorzija, a sve je više folk-pop melodija. Prvi singl "Fallen Leaves", kao i "Only With You" ili "Feel" ravnopravno mogu stati uz ranije njihove hitove, a sve ostalo odlična je podloga za sanjarenje, surfanje i mnogoštoštadrugo.
ocjena albuma [1-10]: 8

pedja // 27/05/2005