Trojac iz Lavala osnovan 2008. radi u sastavu Ditow (vokal, bas), xBartx (vokal, gitara) i Timmy (bubnjevi). xBartx i Timmy ranije su bili članovi Sling69, a bend na promo fotosima ne voli pokazivati lica. Na svim zvaničnim fotografijama su im odrezane glave. Press materijali i biografija im je štura, gotovo bez podataka.
Ovdje nam je dostavljeno reizdanje njihovog EP-ija iz 2010. koje je prvotno objavljeno kao samostalno izdanje. Riječ je o mješavini bluesa i hardcorea na noise-rock bazi sa vrištećim vokalima što u principu referira onu klasičnu noisersku kulisu s brundavim basom, zvečećom gitarom i nešto bržim tempovima. Jedino posljednja "Outro" sadrži klasični akustični tromi blues, dok je preostalih 6 pjesama sabijeno u relevantne obrasce stila koji ne bježi mnogo od noise-rocka. Uvodna "Among the ashes" izranja iz dugačkog gitarskog staccato blues-mraka, a onda u 2. minuti počinje umjereno hc rafaliranje do refrena, pa malo breakinga, laganije dionice i naposljetku dinamičan gitarski legato finiš s ponekim izletom u noise na završetku svakog riffa.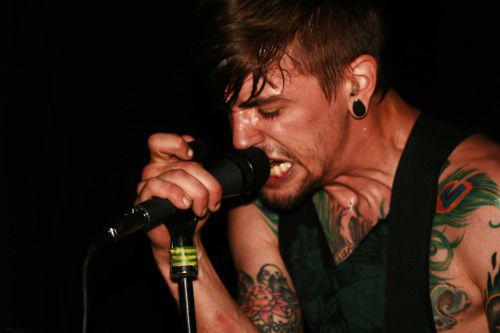 U tom kontekstu su im sagrađene sve pjesme s inverzijama u kojima nema ovako dugačkih solo uvoda. Vrlo kratka "Colossus" se giba početnim galopirajućim tempom s nekoliko breakova i rešetanjima, a tu se već može primijetiti konstantno učešće minimalističkih gitarskih legato mantri po čemu je očito da nemaju adekvatnijih riješenja. "Words of astaroth" je izgrađena oko melodične bas linije na koju je xBartx nafilao i ponešto sitnih gitarskih staccato intervencija, a pjesma se izdvaja po završnim grlenim ovacijama. "The ace of fools" je u mid-tempu sa nešto solidnijim gitarskim radom, "Chat noir" ima ponešto kompleksnosti, a uz uvodnu najdulja "A kid called dreamer" kulminira dramatičnim raspletom.
Vidljivo je da svirački nisu osobito jaki i da idu 'grlom u jagode' na 'šus i druk' što im se pokazuje najjačim oružjem. U tom pogledu kod nas postoji mnogo boljih i kvalitetnijih bendova koji rade sličnu mješavinu stilova, tako da Birds In Row, barem po ovom izdanju ne ulaze u onu visoku ligu etikete Throatruiner Records, a niti francuske underground scene.
ocjena albuma [1-10]: 5

horvi // 04/03/2013