Osnovani 2004. u Brestu, prvi EP "Dawn Of Everything" su objavili 2006., pomalo svirali koliko se moglo s obzirom na demo status i stalne promijene članstva, a onda su ubrzo nakon drugog EP-ija "Awaken By Hate" (2008) učvrstili konstantnu postavu i krenuli smiono na pohod za velikim nastupima. Jedan od najznačajnijih u dosadašnjoj karijeri bio je 2010. na Motocultor Festivalu sa bendovima Dagoba, Koritni i Madball.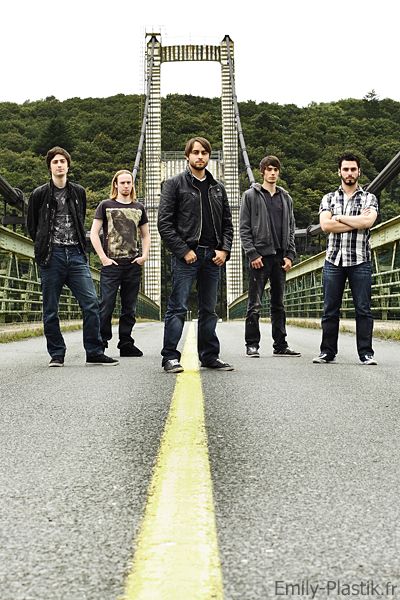 Bend čine Theophile Rouxel (vokal), Marc Le Gall (gitara, prateći vokal), Esteban Segalen (gitara), Damien Pailler (bas, prateći vokal) i Lucas Joly (bubnjevi), te su homogenim snagama realizirali ovaj debi album snimljen u The Dome Studio s braćom Davidom i Franckom Potvinom (Lyzanxia, One Way Mirror, Phaze I). Album ima 11 pjesama s tematikom o životnim preokupacijama, lutanjima, emocijama, neispunjenim željama i strahovima u vrlo lijepo sročenoj lirici koja prožima nekoliko nivoa percepcije i raspoloženja od senzibilnosti sve do mrakova, depresije i bijesnih frustracija. Ništa spektakularno ili novo, ali već samom poetikom zaigraju u srce zbog uvjerljivog, melodičnog i čvrstog vokala koji u gomilama dionica podsjeća na mlađahnog James Hetfielda u različitim raspoloženjima.
U tu idealno posloženu sinergiju pravog vokaliste s dva gromka prateća glasa i ozbiljnih tekstova najvažniji naglasak stavljen je na riffove i melodije, te aranžmanske zahvate koji pršte grandioznošću i obiljem referenci od starog bay area thrasha, klasičnog heavyija, sve do metalcorea, groove i tehnical deatha. No, upravo Hetfieldovski vokal i koncentrirana thrash energija najviše dozivaju u sjećanje onu staru Metallicu (a i Testament i Megadeth) gotovo u svakoj pjesmi s kontrolirano odmjerenom dozom. Prve dvije "Stone skin" i "I forgot who I am" (s laganim auto-tune efektima) pune su upravo spomenute kompleksnosti, a onda šibaju pravu Metallicu u "Dead inside" s razvučenim i tromijim refrenom, a kroz "Behind the eyes of ignorance" dodaju i tehničkih virtuoznosti. Vrhunac doseže "Despicable life", pjesma taman pogodna za mosh-pit s gromoglasnim arijama.
Predah od distorzija pruža neočekivana balada "Against the dreams" u stilu Metallice, a vokal Rouxela se nevjerojatno preobrazio u slatkastog pop pjevača kakvih je u metal bendovima bilo na kile u 80-im. Pa, čak nije niti specifičan za metal, više bi se reklo za pop-rock mainstream, ili bolje rečeno u fahu današnjeg indie šablona. Onda dalje slijedi bijesna gruvačina "Way of life", pa "Another day to survive" puna zapetljanih riffova i grandioznih solaža, ali i zvonkih refrena, te na kraju dvije thrash-ijade "The will to change" i galopirajuća, a ujedno i najdulja "Buried alive" s trijumfalnom, vrlo glamuroznom završnicom koja odlazi u fade-out.
Najproduktivniji i najkompleksniji dio ove svirke su izrazite gitarističke melodije s učestalim, ali pomno dotjeranim promijenama koje ne narušavaju sklad harmoničnosti. Pjesme su im detaljno dorađene, niti jedna nema izgubljenih vrludanja, te je očito da je bend u potpunosti kompozitorski sazrio za velika djela i velike pjesme. Tko zna, možda je ovo budući veliki bend. Svi parametri upućuju na to.
ocjena albuma [1-10]: 8

horvi // 18/03/2013