Pune 3 godine nije bilo Davida Tibeta s nikakvim novim izdanjem. Već smo se zabrinuli da ga nije spopala neka bolest, umor stvaranja, letargija gledanja kako mu kvazi neo-folkeri oduzimaju teren ili da je čisto odlučio da se posveti porodičnim obavezama, pljevljenju vrta i povremenim provjeravanjima koliko će mu kapnuti tantijema od ne osobito uspješne karijere. Takvu dugačku pauzu nije imao do sada i bilo je za pretpostaviti kako se s njime nešto ozbiljno događa. Dobro, radio je na opsežnoj knjizi stihova "Sing Omega" od 560 stranica i bavio se poezijom.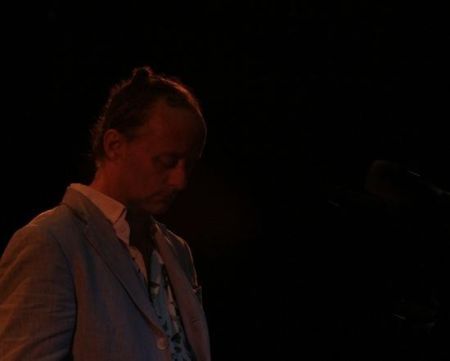 David Tibet
Ali ne! Mršavi i blijedi nadobudni proćelavi starac se vratio u sjajnom izdanju okruživši se impozantnom količinom muzikanta i vokalista između kojih su, pazi sad: Nick Cave, Antony Hegarty, Ossian Brown (Clyclobe i Coil, radio na albumu "Aleph At Hallucinatory Mountain", 2009), John Zorn, Andrew Liles, članovi The Groundhogs (McPhee i Carl Stokes), te još najmršaviji od svih njih Jack Barnett (These New Puritans). To je garancija da pred sobom imamo odlično glazbeno djelo, svirački sjajno obavljeno s jednim moćnim i iznenađujuće rockerskom komadom ("Those flowers grew") koji se nadebelo razlikuje od njegovog prošlog komornog albuma "Honeysuckle Aeons" (2011), a naravno i obvezatnom porcijom tužaljki i laganih lamentacija u kojima na svu sreću ne manjka glazbene dinamike, eksperimenata, psihodelije i prijeko potrebne minimalističke fleksibilnosti ("The invisible church", "Kings and things", "The heart full of eyes", odlična "And onto PickNickMagick", efektna i plesna "Spring sand dreamt larks" s John Zornom na saksofonu).
Tibet je nakon duljeg vremena i 'propjevao' u potencijalnom, vrlo zabavnom humpa-cumpa hitu "I remember the Berlin boys" aludirajući na sofisticirana vremena 70-tih kada se rađala velika avangardna snaga rocka koju nije uspio uhvatiti. Hitić bi donekle mogao iscimati obožavatelje Caveove "The weeping song", međutim potpuno alternativna narav mu ne dozvoljava da napravi pop-klišej s refrenima niti u skromne nepune 4 minute. Tu se zeznuo, barem kod ove pjesme...
Nick Cave je dobio vodeću vokalnu ulogu u završnoj laganici (a u čemu drugome?) "I could not shift the shadow", a Antony Hegarty mu se pridružio za mikrofonom obostrano koristivši duet i u pjesmi "Mourned winter then" koje upravo zbog njihovih karizmatičnih vokala posve odudaraju od ostatka materijala uputivši slušatelja na sasvim drugačije rezone percepcije.
I kao što to običaj biva, slušati 9 solističkih Tibetovih naracija u kojima jedva da ima pjevanja ponovno stvara onu specifičnu težinu zbog koje Current 93 niti nakon više od 30 godina karijere ne mogu i neće isplivati iz opskurnog i kultnog undergrounda. Nije stvar u tome da Tibet ne umije interpretirati svoje stihove; on se strastveno uživi u njih, ovdje je dao neke od ponajboljih vokalnih rola, ali ama baš gotovo sve mu se svode na jednu te istu liniju u kojoj nema nikakvih značajnijih odstupanja osim što neke stihove naglasi do jecaja i bolnih krikova. Kao pjesnik je i dalje darovit i poseban, pun je metafora i bogatih formi sa sadržajem apokaliptičnih slika, predviđanjima skorog smaka svijeta, izolaciji društva, galaktičkim transformacijama i neprestanih posezanja iz prošlosti u sadašnjost i u budućnost koju vidi pesimistično i vječito ezoterično.
Najveću zaslugu za bogati glazbeni kolaž ima pijanist Reiner van Houdt bez kojeg bi kompletna slika ovog djela bila beznadežna, te Carl Strokes koji je bubnjevima popratio njegove minimalističke radnje. Da je ovdje još poneka žešća rockerskija pjesma ne bi nimalo škodilo, ovako kako jeste, već nakon prve 3-4 stvari slušatelj se promišlja ima li strpljenja dočekati kraj.
Glazbeno vrlo kreativan i bogat minimalizam, lirski odlično djelo, ali monotono i stilski jednolično, a s time si David Tibet nikako ne može proširiti krug audijencije.
Naslovi: 1.The invisible church, 2.Those flowers grew, 3.Kings and things, 4.With the dromedaries, 5.The heart full of eyes, 6.Mourned winter then, 7.And onto PickNickMagick, 8.Why did the fox bark?, 9.I remember the Berlin boys, 10.Spring sand dreamt larks, 11.I could not shift the shadow
ocjena albuma [1-10]: 8

horvi // 11/04/2014