Nije nikakvo iznenađenje da ovaj opako frustrirani deathcore/nu-metal/metalcore peterac iz New Fairfielda (Connecticut), a sada s prebivalištem u Queensu (New York) ima zavidnih uspjeha u USA. Vrtio ih je MTV (video "False love in real life", 2009), trpali su se na turneje s Attack Attack!, Of Mice & Men, Pierce The Veil, Asking Alexandria, Chiodos, Parkway Drive, We Came As Romans, The Human Abstract, Suicide Silence, Five Finger Death Punch, Trivium, Killswitch Engage tokom posljednjih 5-6 godina, a naposljetku, sviraju i pjevaju upravo ono što klinci, tinejdžeri i post adolescenti, maksimalno do 25-30 godina i traže od stilova s kojima barataju. Svi albumi su im jako dobro prošli na tržištu, a tri posljednja su ostvarila i lijepe USA top-100 plasmane: "Felony" (2009, USA no.60), "Speaker Of The Dead" (2011, USA no.68) i "Slave To The Game" (2012, USA no.58). Imali su znatnih previranja u postavi kada su ih ostavila braća Lionetti zbog nesuglasica, čak su se i ozbiljno potukli s frontmenom Frankie Palmerijem zbog jedne pjesme javno ga nazvavši najgorim ljudskim smradom koji u krugovima fanova važi za arogantnog, ali njima odvažnog sljedbenika Fred Dursta i Jonathan Davisa.
Naravno, i pretpostaviti se može da ovakav tip ne pjeva o ničemu bogznašto značajnome. Svatko tko je poslušao barem jedan njihov album (meni osobno zadnja dva nikako nisu 'sjela') zna da je Palmeri sklon samo bizarnim bedastoćama, pa tako ovdje isporučuje gomilu šašavoća u kojima, nažalost, klinci uživaju. U uvodnoj, naslovljenoj "(Untitled)" vrišti 'donesi sačmaricu u školu', prvi singl "Nemesis" razvezuje osvetničku priču kako smi svi mi hrpa govana koju treba poubijati, te su mu sve teme ciljane priče mladih osnovnoškolaca i srednjoškolaca koje muče jedne te iste frustracije, mržnje, prezir... Djevojke su drolje koje svima puše kurac i sa svima se karaju samo ne samnom, one starije od 40 godina su zahrđale ("Girls don't like boys, girls like 40's and blunts") svi su pederi i pokvarena gamad, jebeni motherfuckeri i bla, bla, bla... Tek u završnoj "We were just kids" Palmeri pruža neku atmosferu i emociju koja konačno nije ljutnja i u rijetkim trenucima ovog 45 minuta nafuranog mačo dnevnika pojebanog tinejdžera naziru se sposobniji detalji da momčina napiše nekakav iole pristojniji stih.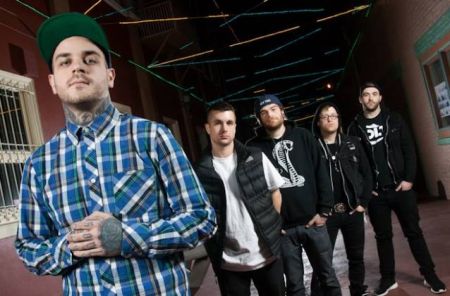 Emmure band
Sve to u globalu niti malo ne odudara od poezije Satana Panonskog, a na takav svjetonazor padaju horde klinaca zbog svih tih perverzija, vulgarnosti i banalnih štoseva s kojima vole biti šokirani. S druge strane, bend se znatno poboljšao uvođenjem elektronskih elemenata, doduše pjesmarica im je uistinu predugačka (15 naslova), ali Palmerijeva ekipa uistinu solidno praši križanac svega i svačega. Produkcija je izuzetna, kompaktna i odlična, svirka je bogati i snažni kolorit spomenutih stilova, jako je moderna, nabijena groove elementima (odličan bubnjar Mark Castillo), zdravim dozama nu-metala koji nadebelo manjkaju Limp Bizkitovim zadnjim radovima, te kažem, da imaju pametnijeg i pribranijeg scenarista za liriku, ovo bi bio jako dobar bend.
Naslovi: 1.(Untitled), 2.Nemesis, 3.N.I.A. (news in Arizona), 4.The hang up, 5.A gift a curse, 6.E, 7.Like Lamotta, 8.Free publicity, 9.Most hated, 10.Grave markings, 11.Hitomi's Shinobi, 12.Rat king, 13.Girls don't like boys, girls like 40's and blunts, 14.New age rambler, 15.We were just kids
ocjena albuma [1-10]: 5

horvi // 30/05/2014