Melvinsi sada već po običaju tradicionalno godinu završavaju novim, 20. po redu albumom s uobičajenim promjenama. Ostali su samo kao osnovna četvorka King Buzzo, Paul Leary i JD Pinkus na žicama (oba su članovi Butthole Surfers), te bubnjar Dale Crover, ali i dalje imaju sitnih eksperimentarija sa samplovima i kojekakvim zvučnim dodacima koji su najoučljiviji u komičnoj ekstazičnoj psihodeliji "Barcelonian horseshoe pit".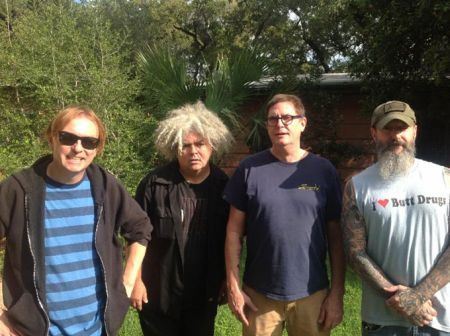 Melvins 2014
Njih je redovito nesuvislo doživljavati ozbiljno. Niti malo ne mare za feedback, mnogi smatraju ovaj album promašajem i razočarenjem, ali Buzza to niti najmanje ne brine isto kao otprilike i Butthole Surfers u 80-im godinama prošlog stoljeća. Nakon što na ovome albumu izredaju nekoliko sludge komada "Bride of Crankenstein", "You van make me wait", "Brass cupcake" i posve šašavu kompleksnu "Onions make the milk taste bad" (luk mlijeku daje loš okus, hahaha), već na samom startu je uočljivo da ovo i nije tako sirova i distorzirano nabijena svirka, te da se ovdje mogu pronaći sasvim neočekivana iznenađenja od kojih se starim fanovima prevrće želudac. Prvo od njih je "Eyes on you" u glam-rocku, pa prtljanje po tromijem sludgeu ("Sesame street meat"), punku s hc/noise frazama Butthole Surfers ("Nine yards"), dugotrajno bluesiranje ("The bunk up") ili nevjerojatan retro korak u bubblegum 60-ih nalik na The Beatles u "I get along (hollow moon)" s primjesama rockabillyija uz neizostavnu psihodeličnu seansu. Da su totalno opičeni zajebanti po tko zna koji puta dokazuju u satiričnoj posveti Kris Kristoffersonu "Piss Pisstoferson" odsviravši prozaično proziran country na prljavi garažni način, a sav onaj egzibicionizam s eksperimentarijama i vragolijama kako im padne na pamet isijavaju u završnoj "House of gasoline" razvučenoj na čak 12 minuta šarafljenja distrozija gitarskih papučica i samplova praktički bez ikakvog reda vožnje.
Kako im se prohtije, Melvinsi se zafrkavaju do mile volje ne očekivajući nikakve pozitivne reakcije, hvalospjeve ili salve oduševljenja jer su odavno uronjeni u svoje privatne meandre kao lucidna ekipa kreativaca kojoj nitko ne može sugerirati naputke za miješanje boja. To ih niti ne zanima s obzirom da prangijaju već 3 decenije bez osvrtanja na neki ekonomičniji, što će reći primamljiviji sadržaj s kibiciranjem potencijalnih potrošača. Za njih je to gubljenje vremena. Uzmi ili ostavi. Umjetnost? O, da. Naravno. Melvins su umjetnost rocka.
Naslovi: 1.Bride of Crankenstein, 2.You van make me wait, 3.Brass cupcake, 4.Barcelonian horseshoe pit, 5.Onions make the milk taste bad, 6.Eyes on you, 7.Sesame street meat, 8.Nine yards, 9.The bunk up, 10.I get along (hollow moon), 11.Piss Pisstoferson, 12.House of gasoline
ocjena albuma [1-10]: 5

horvi // 20/01/2015