Francuski trojac HoaxHoax su sasvim sigurno vizualno zanimljivi na živim nastupima. Mnogo eksperimentiraju, sviraju gudalima gitare, koriste mnogo papučica i pedala, te se takav nastup doima efektno, međutim, ruku na srce, glazba im je vrlo dosadna instrumentalizacija bez vokala.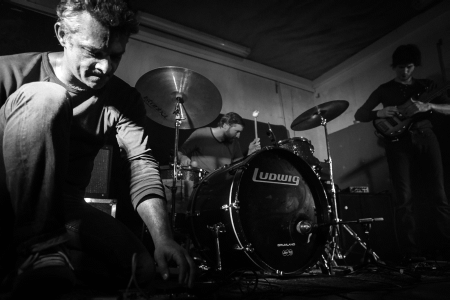 Osnovani su 2011. i od tada rade u nepromijenjenoj postavi (Virgile Abela, David Merlo i Damien Ravnich). Interesantno da su dvije godine svirali isključivo samo za sebe, a prvi nastup su održali tek 2013. i onda odlučili snimiti debitantski EP kod Espace Juliena u Marseilleu koji im je otvorio vrata za dvadesetak koncerata po Francuskoj i Belgiji s američkim Enablers, francuskim Lunatic Toys, talijanskim Uzeda i Lo Monade Stanca, te belgijskim The Iast Wolt. Ovaj debi album od 55 minuta snimili su 2015. prvotno kao d.i.y. izdanje, a onda im je uskočio Atypeek Music koji ih je sredinom veljače 2016. plasirao na 4 različita nosača zvuka u USA, Europu i Japan uz distribuciju još 3 etikete.
Ovakav poduzetan izdavački posao trebao bi rezultirati i zanimljivim materijalom, zar ne? Odnosno, trebao bi kao takav biti, on možda to i jeste nekome tko se pali na dovitljivu vizualizaciju svirke gudalom i brojnim korištenjima tehničkih pomagala kod gitara, kao ono 'vauuu', šta li ga sve ne rade u klasičnoj rock postavi s gitarom, basom, synthom i bubnjevima... Kažem, nekome je ovakva glazba sasvim sigurno i zanimljiva s te strane, ali u principu analiziravši osnovne parametre globalnog kostura ne može se ustvrditi neko posebno mišljenje. Jer sve pjesme im startaju od kombinacije ritmike, mahom umjerene na koju dolaze gitarska staccata i funkirani basovi što figurativni sklop dovodi do transžanrovskih sfera math/post-rock noisea s daškom punka, ali iskreno rečeno pretjeravaju s minimalističkim repeticijama često gubeći kontrolu na cirka polovici kompozicije kada pokušavaju iskoristiti krajićkom intuicije i de-kompozicijski tretman s gradacijama. To čak nisu niti improvizacije za koje redovito treba imati specifične sposobnosti, već su vješto prilagođene sheme koje se prečesto ponavljaju što izazivaju monotoniju u skladu od kojeg ne bježe. Nisam nimalo uživao i to ne dvojim, a da ću ovaj album ponovno slušati, ne bih coprao.
Tko voli, nek' izvoli.
Naslovi: 1.Huacos, 2.Ablution, 3.Cerro Torre, 4.Moloch, 5.Amaterasu, 6.Aral
ocjena albuma [1-10]: 6

horvi // 30/04/2016