Četiri albuma u zadnjih pet godina bome je fina cifra za bend koji je kroz karijeru imao predugih diskografskih pauza i bio nadomak upokojenju koncem 20. stoljeća. Glava benda
Tommy Victor
se previrao i tražio tijekom prve dekade 21. stoljeća, a onda se s novom postavom vratio u punoj snazi isporučivši tri snažna albuma ("Songs From The Black Hole" 2015. je sastavljen isključivo od obrada) na kojima se pokazao i daleko oštrijim komentatorom kurentne klime prerastavši one nekadašnje tananije i kurtoazno predvidljive lirske mušićavosti što su vrludale daleko više u pravcu revoltiranog senzibiliteta radi čistog revolta nego li elokventnog i opravdanog socio-političkog angažmana.
"X (No Absolutes)", deseti studijski rad baš i kao prvih pet brutalno napada kojekakvo svjetsko smeće ne prezajući da u te borbe unese i individualne osjećaje, paranoje i trajno prepoznatljiv duh benda, odnosno Tommy Victora koji se monolitno-pravocrtnim gibanjem definitivno predbilježio za r'n'r hall of fame. Napucani riffovi s ubojitim nabojem industrial-twanga i visceralnim vokalom, naizgled ne nude nešto specijalno novo, ali se od pjesme do pjesme osjeća nevjerojatna lakoća komponiranja uz prateću ekipu
Jason Christophera
(bas) i
Art Cruza
(bubnjevi). Prvi dio albuma je najžešči s otvaračem "
Ultimate authority
", "
Sense of ease
" i pjevnim singlom "
Cut & dry
", a onda se sve do osme, galopirajuće pjesme "
Soul sickness
" protežiraju umjereni tempovi zavijeni koji put i u baladičnost poput "
Belief system
" na pragovima alter-rocka.
Spomenuti industrial crossover vidljiv je u naslovnoj "
No absolutes
", vrlo plesnoj skladbi, a takvih elemenata se pronađe u gro materijala što neprestano vijuga između hardcore punka i standardnog thrasha mutirajućom agresijom pokazujući da bend još uvijek nosi jedinstveni identitet takve infuzije kreirane u New Yorku. Većina pjesama slijedi jednostavnu formulu, no i onu redovitu spremnost za istraživanje melodijskih vibri vrlo dobro uklopljenih relevantno održavajući visoku razinu energije bez obzira bio to thrash, hardcore ili nimalo iznenađujući komadi "
Ice runs throught my veins
" i završna "
With dignity
" s kojima Victor ponovno priziva Killing Joke.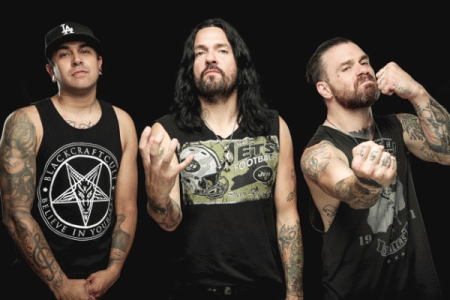 Vrlo dobar rad kao pravi mamac za koncert 17.XI u zagrebačkoj Tvornici. Ne treba nimalo oklijevati, Prong su momentalno u visokoj kreativnoj formi, a taj zalet valja im i nastaviti.
Naslovi: 1.Ultimate authority, 2.Sense of ease, 3.Without words, 4.Cut and dry, 5.No absolutes, 6.Do nothing, 7.Belief system, 8.Soul sickness, 9.In spite of hindrances, 10.Ice ruins through my veins, 11.Worth pursuing, 12.With dignity
ocjena albuma [1-10]: 8

horvi // 04/08/2016