Ako se sjećate, Deftones su daleke 1995. na debi albumu "Adrenaline" (singl "Bored") kritizirali tadašnju metal scenu da je mnogo toga dosadno. Uspjeli su svojom kombinacijom post-hardcorea i alternativnog/nu-metala zgrabiti za šiju glavne protagoniste Limp Bizkit i Linkin Park sasuvši im facu o pod razdvojivši dobar dio publike na onaj inteligentniji sloj koji se nije mogao samo tako upecati na Fred Durstove tinejdžerske i Chester Benningtonove štreberske grimase. Albumi su im dosezali vrtoglave milijunske tiraže, no s vremenom su i oni sami postali dosadni, repetativni, stagnirajući, nedorečeni i neučinkoviti po pitanju agresije i energije poput šminkerski mirnijeg brata Korn i Slipknot. Iz letargičnije faze prodrmala ih je saobraćajka, a potom i smrt basiste
Chi Chenga
; dva albuma bez njega - "Diamond Eyes" (2010, USA no.6, UK no.26) i "Koi No Yokan" (2012, USA no.11, UK no.30) na kojima ga je zamijenio do današnjih dana
Sergio Vega
vratili su kreativnu spregu, čak su mu unaprijed posvetili i obradu "Ghosts" Japana jer je godinama bio u komi (preminuo je 2013.).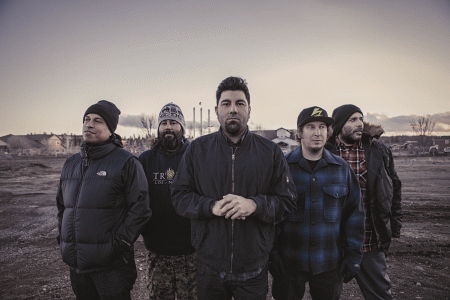 Razbudili su se, međuljudski odnosi su im se popravili unazad desetak godina i snimili svoj osmi album, vjerojatno jedan od onih kakve su mnogi bendovi najradije zaobilazili da ne bi dobili otužan labuđi pjev poput The Clashovog "Cut The Crap" koji je rađen potpuno odvojeno jer je bend jedva čekao da se rasturi zbog gloženja i nerazumijevanja, a opet, trebalo ga je snimiti zbog diskografskog ugovora. Taman posla. Tko zna koliko su međusobnih nerazmirica i kompromisa trebali progutati ovi prijatelji iz djetinjstva da bi se ponovno uhvatili komponiranja, uzgred rečeno, gitarist
Stephen Carpenter
već podulje vrijeme priča o napuštanju postave jer mnogo toga predbacuje vokalnim performansima frontmena
Chino Morena
kojeg bi radije vidio u odriješitijem growl/crust izdanju, ali šta je - tu je. Trebalo se usaglasiti da stare sheme i profil benda i dalje živi, a kad je već tako, odvagnuli su međusobne elementarne nepogode otprilike fifty-fifty i iskombinirali žestoke i glasne gitare s ambijentalnim, elegičnijim i darkerskijim oblicima dream-pop/shoegaze atmosfera ostavši i dalje u prepoznatljivom modelu metaliziranog The Cure benda.
S tim kontrastima ukrasili su sijaset pjesama počevši od singlova "
Prayers/ triangles
" i "
Phantom bride
" s gostom
Jerry Cantrellom
iz Alice In Chains na gitari, pa "
Geometric headdress
", "
Pitura infamante
", "
Xenon
", naslovne "
Gore
", laganica "
(L)Mirl
" i "
Hearts/ wires
", a neke pjesme su prošarali i 8-žičanim gitarama što ukupnom zvuku dodaje eksperimentalniji šmek. Žestoko nabrijanih pjesama nema, sve su to tromiji i umjereni tempovi, mnogi su spremni za bubnjara
Abe Cunninghama
tvrditi da je najbolji u tom fahu čvrstog šusa nakon pokojnog Bonza (malo sutra), a ionako bolni i iskrivljeni krikovi Chino Morene sa sugestijom demonizirane opsjednutosti seksualnog partnera su samo uobičajeni trikovi potištene patetike kakvu jako dobro poznajemo iz opusa Depeche Mode, njihovog jasnog emotivnog uzora u stvaranju alternativnog dojma.
Za fanove ovo jeste svakako značajan preporod ka višljoj razini kreativne i idejne baze benda spram neuravnoteženih i nezrelih početaka. Sazrijevaju i stare sukladno s godinama i svojom publikom, međutim kako će se dalje razvijati situacija vrlo je upitno. Još malo i biti će im obljetnica 30 godina karijere. Do tada se valjda neće raspasti.
Naslovi: 1.Prayers/ triangles, 2.Acid hologram, 3.Doomed user, 4.Geometric headdress, 5.Hearts/ wires, 6.Pittura infamante, 7.Xenon, 8.(L)mirl, 9.Gore, 10.Phantom bride, 11.Rubicon
ocjena albuma [1-10]: 7

horvi // 26/08/2016