Reklo bi se, sve je isto kao i prije. Škotski oneman bend i bez 'invalida pjevača' ostavlja vrlo sličan zvučni dojam prethodnog albuma "The Invalid Singers" iz 2015. U igri su I dalje kombinacije gitarskih distorzija, post-punk shema s elektronikom i programiranim ritmovima, doduše nešto bolje adaptiranih, a bome tu i tamo se pojavi poneki invalidni vokal, pa i fučkanje poput melodične teme "
The positive approach of Talkative Ron
" ili sampliranih glasova u harlekinsko-cirkuskoj "
Woman with plastic hand
", no konkretne lirike i dalje nema, a po svemu sudeći u skoro vrijeme je neće niti biti.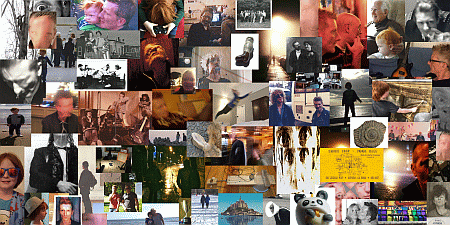 Glazba je, elem sukladan nastavak s ponekim iznenađenjem u aranžmanskim sklonostima ka avangardnom popu s bizarnijim eskapadama koji se pojavljuju na momente drugujući utkanim shemama po kojima je praktički prepoznatljivost same etikete Bearsuit Records takoreći dostupna od prve sekunde kad se zarola ovaj kraći album od 32 minute. Bunny samo s dva gosta, stanovitim Louisom & Isaacom što učestvuju u naslovnoj pjesmi između svih ovih svojih naglih izleta u noiserski dio popa/ trip-hopa/ post-punka, pa povrataka u ambijentalnije, mekše i prozračnije structure tvoreći vrlo kompleksan material, objedinjuje jednu konceptualnu priču koja se doima, barem po naslovima skladbi o nekom degutantnom tinejdžeru punom kojekakvih loših sklonosti ka destrukciji, školskom vandalizmu, tučnjavama, sitnom kokošarstvu i sličnim opstrukcijama koje su sastavni dio adolescencije. A onda se odjednom nađe pokošen dobivši ravno po gubici ispružen negdje na pločniku, možda u bolnici ili nekom stacionaru da bi mu tek potkraj cijele fabule nešto ušlo u tintaru. Zaželio je promjenu čvrsto odlučivši da napušta takav život zamišljajući idilu na nekoj plaži s tisućama nedostižnih snova koje će realizirati, hipotetski se može nagađati, ponovno na isti način.
Dojma sam da fibula zorno približava suvremenu varijantu Alexa i "A Clockwork Orange", samo se čini da je ovaj Alex, odnosno Talkative Ron nešto mlađi probisvjet, no kako god, plaši se vlastite horizontale, te je rješava time što druge stavlja u nju. Napad je najbolja obrana mada tri završne, daleko sentimentalnije teme protkane akustičnom gitarom "
The horizon project
", "
There's a thousand things
" i "
The invisible and divided sea
" aludiraju na nešto sasvim drugo. Iz tog cjelokupnog aspekta, spram prethodnog albuma, ovo je posve uvjerljivija priča na otprilike vrlo sličnu stilsku zvučnu dekoraciju.
Naslovi: 1.Eamon the destroyer, 2.The positive approach of positive Ron, 3.Woman with the plastic hand, 4.Vandal schooling, 5.Fear of the horizon, 6.The teeth stay in leith, 7.Cast adrift, 8.The horizon project, 9.There's a thousand things, 10.The invisible and divided sea
ocjena albuma [1-10]: 7

horvi // 13/07/2018