Ako ste se obradovali čuti Bowieve pjesme u obradama jazz izvođača, morati će te pričekati neku drugu priliku.
Francuski izdavač Wagram Music svojski se potrudio sastaviti tribute album Ziggyja i velikog bijelog vojvode odaslavši tko zna koliko poziva i upita, te kontaktirajući tko zna svega koga iz jazz branše, a evidentno je po rezultatu da su mnogi veliki glazbenici vjerojatno odustali od namjere jer Bowieva glazba nije mačji kašalj i nadebelo se razlikuje od jazza.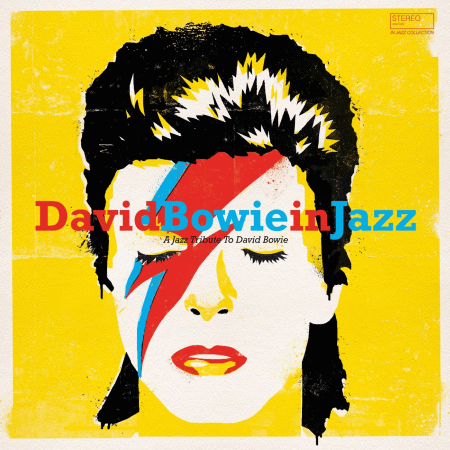 Ovdje su se dobile dvije varijante izdanja - vinilno ima samo 10, a dvostruki CD 18 pjesama, no kako god, mala suita izvođača je uspjela koliko-toliko pogoditi srž Bowievih tema makar one bile toliko planetarno znane da ih se napamet fučka i pjeva, a sluša svakodnevno na radio programima. U čemu je stvar? Prvenstveno u pristupu kome su sa strahopoštovanjem prionuli, a druga vitalna stvar jest da su ovdje mahom mlađi i neafirmirani izvođači koji u mnogo slučajeva sviraju isključivo po notama i ne ulaze u suštinu baratanja onog osnovnog u jazzu - improvizacijama, a to je već u startu osudilo ovaj poduhvat na groteskni promašaj. Naime, improvizacija ovdje ima ponajmanje i svi su se kao pijani plota držali Bowievih vokalnih intonacija zaboravljajući ili, smetnuvši s uma da je u njegovoj kompozitorskoj strategiji i glazba jednako važan element tvoreći kompleksan format - unakrsno povezan, ali po tonalitetima i oktavama drastičan otklon. Dok primjerice "
Life on Mars
", "
The Jean genie
", "
Space oddity
" ili "
Let's dance
" imaju jedne glazbene strukture u akordima, one su vokalno sasvim drugačije, govorim o originalima, a ovi mahom mladi jazzeri to izgleda nisu najbolje ukapirali pa se tako dobila poprilično neinventivna glazbena zbrka na običnom pop nivou protkanom jazzy tretmanom, gotovo na restoranskom nivou za bezbrižne sjedeljke na popodnevnoj čajanki uz koju kap votke, a to svakako nisu ambijenti i interijeri u kojima se kreće njegova glazba.
Uz pregršt instrumentalnih izvedbi, kao i nekolicine vokalnih što ih većinom pjevaju žene (a to je već u startu korak ka ozbiljnom promašaju), neskladnu glupost čine strogi formati u kojima nema ama baš nikakve jazz slobode, međutim, po svemu sudeći namjera izdavača su baš i bile ovakve pop frakcije koje sa poznatom konfiguracijom žanra i nemaju mnogo doticaja izuzev tu i tamo poneke prošarane intervencije klavira i nekog duhačkog instrumenta. Od čitave ove zbrke valja samo izdvojiti dovitljive obrade DELTA SAXOPHONE QUARTET (instrumental "
Heroes
"), FRANCK WOLF-a s bendom Acoustic Five (instrumental "Space oddity") i pjevanu jazz-rock varijantu YELLOWORLD ("
Moonage daydream
"). Ostatak je prozirno predvidljiv, bezazlen i namijenjen širokom komercijalnom auditoriju koji jazz doživljava samo putem hitova Jamiroquaija, The Brand New Heavies, Shakatak i sličnih, striktnih mainstream crossover zvijezda koketirajući sa smooth, acid, pop i funk aditivima što su daleko od jazz-fusion stilizacija.
Naslovi: 1.LAILA BIALI - Let's dance, 2.CINZIA BAVELLONI - Lady Stardust, 3.BOJAN Z - Ashes to ashes, 4.CAECILIE NORBY feat. LESZEK MOŽDŽER - Andy Warhol, 5.YELLOWORLD - The Jean genie, 6.ERIC LE LAN feat. PAUL LAY, SYLVIAN ROMANO & DONALD KONTOMANOU - Life on Mars, 7.MIRIAM AIDA - The man who sold the world, 8.GRAZZIA GIU - Space oddity, 9.PIERREJEAN GAUCHER - Aladdin sane, 10.FEDERICA ZAMMARCHI - Lady grinning soul, 11.JEN CHAPIN & ROSETA TRIO - Starman, 12.DELTA SAXOPHONE QUARTET - Heroes, 13.YELLOWORLD - Moonage daydream, 14.CINZIA BAVELLONI - DJ, 15.FRANCK WOLF - Space oddity, 16.THE PUPPINI SISTERS - Changes, 17.MIKE GARSON - Let's dance, 18.KEREN ANN - Life on Mars?
ocjena albuma [1-10]: 5

horvi // 16/05/2021