Radeći na novom albumu koji bi se trebao pojaviti tokom tekuće godine, Thot su potpisali ugovor s belgijskim labelom
Weyrd Son Records
, te su još ranije realizirali novi singl "
Sleep oddity
". U otprilike istom vremenu, paralelno sa spomenutim singlom, vođa
Grégoire Fray
je održao online nastup o kome smo govorili u vrijeme prvog lockdowna
www.terapija.net/najawa.asp?ID=30001
, a na ovom EP-iju se upravo nalaze i snimci tog svibanjskog popodneva (10.05.2020) iz njegovog stana u Celleu.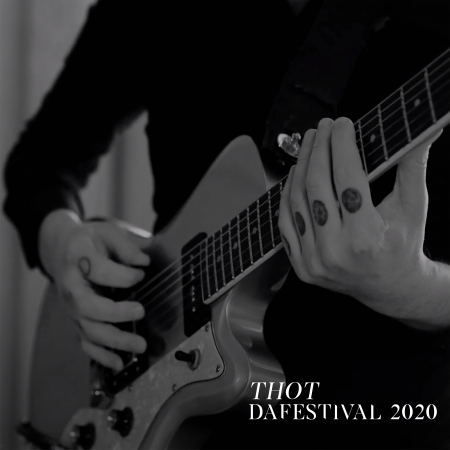 U jednu ruku ovo je solo djelo poput njegovog off projekta
The Hills Mover
, međutim ima mnogo razlika: ovdje je isključivo izvodio pjesme matičnog benda kombinirajući električnu gitaru i synth bez ikakvih programiranih ritmova, a također, nitko iz postave nije bio prisutan jer je situacija u tim danima i mjesecima bila alarmantna, nitko se s nikime nije družio, a kamoli dolazio u kućne posjete. Originalni zapis, vidljiv na youtube iznosi nepunih 17 minuta, a ovdje je skraćen na 15, odnosno odrezan je završni instrumentalni 'outro'.
Počinje gitarskom verzijom "
Vltava
" s posljednjeg albuma "
Flueve
" (2017), inače pjesme veoma popularne u Češkoj gdje bend ima veliku potporu fanova (znaju rasprodati po nekoliko koncerata za redom u Pragu), a adaptirana je kroz reske, noiserske mišunge legata i staccata, te dinamičnih riffova izuzimajući neo-folk i akustiku koju rabi kao The Hills Mover. Naredna je posve elektronska "
Keepers
" s onog također odličnog albuma "
The City That Disappears
" (2014) kojeg su promovirali na rođendanu Terapije. Uvodnik su klavirske melodije kojima je dodan snažan electro-noise podebljanih režanja otvorenih za de-kompozicijski kaos u samoj središnjici doveden gotovo do nesnosnog harsha koji traje sve do konca. Spomenuti novi singl je razvučen na skoro 7 minuta (u originalu je 4 i pol minute) gitarske rapsodije s vrlo romantičnim Bowievskim ugođajem protkanim i ambijentalnim dionicama pretvarajući ih u snažnu i prodornu grmljavinu okončavši je kroz završni elektronski pasaž.
U principu, vrlo jednostavno, a dojmljivo, te ako je suditi po ovome prvom singlu, album bi mogao biti popriličan odmak od dosadašnjeg zvuka i stila. Usput, EP je dostupan na besplatan download samo kratko vrijeme.
Naslovi: 1.Vltava, 2.Keepers, 3.Sleep oddity
ocjena albuma [1-10]: 7

horvi // 09/07/2021