Ne treba zboriti da su
Nirvana
,
Soundgarden
i
Pearl Jam
sveto grunge trojstvo koje se ovdje skupilo na okup nakon podosta vremena. Bubnjar
Matt Cameron
(povremeno i u Pearl Jam) i gitarist
Kim Thayil
iz Soundgarden, te basist
Kris Novoselić
iz Nirvane su osnova ovog seksteta u kome su još gitarist
Jon Bubba Dupree
(Void, Hater), te vokalistice
Jillian Rayne
i
Jennifer Johnson
. Ovu prethodnu je Novoselić pokupio iz svojeg friškog, još uvijek slabo zamjećenog benda
Giants In The Trees
(imaju dva albuma), a druga je za široku javnost potpuno nepoznata.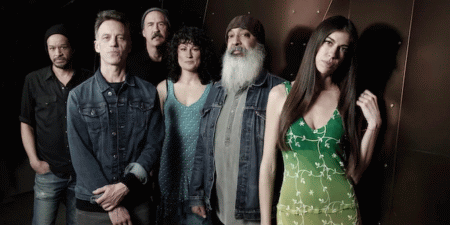 3rd Secret © 2022
Napravili su predugačak album od skoro 50 minuta dokazavši onu bezbroj puta potvrđenu činjenicu da supergrupa ima manjkavih, pa čak i katastrofalnih faktora i propusta. Tu se uvijek nezahvalno očekuje neka revalorizacija zvjezdanih trenutaka krucijalnih temelja po čemu se pamte i hvale, a redovito se dobije sporadična kakvoća što ne odgovara izvornicima.
Konkretno, ovdje su u prvi plan istaknute nježne, gotovo snene folk vokalizacije uz mnogo akustičnih legata i tromih ritmova bez neke 'post' grunge ostavštine izuzev simpatičnog prvog singla "
I choose me
" gdje Thayil podsjeti na gitarski mračan dekor konca 80-ih i početka 90-ih, zatim koliko-toliko umjerene rokačine "
Lies fade away
", te pulsirajuće "
Diamond in the cold
". Ali preostali dio materijala komotno može potpisati Lindsay Buckingham kada radi folk-pop pjesmuljke za Stevie Nicks, Christine McVie, Fleetwood Mac ili vlastite solo albume.
Očito i jeste to ciljana sfera baladičnih i emotivnih raspoloženja u mračnijem i ezoteričnijem okružju usko vezanim uz snove, razmatranja života ("
Last day of August
"), neumitnom vremenskom protoku (neo-folkom obojena "
Winter solstice
"), ljubavnim turbulencijama (mogući hit "
Live without you
"), elegičnim fluktacijama (Novoselićevom harmonikom dugmetarom ispleten lagani country-waltz "
Right stuff
")... No, ovdje nema ništa pravog, još ponajmanje tajanstvenog. Projekt može proći jako dobro u mainstreamu za radio-friendly difuziju ako se dovoljno medijski napuca i promovira, ali ne treba očekivati ništa dublje i konzekventnije.
Naslovi: 1.Rhythm of the ride, 2.I choose me, 3.Last day of August, 4.Winter solstice, 5.Lies fade away, 6.Live without you, 7.Right stuff, 8.Dead sea, 9.Diamond in the cold, 10.Somewhere in time, 11.Yellow dress
ocjena albuma [1-10]: 5

horvi // 17/04/2022