Nakon best of-a, 30-40 objavljenih, nazovimo ih "bootleg" live izdanja, boxset-a sa raritetima evo nam jos jednog izdanja namjenjenog iskljucivo za hard core Tori Amos fanove.
Naime, novi dvostruki live cd (i dvd) na sebi sadrzi dva kratka koncerta iz Montreaux-a i to iz davnih 1991 i 1992 godine. S obzirom na cinjenicu koliko je to davno snimljeno, (prvi koncert je snimljen jos prije izlaska prvog Tori albuma) pjesme koje dobijamo su u skladu s tim. Po par pjesama s Little Earthquakes plus pokoja obrada i to je to. Ako jos uocimo da se vecina pjesama poklapa na oba koncerta onda ovakav live album sigurno nije najsretnije rjesenje.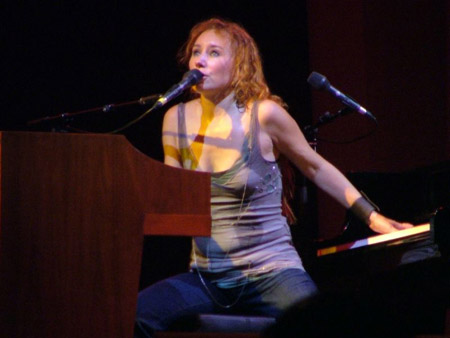 Tori Amos
Nazalost, iako stvarno jako puno volim Tori Amos i uglavnom bi dao 10ke svemu sto napravi ovo zasigurno necu previse slusati. Izgleda da u zadnje vrijeme nasu Tori, osim vila i slicnih stvarcica zanimaju i puno zemaljskije stvari kao sto je novac al ipak tesko da joj to mozemo previse zamjeriti. Ako nista, i dalje kad god napravi studijski album to bude albumcina bez premca a na koncertima nakon svih tih godina ipak i dalje daje sve od sebe.
Tako da Montreaux bar sto se mene tice ide na policu i u brzi zaborav a radije cu po milionti put ponovo poslusati American Doll Posse.
ocjena albuma [1-10]: 5

kris // 29/08/2008