Jon Spencer i Matt Verta-Ray su HEAVY TRASH! Tako piše na coveru. Treba li vam još koji razlog da preslušate ovaj album? Ako volite Blues Explosion i Speedball Baby odgovor je vjerojatno 'Ne!!'.
Jon Spencer i Matt Verta-Ray su suradnju započeli kada su njihovi bendovi bili zajedno na turneji, a kako su obojica obožavatelji rockabillyja nije im dugo trebalo da iz njihovog druženja uz pivicu i stare ploče, u Mattovom NY Hed studiju u New Yorku, nastane 13 istinskih rockabilly bisera. Album je sniman na starinski način, ''Analog, baby'' kako bi rekao Matt. Iako na albumu ima puno gostiju, Lily Wolfe (Parker and Lily), Paul Dugan (Big Lazy), Marcus Farrar (Speedball Baby), da spomenem samo neke, gotovo sve su odsvirali sami Jon Spencer i Matt Verta-Ray, koji su i producenti.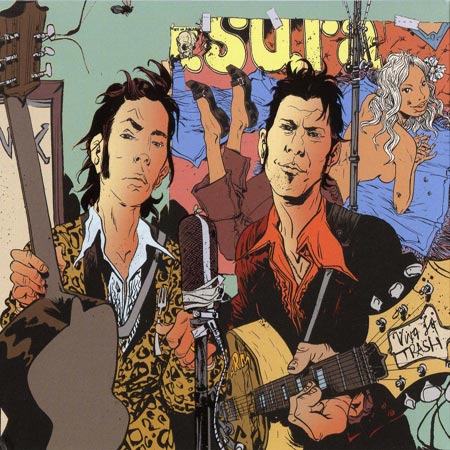 Prosječna dužina pjesme je 3 minute, gitare nisu ispolirane, a tekstovi nisu pristojni, i kad je u pitanju napuhavanje muškog ega svi oni hip hoperi su mačji kašalj naspram onoga što će vam servirati Heavy Trash, uz naravno dozu humora. Ne vjerujete? Poslušajte samo 'The Loveless' u kojoj vam Jon Spencer tako odpjeva ''They call me the Loveless / I'm a mean son of a bitch / They call me the heartless / Baby, I don't give a shit'' da ga možete zamisliti kako kul odlazi na svom motoru i ostavlja vas u oblaku prašine.
'Under The Waves' je uvijek popularna murder ballad u kojoj nam se vrlo lijepo objasni zašto je dotični morao koknuti svoju dragu, u najboljoj maniri Nicka Cavea, koji je u svojoj karijeri u pjesmama umlatio nemali broj pripadnica ljepšeg spola (sjetimo se samo genijalne '6'' Gold Blade'). Veselu 'Gatorade' s vrlo zaraznim refrenom su sami autori opisali kao svojevrsni 'instruction manual to eating pussy' ('I said honey don't you use that thing to pee? / She said 'Ha, why don't you suck it and see''), a dok vam svira 'Walking Bum' samo čekate da vam kroz vidno polje proklizi jedan od onih kotrljajućih žbunova iz američkih pustoši.
Heavy Trash sviraju rockabilly onako kako rockabilly i treba zvučati, prljavo i bučno s istim takvim tekstovima i škripećim gitarama. Ako ne znate koju muziku da si nafrljite u autu dok idete na more ili što da pustite na pijanki, Heavy Trash su ono što tražite.
ocjena albuma [1-10]: 10

ana // 02/08/2005
PS: Uz priloženu siromašnu diskografiju grupe, svakako treba preslušati sve što se da od grupa BLUES EXPLOSION, MADDER ROSE, SPEEDBALL BABY, BOSS HOG... (op - pedja)
I Pussy Galore (op - Ana)