Liverpulski dječaci ponovo su s nama i to sa svojim desetim studijskim albumom. Kroz dvadesetak godina rada imali su svojih uspona i padova. Dobrih i loših albuma. Solo izleta i koječega drugog. Tako je početak osamdesetih bio zlatno doba za ovaj bend, pa je pred kraj osamdesetih i početkom devedesetih došlo do zamora materijala i solo izleta, da bi se 1997. vratili s odličnim povratničkim albumom Evergreen. No neki ipak nisu izdržali pritisak, pa su do današnjeg dana od originalne postave ostali samo pjevač Ian McCulloch i gitarist Will Sergeant. Oni su ujedno i trade-mark ovog benda sa svojim specifičnim glasom i sviranjem gitare.
Od povratničkog albuma Evergreen, Ian i ekipa pokušavaju doći do onog savršenog zvuka koji im se negdje iza albuma Echo & the Bunnymen zagubio. U tome su na albumima djelomično uspjevali. What are You Going to Do with Your Life? bio je prepolagan, dok je Flowers dosad bio najbliži originalnom zvuku. Najbolje je to vidljivo/čujno na njihovom Live in Liverpool izdanju, na kojem se stari klasici (Lips Like Sugar, Ocean Rain, Killing Moon) ugodno miješaju s novijim stvarima (Nothing Lasts Forever, King Of Kings).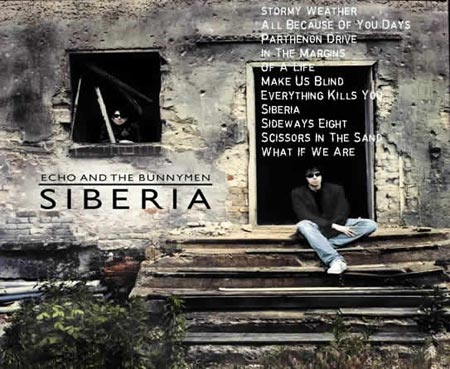 Za Siberiu su zaposlili Hugh Jonesa, producenta koji im je pomagao na Heaven Up Here, dok je album zvukovno najbliži nepravedno šikaniranom nenaslovljenom albumu iz 1987. To je slušljivo već na prve dvije pjesme, Stormy Weather i All Beacuse of You Days. Ova potonja je jedna od najljepših ljubavnih pjesama koje sam čuo u zadnje vrijeme. Parthenon Drive je nastavak Lips Like Sugar, na In the Margins gitara lebdi u pozadini dok Macov lijeni glas pjeva "Now do you see how we're in the margins? Now I can see, I see how life wins ....". Sve do posljednje What if We Are, ovaj album nema loše pjesme.
Bilo bi pretenciozno reći da je ovo najbolji EATB album. No sigurno je da nije ni daleko od toga. I kako još ove godine nijedan album nije dobio najbolju ocjenu, a približava se kraj godine, ne preostaje drugo nego…
ocjena albuma [1-10]: 10

pedja // 13/10/2005