MaršKlub in DubOmb u petak, 20.05. u Mariboru, dvorani Gustaf (KC Pekarna) organiziraju koncert noise-rock duo Gone Bald i francuskog electro-dub tria Idem.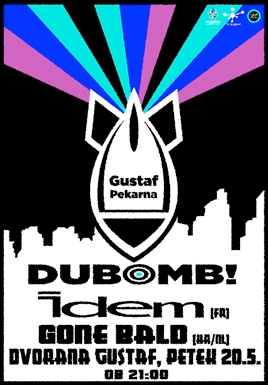 Gone Bald
je hrvatski bend sa amsterdamskom adresom. Oformio se 1994. godine i do danas se iz višečlanskog benda smanjio na energični duo (gitara i bubnjevi). Što na kazetama, što na CD-ima, što na vinilu, bend je do danas izdao 9 albuma te nastupio na bezbrojnim koncertima po doslovno cijeloj Europi. Isto tako mogu se pohvaliti da su svirali sa legendama poput Jesus Lizard, Butthole Surfers, Sebadoh, Ninewood, The Ex, Don Caballero, Flying Luttenbachers, Today Is The Day i drugima.
Trio
Idem
svrstavaju u electro-dub glazbu ali očito je da se radi o bendu koji spaja toliko različitih smjerova u svom zvuku da ih se niti ne treba svrstavati u samo jednu ladicu (ni post-rock im npr. nije tako daleko). Bend je ujedno i multimedijalni projekt zahvaljući video projekcijama koje se projeciraju iza njih a koje bend sam smatra jednako važnima kao i glazbu. Bend spaja elektroniku i sample-ove sa moćnim gitarama i betonski čvrstom ritam sekcijom. Nastupali su sa poznatim imenima poput Amon Tobin, Erik Truffaz, Bauchkladn, Miss Kittin i drugima.
IDEM-THE 6th YEAR // Vidéos Tournées
Cijena karte s rezervacijo: 5€
Cijena karte na dan koncerta: 7€
Rezervacije: dubomb.dub@gmail.com
dario jazbec hrvatin // 18/05/2011