Moglo bi se reći da je Jon Spencer jedan od najčešćih rocknroll gostiju u Hrvata. Nisam brojao za druge, ali 8 dolazaka u 14 godina (2005-2019), ako sam dobro pobrojao, a Ana će me sigurno ispraviti ako nisam, govore tome u prilog.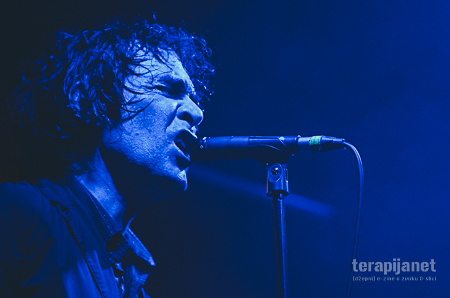 Jon Spencer & The Hitmakers © Edita Sentić
Očito je da voli tu dolaziti, a očito je i da je ljubav obostrana. Iako je prvi put u "naše" krajeve stigao 1996. u ljubljanski K4, nisam siguran koliko puta je nakon toga posjetio Deželu. Sretnici, među kojima sam i tad bio, širili su glas o novom rokenrol mesiji, ali trebalo je još 9 godina da nas posjeti. Ljubav je bila na prvi pogled, pa je svaka formacija, osim na žalost Boss Hoga, došla do Zagreba. Tako je nakon Blues Explosiona i Heavy Trash stigao i s The Hitmakersima.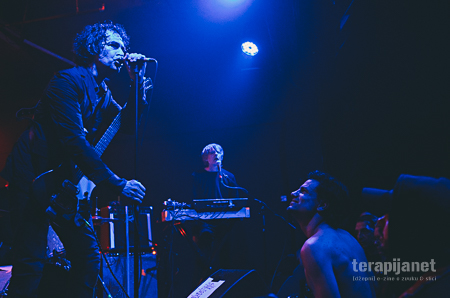 Jon Spencer & The Hitmakers © Edita Sentić
Hitmakerse čine Sam Coomes na klavijaturama, M.Sord na bubnjevima i stvarna legenda Bob Bert na čekićima. Bob je sa Spencerom svirao i u Pussy Galore, ali i lupao po bubnjevima na prva četiri Sonic Youtha i u Chrome Cranks. Ovdje mu je zadaća laganija. Pojaviti se na stejđu i lupati s čekićima po postolju na kojem ima limova, opruga i koječega. Ako Vas to podsjeća na EN, ne varate se. No, Bob je svoju ulogu shvatio ozbiljno i daje stvarni doprinos zanimljivoj muzičkoj kulisi. Ta kulisa, moram priznati, ponekad ispadne i pomalo šuplja, a ponekad i naporna i ipak tu fali basa koji bi Spenceru ponekad dao da se odmori. Iako se Sam Coomes svojski trudi klavijaturama i bekvokalima to nadoknaditi.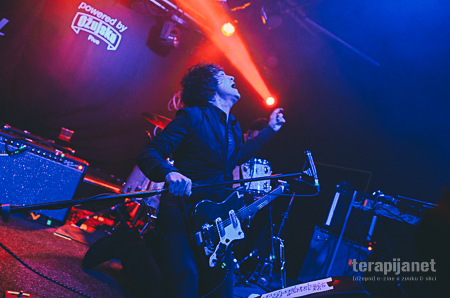 Jon Spencer & The Hitmakers © Edita Sentić
A Spencer ko Spencer, toliko isti, a toliko različit u svakoj formaciji. Ovdje svako malo vikne "The Hitmakers", na što ostatak odsvira "tuš". A "Ladies and Gentleman" je standardni uvod u svaku malu propovijed, koja se zove pjesma. Sipmatično ga je bilo vidjeti kako se s plavom torbom za vrijeme svirke Melomena probija kroz već zgusnute redove, a bilo je i ekipe koja ga je ošinula, ne samo pogledom zbog toga, očito ne znajući tko im je zabio lakat u rebra.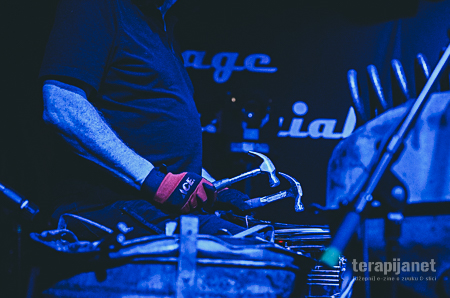 Jon Spencer & The Hitmakers © Edita Sentić
Setlista se osim pjesama s novog albuma "Spencer sings the hits" sastoji i od nekih (ne)hitova već nabrojanih njegovih inkarnacija, a najviše ih je iz Pussy Galore perioda, a neke od njih su NYC:1999!, Just Wanna Die ili No Count. Našlo se tu mjesta i za Bellbottoms na bisu, kao i Shirt Jac i Dang iz BX opusa. Sve skupa je to fino posloženo bez iskakanja iz ritma, sa neočekivanim završecima i još neočekivanijim počecima.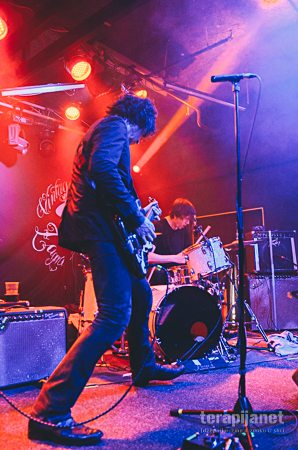 Jon Spencer & The Hitmakers © Edita Sentić
Dobru atmosferu u punom Vintageu su pripremili Thee Melomeni.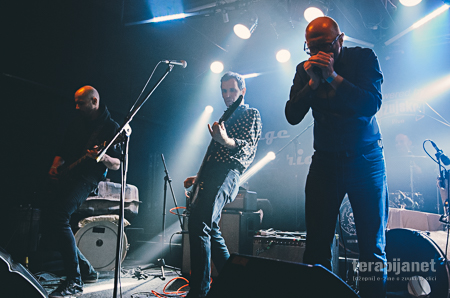 Thee Melomen © Edita Sentić
U svojih pola sata još su malo promovirali novi album s ponekom sa starog te Žalcem na kraju na usnoj školski su završili set i otvorili za Spencera i ekipu.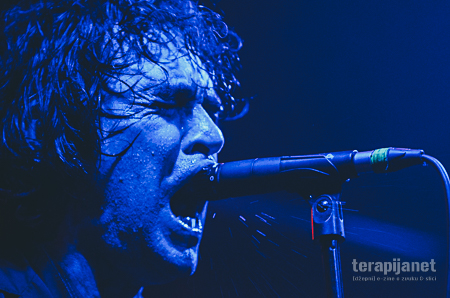 Jon Spencer & The Hitmakers © Edita Sentić
pedja // 24/03/2019

> vidi sve fotke // see all photos