Drugi dolazak The Hills Mover, a ukupno četvrti
Grégoire Fraya
u Zagreb (bio je i dvaput s matičnim belgijskim bendom Thot) osmišljen je vrlo artistički u sklopu dvorišnog kružoka u Attacku (iliti Mediki), a sve u okviru balkanske turneje koja je obuhvatila Sloveniju, BiH, Srbiju i Bugarsku, elem, južnoslavenske zemlje.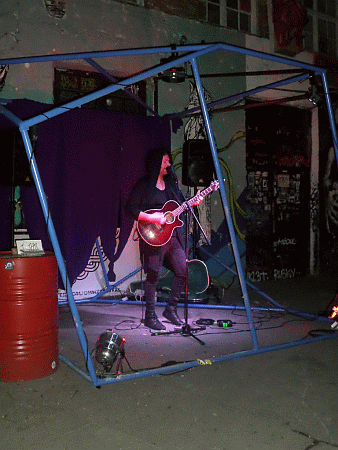 The Hills Mover, 26.06.2019., Attack, Zagreb © Horvi
Smješten ispod zanimljive metalne konstrukcije nepravilnog višekutnog oblika koja će ubuduće služiti u Attacku za neke slične događaje (do sada se navodno samo održala jedna predstava), Grégoire je izveo set akustičnih pjesama sa svoja 3 dosadašnja EP izdanja, te nas uz to počastio obradom Thrice "
Worlds in the water
" i Eamon McGratha "
Exile
", na samom kraju "
Partizans
" Leonarda Cohena, a specijalno za fanove njegovog benda Thot odsvirao i pjesmu "
Vltava
" s posljednjeg albuma "Fleuve" što je pokazatelj koliko te njegove autorske kompozicije imaju široku komunikativnu i izvedbenu mogućnost da se iz žustrog elektronsko-rockerskog industriala preobraze u sjetnu akustičnu elegiju. Prošli puta je u Botaničaru izveo "Volgu", ali tada još nismo znali da će ta pjesma biti na albumu Thota.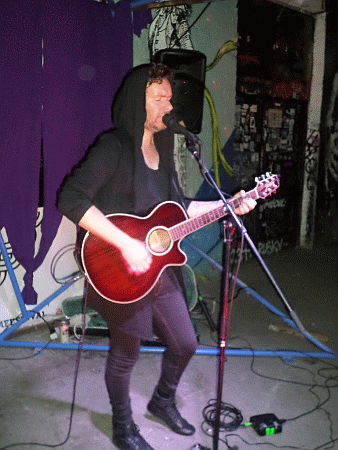 The Hills Mover, 26.06.2019., Attack, Zagreb © Horvi
Natopljen uobičajenom ekološki osvještenom fikcijom s humanističkim relacijama baratao je kombinacijama legata i staccata od pjesme do pjesme korespondirajući bržim i ležernijim taktovima ne ustručavajući se niti izraziti svoj moćan vokal što raznoliko balansira od nježnosti do bolnih krikova i jaukova, čak i šapata prirode izrečenih glasom čovjeka, borca za okoliš i povratak ka uravnoteženoj situaciji odnosa između ljudske materijalno-industrijalizirane civilizacije i majke prirode.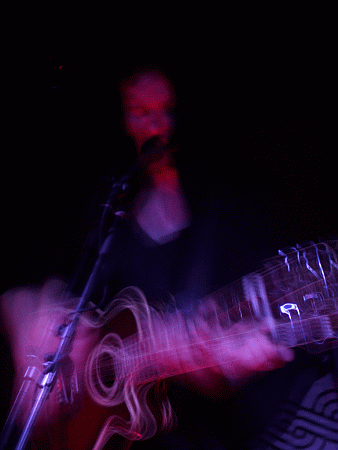 The Hills Mover, 26.06.2019., Attack, Zagreb © Horvi
Bez obzira radilo se to o pojačanim ritmičkim pjesmama "
Relieved
" i "
Šiva
" s kojima je otvorio nastup, pred sam kraj i "
Asger
" u čast Janu Palachu ili daleko sentimentalnijim i mekšim "
Windwalkers
" ili najnovijoj "
Silver sleep
" čiji je spot snimao pored čuvenog spomenika NOB-a u Podgariću kad se s bendom Thot nalazio na turneji tokom ožujka ove godine. Kasnije nakon koncerta mi je pričao mnoge stvari o sebi koje nisam znao, a vama za informaciju da voli ovakve solističke turneje kad se odvaži uputiti u zabiti za koje malo tko zna i svirati prije svega za svoju dušu i ponekog zainteresiranog, a ako ih ima više, tim bolje, no nije nužan uvjet. Ima siguran posao kao javni umjetnik, dobiva iznimno visoka mjesečna primanja na račun u odnosu na naše hrvatske ili balkanske plaće i uopće ga ne tangira mnogo što je te večeri u Attacku bila šačica posjetitelja.
horvi // 01/07/2019