"When you march your barbarian horde through the streets of a fallen city, atop a fifteen hands high silver wildebeest (using their horns as handles), laser beams sparkling and shimmering over the smoking battlefields, a thousand million pearlescent snakes coiling slowly through the dead city streets, tiny unicorns cowering in their cages, "A Ways to Uprise", the first single from Kerretta's sophomore album Saansilo, will be your soundtrack."
Tako novozelandski Kerretta najavljuju svoj prvi singl s drugog albuma Saansilo, nasljednika hvaljenog prvijenca Vilayer iz 2009. koji je čak bio nominiran za glazbenu nagradu Taite (nešto kao novozelandski Mercury). Moram priznati da mi Saansilo nije 'legao' od prve, ali sa svakim slušanjem mi se sve više i više sviđao. Kerretta se jako trude da ne budu 'još jedan post rock bend' i za sada im ide prilično dobro. Pjesme su prilično kratke (5 minuta u prosjeku) i dinamične i ne upadaju u klasične post-rock sheme. Zbog svoje želje za novim i drugačijim, i strahom od ponavljanja, na Saansilo možete naći i pjesmu poput ''Bloodlines'' s pomalo disco ritmom.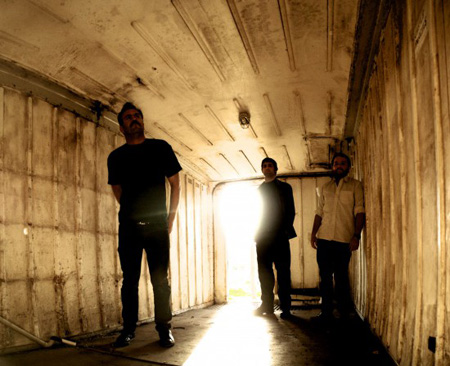 kerretta
Kerretta često balansiraju na granici post-metala, ali nikada je potpuno ne prijeđu. Brze izmjene ritma i melodija drže pažnju, a nepostojanje vokala je kod njih definitivno prednost, a ne mana. Dvije najduže pjesme ''Kept From The Brilliance Of The Outer World" i "Onyxia" ostavljene su kao šećer na kraju. ''Kept From The Brilliance Of The Outer World" je poput vožnje na vlakiću smrti koji vas diže, spušta i vrti bez upozorenja. "Onyxia" odlično zatvara album i spušta vas natrag na zemlju, makar to bilo bojno polje kojim marširaju horde barbara.
ocjena albuma [1-10]: 8

ana // 28/09/2011