Od prve sekunde uvodne pjesme "Cyanide" bubnjar Vaaver (Wawrzyniec Dramowicz) koji je došao na prošlom albumu "Day of Reckoning" (2011) daje do znanja da ovdje nema milosti. O, majko mila, kakvo je to rešetanje!!! Izgleda da je bend s njime ponovno otkrio abnormalnu energiju, pa se u tek 2-3 pjesme odlučio da, hm, uspori tempo. Basist Marcel 'Schmier' Schirmer i dalje drži svoj punkersko-hardcoreaški 'clean' vokal, produkcija je sjajna, a tu su još i dva gosta na vokalima - Gerre iz Tankarda i Tom Angel Ripper iz Sodoma u "Legacy of past" koji se ubacuju u drugom, sporijem dijelu kompozicije.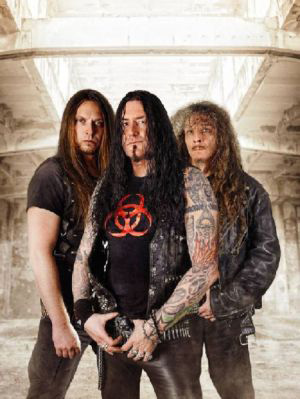 Poduplane gitare i vokalne arije, vraški riffovi, kompaktno razdvojeni basovi, urnebesni tempovi i jednostavne pjesme od kojih staje dah. Zar može thrash zvučati bolje? Naslovna pjesma "Spiritual genocide" je najbolji mogući primjer savršenog thrasha i faktički razara u svojih 3.39 u svim pogledima od nevjerojatne konciznosti gitare Mika Sifringera, preko energije i agresije do sjajnog aranžmana. Onda "No signs of repentance" sa kompleksnijim ritmičkim radom, pa "Riot squad" i završno mljevenje "Under violent sledge".
Tempo su neznatno usporili na konto aranžmana u ponekim skladbama poput "Renegades", "City of doom" sa zvukom sirene, zatim u atmosferičnoj "To dust you will decay" o sudnjem danu ili najlakšoj "Carnivore", no to su obavezni lajt-motivi s kojima podižu zavodljivost i raznolikost izvedbe.
Kad se samo sjetim onih starih audio kaseta presnimljenih po tko zna koji put, koje su usput bile polepljene selotejpom i prežvakane, ova nova produkcija koja zagovara sistem 'jebeš vinil' je u pravu što se tiče ovakvog žanra. Naprosto se thrash mora snimati i reproducirati na najboljoj tehnici.
Ovo je 40 minuta fantastičnog thrasha.
ocjena albuma [1-10]: 9

horvi // 07/03/2013