Meredith je nakon "Songs Of Ascension" (2012) mnogo radila: objavila je tri projekt albuma "Monkmix" (2012), "Basket Rondo" i "Piano Songs" (oba 2014) sa snimcima ili adaptacijama svojih starih radova od 1971. do 2006. (i ponekim novim simfonijskim djelima), nekoliko puta je pozvana u kolaboracijske projekte, te je 2013. ostvarila novi multidisciplinarni performans "On Behalf Of Nature" premjerno izveden u Center for the Art of Performance at UCLA iliti UCLA CAP (Los Angeles). Upravo taj zahvat poslužio joj je za konačno oblikovanje novog studijskog albuma što u tematsko središte postavlja ekologiju iz aspekta šamanističkih rituala.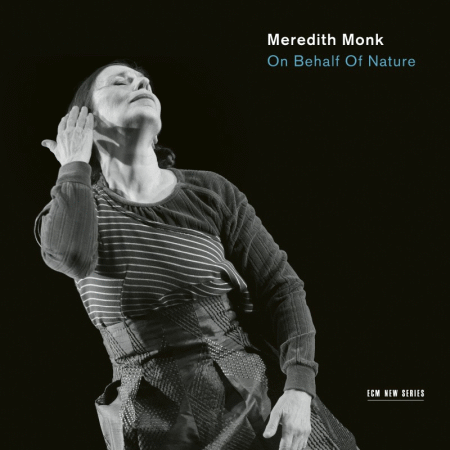 Zvrkasta kakva jeste, ponovno je priuštila razigranu vedrinu opuštajući se od zagrobnih tema albuma "Impermanence" i kontemplacija duhovnosti "Songs Of Ascension" sa svojom ekipom među kojom su udaraljkaš
John Hollenbeck
,
Bodhan Hilash
na drvenim duhačkim instrumentima,
Alison Sniffin
(piano, klavijature, violina, francuski rog, vokal),
Laura Sherman
(harfa), te obavezna vokalno-plesačka trupa od 8 osoba, što žena, što muškaraca. Premda je 20.XI navršila 74. godinu života još uvijek je otkačena, lucidna i spremna na nove ekscentrične gegove, a ovaj puta je ponovno zaobišla klasičan tekstualni libreto; lirike gotovo i da nema. Odnosno, po običaju je gotovo čitav materijal odrađen vox-extended tehnikom u kojoj relacije glasova i instrumentarija izjednačava na istim parametrima gdje vokal služi u funkciji glazbala.
Album je razmeđen s tri vitalne teme "
Dark/ Light
", "
Environs
" i "
High realm
" u nastavcima ("Environs" ih ima 3, a ostale po 2) što uvode u obrede izmjene dana i noći, vremensko-atmosferske prilike, prirodne procese i ljudskog učešća u njima. Nijemo se mantra, pa cikta, podvriskuje, mumlja i razvija dugotrajna fabula puna dramatike i neočekivanih egzibicija uz povremene instrumentalističke intervale poput "
Eon
" (vibrafon, klarinet) ili kompletne vokalno-glazbene kombinacije (plesne "
Pavement steps
", "
Harvest
", umjerena "
Ringing
", vrlo snena "
Memory zone
"). Radnja je doduše vrlo spora, meditativna, čak i uljuljkava u uspavanku poput klimatskih promjena koje se ne dešavaju naglo izuzev ako ne naleti iznenadna oluja, no nje ovdje nema. Tek u drugom dijelu se javlja evidentan faktor što pospješuje dekor - suša u skladbi "
Water/ sky rant
" gdje Meredith oponaša pradavnu ženu što moli nebesa za kišu na vrlo sličan lucidno-infantilan način primitivne osobe koju je primjerice sjajno odglumila u čuvenoj "Madwoman's vision" sa soundtrack albuma "Book Of Days" (1990).
Ovdje su prije svega bitni ti vokalni gegovi u srazu s pratećom, po običaju vrlo minornom glazbom svedenom na klasičan minimalizam, pa iako se radnja ne može razgibati u dramatizaciji s obiljem detalja jer je upravo zamišljena po Meredithinoj ideji glumačko-plesačkog pristupa s obzirom na njene godine, još uvijek pruža njen zanimljiv unutarnji svijet.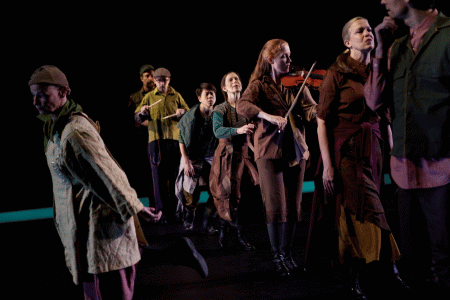 Meredith Monk Ensemble
Bez mnogo energije, ali s mnogo ekscentrične ljepote koja sudara ozbiljnost i razigranu dječju naivnost, "On Behalf Of Nature" ne spada u njena snažna i poletna ostvarenja što pak ne znači da prikazana kreativnost nije na očekivanom nivou. Priroda je to koju ne treba potcijeniti. I ona sama već osjeća breme starosti pokušavajući se održati fizički i duhovno mladom izvlačeći iz sebe svu vitalnost kroz dobro poznate metafore vox-extended tehnike na impresivan način.
Naslovi: 1.Dark/ light 1, 2.High realm, 3.Fractal activity, 4.Environs 1, 5.Eon, 6.Duet with shifting ground, 7.Environs 2, 8.Pavement steps, 9.Evolution, 10.Ritual zone, 11.Water/ sky rant, 12.Memory zone, 13.Environs 3, 14.Harvest, 15.Dark/ light 2, 16.High realm reprise, 17.Fractal mirror, 18.Ringing, 19.Spider web anthem
ocjena albuma [1-10]: 8

horvi // 10/12/2016