AD~E nije neki 'novi' bend već je skraćenica dva izvođača. Riječ je o projektu Acid Discharge (ili kraće A Discharge) i Emerge, a oba su iz Njemačke. O Emerge sam već ranije pisao, to je oneman projekt
Sasche Stadlmeiera
iz Augsburga, vlasnika dviju etiketa za eksperimentalnu glazbu (Attenuation Circuit i Attenuation Effect ˚1014), a Acid Discharge je pak meštar za nekoliko podžanrova drone-industriala. Startao je s prvim radom koncem 2015. razvijajući se kroz eksperimente vrlo brzo nanizavši 30-tak izdanja, što kraćih singlova i EP-ijeva, što albuma s jasnom nakanon da se čvrsto fiksira uz pojam industrial ambient formacija.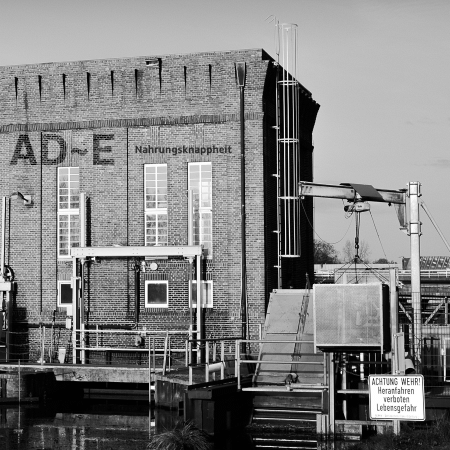 Ovdje su njih dvojica zabilježili zajednički nastup 7.X 2017. upravo u Augsburgu na Re:flexions - silent series u Ganze Bäckerei klubu, te su kroz pola sata prezentirali mračnu seansu industrijskog ambijenta u kome se točno osjete korespodencije koje ih vežu, a i razdvajaju u kreativnim sposobnostima. Emerge je prvenstveno kroz čitav diskografski opus s više od 100-tinjak do sada objavljenih radova privržen drone etici što se sasvim jasno očitava na ovome sessionu, a Acid Discharge se ovdje predstavlja kao kompozitor koji prije svega obožava raditi konkretnu glazbu, elem onu sastavljenu od raznoraznih zvukova snimljenih u kojekakvim eksterijerima i interijerima. Naravno, prioritet su mu što turobniji i mističniji zvukovi, a ovdje ih se sjatilo cijelo brdo. Od sampliranih glasova do raznoraznih šumova, a sve u prilog koncepta - nestašici hrane koja se sve više i više provlači kroz živote današnjeg čovječanstva unatoč razvikanim trendly lancima šoping centara i ogromne prehrambene industrije. Njih dvojica su prikazali angažiranim putem velike razlike što su sve uočljivije i na Zapadu; dok se jedni abnormalno bogate, a konzumenti imaju takoreći pune guzice svega i svačega, za to vrijeme zbog neuravnotežene hijerarhije i potpunog sloma 'srednje klase' veliki dio populacije prekapa po kontenjerima živeći paradoksno poput klošara u potrazi za bilo kakvim egzistencijalnim slamkama spasa.
Priča je vrlo morbidna i upečatljiva, svakako aktualna i nimalo fikcijska. Stvarna je i podobna za svaku raspravu, uostalom niti salonski kuloari ne zaziru od njih, ali zna se ona adekvatna uzrečica da sit gladnome ne vjeruje i da su sve to s njihove strane magnata, lobija i velikaša samo bezvezna naklapanja koja ne vode ničemu. Ovo dvoje underground umjetnika su im na inteligentan način sprćili srednji prst pokazavši im realno stanje stvari u kome se ne može uživati, ali način na koji su to ostvarili ima svoju poantu i jasan kritički obzor da je danas malo toga optimističkog za daljnji prosperitet suvremenog društva.
ocjena albuma [1-10]: 6

horvi // 29/08/2018