Prvo je bio
Dean Wareham
, pa GALAXIE 500, pa je bila
LUNA
, pa je došla Britta Phillips, pa su se oni oženili pa su sad Dean & Britta. Drugi album ovog para ne nudi ništa novo i neočekivano. Tragovi prijašnjih bendova su još tu. Asocijacije na Hazlewood/Sinatra ili Gainsbourgh/Bardot duete je nemoguće izbjeći, a ako tome pridodamo pomoć Pete Kembera, aka Sonic Boom (Spacemen 3) i produkciju Tony Viscontija svima je jasno što se treba očekivati na ovom albumu. Ili nije? Kome nije, nek uopće ne sluša.
Za ostatak treba istaknuti, da Back Numbers uz sedam autorskih sadrži i četiri obrade. Za kolekcionare obrada to su You Turned My Head Around (Lee Hazlewood), Teen Angel (Donovan), Our Love Will Still Be There (The Troggs) i White Horses (Claudine Longet).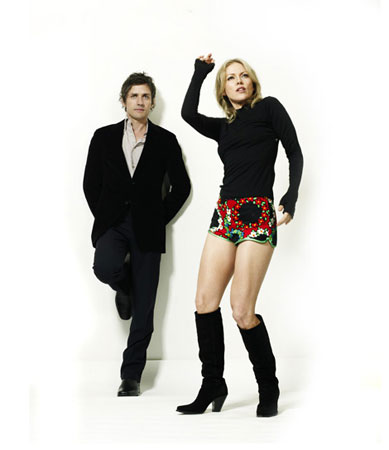 dean & britta © www.deanandbritta.com
Ove obrade u potpunosti su se infiltrirale među autorske pjesme, djelomično i stoga što to ipak u svojim originalnim verzijama one i nisu bili neki sveprisutni hitovi, pa samo upućenom slušatelju ove pjesme predstavljaju nešto drugo. Ostali vrhunci albuma su The Sun is Still Sunny sa svojim gudačkim dijelom, Say Goodnight u kojem dolazi do izražaja Sonic Boomovi sintersajzeri, Say Goodnight kao prekrasan duet
Sve u svemu, Back Numbers, kao i prethodnik, a kao i ostali radovi GALXIE 500 ili LUNA-e, su potpuno savršen soundtrack za lijeno, bilo kišno bilo sunčano i vruće poslijepodne.
ocjena albuma [1-10]: 9

pedja // 17/04/2007