Prvi album Kodagain bez gitariste
Vladimira Ristića - Pekara
je, onako kako si svi fanovi i pratitelji ovog prijatnog, ponekad (čitaj: nekoć) ekscentričnog duet benda mogu i zamisliti. S prvim danima 2019. godine objavljeno je ovo 17. izdanje u kome je jedina figura
Čombe
na klavijaturama sa sitno programiranim ritmovima u oldschool maniru i njegovim upečatljivim vokalom koji je odavno pokazao svestranost rocka i više nema nikakvu težnju da uspostavlja neke nove relacije kad mu ovakvo tkanje ionako jako dobro stoji.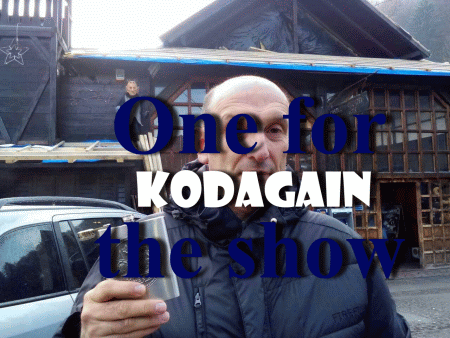 S podnaslovom '
only the music is mine
' (samo je glazba moja), Čombe je nanizao 26 obrada svega i svačega sjedivši pored svoje klavijature s urednim proto-Sheffield/ proto new-wave/ proto synth-pop ritmovima (a sve su debela preteča EBM-a, big beata, techna, trancea, glitcha, chillwavea, dubstepa, IBM-a, EDM-a, trapa...) objedinivši bogatu kulturu pop/ rock pjesmarice pod svoju univerzalnu zastavu, onako kako to on zna napraviti kad su obrade u igri. Čombe je u igri odavno, ne samo u zadnjih 12 godina otkako objavljuje za Slušaj najglasnije, još i ranije je u 80-im radio štošta zanimljivo i eksperimentalno (poslušajte "I want to tg'd, tg'd" snimljen 1981., objavljen za Slušaj najglasnije 2007.) i sve će vam biti jasno da nije riječ o nikakvom pokusnom šarlatanu koji se trenda uhvatio u najboljem trenutku, mada kod njega mnogo toga sugerira za one koji se po prvi puta susreću s njime da se glazbom bavi tek odnedavno. Daleko od toga.
Još prije najmanje desetak godina sam pisao o Kodagain da se bave iznimo rijetkom strukturom koju sam nazvao hardcore-pop u kome kratkoća pjesama jedva da prelazi 2 minute, a u njima je rečeno sve što u okviru pop pjesme treba biti iskazano. I Čombe drži taj svoj unikatan stil evo već jako dugo, biti će i druga dekada kako praši 'boli ga briga' za trendove i sve što se konstruira oko njih. Ne prihvaća nikakve nove tendencije svojih okvira u kojima se nalazi jer radi kratko i jasno bez okolišanja. Naravno, nije Minor Threat ili Black Flag, Exploited i Napalm Death, on je suprotnost njima u vrlo mirnoj i staloženoj formaciji od minute i pol, pa čak je ponekad i kraći od nekih legendarnih hardcore hitova. Njegova seansa je usredotočena na pjesmu, poetiku i stihove koje pjeva, ne vjerujem da bi mogao izdržati neki solistički izlet gitare, saksofona, nekog osebujnog klavijaturiste, bubnjara ili bilo kakvog instrumentalista da mu se od vokalne dionice protegne svirački period na 2-3 ili više minuta, nedaj Bože Kraftwerk ili Pink Floyd, King Crimson, Led Zeppelin, Can i tako redom gdje je glazba bila prije teksta.
Čombe nije jak glazbenik. On je pjevač koji zna otpjevati šta god mu padne na pamet. Možda mu profesori iz muzičkog odgoja nisu davali neke velike šanse jer nisu prepoznali njegove vrijednosti, ali on svima njima sada vraća jako potentan udarac s kojim bi se zabezeknuli. Umjetnost vokalnog izraza kojeg njeguje je bez ikakvih predrasuda jedno od najvrlijih dostignuća pop-glazbe s ovih područja, samo, eh, to nitko, ili, malo tko sluša što ovaj čovjek pjeva i kako pjeva. Ja bih morao biti jako dobro plaćen novinar u svojstvu neke diskografske kuće koja prepoznaje Čombetove kvalitete s resursom kojeg ima, pa da onda pričamo o pijaru. Dovoljno sam ga hvalio u proteklih desetak godina slušajući mnogo njegovih radova (uglavnom sve), jasno mi je da mediji ostaju skroz ravnodušni u ovakvom blesavom košmaru, da ga nisu primjetili kao novog Bryan Ferrya, ali to je njihov veliki problem zato što ne slušaju Slušaj najglasnije i ne čitaju recenzije Horvija.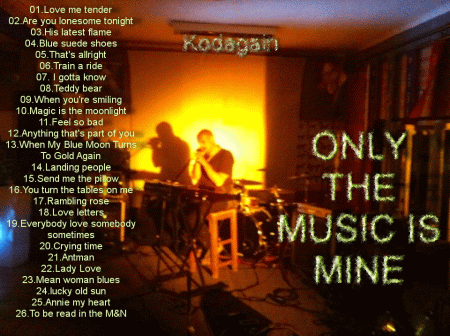 Ovdje će uki i neuki puk naći gomilu dobro znanih pjesama koje se prepoznavaju po stihovima od primjerice "
Love me tender
", "
Are you lonesome tonight
", "
Blue suede shoes
", "
That's allright
", "
Teddy bear
", "
Rambling rose
", "
Crying time
"..., a tu se nalaze i dvije akustične staccato pjesme "
Annie my heart
" i završna "
To be read in the morning and at night
" koje je vjerojatno odsvirao Pekar. Sve su to jako dobro znane i manje znane pjesme iz oblasti rocka, popa, alternativnog svačega da vam ne objašnjavam miljea, kruga po kome se kreće kreativni opus Čombea, što je posve u redu, umjetnost ne radi zbog novaca, nego zbog slobode izražavanja. Čombe se ovako izrazio što misli o svemu ovome sjebanome i užasnom na vrlo nježan način. Nikome nije naštetio, pa makar pred konac albuma ima nekoliko moćnijih psihodeličnih pop uboda s kojima će zainteresirani razbijati glavu nisu li obrade The Residents, njemu omiljenih Monocrome Set ili nekih manje kultnijih izvođača. .
Prijatan i neobavezan rad. Taman za one koji ga gotive, cijene i prate.
Naslovi: 1.Love me tender, 2.Are you lonesome tonight, 3.His latest flame, 4.Blue suede shoes, 5.That's allrigh, 6.Train a ride, 7.I gotta know, 8.Teddy bear, 9.When you're smiling, 10.Magic is the moonlight, 11.Feel so bad, 12.Anything that's part of you, 13.When my blue moon turns to gold again, 14.Landing people, 15.Send me the pillow, 16.You turn the tables on me, 17.Rambling rose, 18.Love letters, 19.Everybody love somebody sometimes, 20.Crying time, 21.Antman, 22.Lady love, 23.Mean woman blues, 24.Lucky old sun, 25.Annie my heart, 26.To be read in the M&N
ocjena albuma [1-10]: 6

horvi // 22/02/2019