Nakon 2 pune godine pauziranja ovi kraljevi, (ili bolje rečeno, kralj) britanskog independent zvuka na čelu sa Mark E.Smithom objavili su svoj 26 studijski album. Budući da imaju zacementirani status ako ne no.1 onda barem top-5 kod mnogih uvaženih svjetskih rock kritičara, tako niti naša web stranica nije izuzetak, isto kao niti dobar dio ovozemne ex-Yu scene koja ih u posljednjih nekoliko godina navodi kao jedne od vrlo bitnih uzora. Vijesti o njima su tijekom 21. stoljeća bile dosta šture jer je Mark E.Smith nešto manje produktivan na što je utjecala i saobraćanja nesreća koju je doživio prije nekoliko godina.
Već punih 30 godina, od osnutka u Manchesteru 1977., M.E.S. i The Fall su neuništivi bastion otočkog underground rock zvuka. S ukupno do sada objavljenih 26 studijskih, 34 kompilacijska, 29 live (od kojih posebno mjesto za "istočnoeuropske" alternativce zauzima "Live In Zagreb 1990"), te 5 albuma snimljenih uživo u studiju, The Fall se s brojkom od 94 dugosvirajuća izdanja približava brojci "kluba 100" u koju se, čini mi se, još nitko u svijetu rock scene nije uvrstio, barem ne u vrijeme svog aktivnog rada. Ako u ovu brojku uvrstimo i 7 The Fall DVD/video materijala, onda im je ovo 101. izdanje! Frank Zappa, jedini pravi konkurent je zaustavljen opakom smrću 1993. godine na brojci od nekih 70-tak albuma, dok još uvijek aktivni Bowie, Neil Young, Van Morrisson, The Rolling Stones, Lou Reed, Lee Scratch Perry i još poneko iz velike branše jedva da su uz sve kompilacije i nekolicinu živih izdanja dosegli cifru od tek nekih "bijednih" 50-tak albuma. A na našoj sceni velike šanse imala je produktivnost Štulića da je otprilike s takvim intenzitetom nastavio objavljivati albume, ili ono što u zadnjih 5-6 godina radi Zdenko Franjić. Hiper produkcija, hiperaktivnost.... u prosjeku od 3-4 albuma godišnje... M.E.S. je odavno izjavio da ako ne može u roku jedne godine napraviti barem 12 pjesmi (1 po mjesecu), onda njegov kreativni život nema smisla.
Uz ove frapantne podatke valja spomenuti da The Fall ima i 43 singla (otprilike nešto manje od 1 i pol godišnje) od kojih su "There's ghost in my house" 1987., "Victoria" (obrada Kinksa) 1988., te "Free range" 1992. gotovo došli do visoke pozicije oficijelne ljestvice najprodavanijih singlova u Britaniji. (najvišlje pozicije bile su no.30. i no.35). Spomenimo da su im tada bili oštri konkurenti u napadu na vrh Duran Duran, George Michael, Madonna, CC Catch, Cyndi Lauper, Queen, Modern Talking, Depeche Mode, Simple Minds, Guns'n'Roses, Pet Shop Boys, Transvision Vamp, a 1992. nitko drugi do MC Hammer, Nirvana, Michael Jackson, U2, Snap, The Cure, Salt'n'Pepa i Dr.Alban (baš u vrijeme hita "It's my life"). U početku karijere od 1977. do sredine 80-tih bilježili su sjajne pozicije na indie top-listama (imaju četri no.1 UK s radovima "Totale's Turns", "Grotesque" 1980., "Perverted By Language" 1983. i "In The Palace Of Swords Reversed" 1987.), no uglavnom od sredine 80-tih više ne žele pratiti svoj "uspjeh" na britanskim alternativnim listama. Posebno dobro su im prolazili albumi "John Peel Session" kojih ima oko 25 komada i mislim da nitko osim The Fall nema toliko odrađenih radijskih emisija za ovog velikana.
Od tada, negdje početkom devedesetih, jednostavno izgubivši bitku u borbi za komercijalni vrh, The Fall unatoč solidnim (a i odličnim) tiražama svojih izdanja od redovito 50.000 primjeraka (manje-više) redovito dolazi na ljestvice najprodavanijih već u prvih nekoliko tjedana nakon objavljivanja, no nikada nakon toga nisu došli u izgledniju poziciju. Ipak, svoj najveći komercijalni uspjeh doživjeli su u IV mjesecu 1993. s albumom "The Infotaiment Scan" koji je zauzeo nevjerojatni no.9 UK top-albuma što im je i najveći komercijalni uspjeh. Česte promijene članstva glazbenika koje M.E.S doslovce tretira kao unajmljene radnike, te i spomenuta saobraćajka uzrok su razrijeđenih izdanja od 2000. godine naovamo.
"Reformation! Post-TLC" im je tek 5. studijski album u 21. stoljeću ("Unutterable" 2000., "Are You Are Missing Winner" 2001., "The Real New Fall LP" 2003. i "Fall Heads Roll" 2005.), a ekipa koju je M.E.S. okupio formacija je glazbenika koja ga prati tek (uglavnom) od 2006. godine. Uz njegovo nezaobilazno veličanstvo M.E.S. na vokalu, to su: Elena Poulou (klavijature), Tim Presley (gitara), Dave Spurr (bas), Orpheo McCord (bubnjevi i vokal), te Rob Barbato (klavijature, bas i vokal). Za prigodu ovog albuma ugostio je još dvojicu gitarista - Pete Greenwaya i Gary Bennetta, dok je po običaju produkciju kroz svoje šake jedino dopustio stanovitom gospodinu potpisanom kao Tim at Gracielands.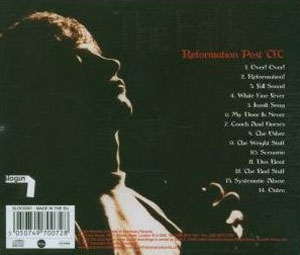 Album je za znalce The Fall nova priča podebljana različitim novim "pikantnostima" iz života M.E.S. (možete zamisliti), no najvažnije je da je i dalje zadržao svoje visoko dostojanstvo spram svih komercijalnih i veoma popularnih izvođača koji besramno uzimaju njegove ideje. Lijepo i fino M.E.S. spušta sve te kopirante "na zemlju" kroz skladbe "Over and over" i "Reformation". Glazbeno, The Fall su i dalje privrženi svojem minimalističkom rock stilu u kojem se tjera nekoliko uzastopnih r'n'r akorda koji su toliko nabijeni snagom kao da im je ovo tek prvi album u karijeri. Jest, M.E.S. je uvijek bio pravi punker na bazi Velvet Underground i to je i dan danas još uvijek ostao. I dalje je bijesan, raspravlja o svemu i svačemu, ali kao i uvijek ima dlake na jeziku i doslovce je na granici da ne počne "pizditi i psovati". Jedna od najupečatljivijih stvari je "Fall sound" gdje potpuno dočarava bogatstvo jednostavnosti vlastitog izraza. Kroz album šara vrlo jednostavno s countryem (naslov "White line fever"), povremeno se sprdava, no priča mu od skladbe do skladbe ima fenomenalnu fabulu (potpuni kraut/indie-rock "Insult song") ili pjesma "My door is never" gdje otvoreno kaže da njegova vrata nikada neće biti otvorena za tebe. On je uvijek neočekivani autor, koji u ovom slučaju kada The Fall godinama više nije niti približno UK top-50, pa ga izgleda hvata velika kriza "postojanja" (skladba "Coach and horses"). Nema niti John Peel-a koji bi ga podržao, što je prilično jebeno. (Imaš Juraj Šiftara i Horvija koji te podržavaju godinama). Čak je dozvolio da kompoziciju "Wright stuff" otpjeva mlada djevojka Elena iz novopečenog sastava The Fall. Ali da nešto ne valja, M.E.S. je rekao u "Scenario", vrlo bolnoj, neoptimističnoj kompoziciji punoj stvarnih, svakodnevnih događaja. Album nastavlja sa sjajnom (i tužnoj) instrumentalnom kompozicijom "Das boat" (najduža stvar, traje 10 minuta), gdje se na samo sebi svojstven eksperimentalni način prikazuje kao tvorac jednog možda i ne novog stila, ali u svakom slučaju originalnog. Predzadnja stvar "Bad stuff" je čudne kombinacije nezadovoljstva, new-wavea, produkcije, eksperimenata i vrlo dobre svirke uz M.E.S. mrmljanje u mikrofon (trebalo bi zvučati kao telefon?), dok je zadnja "Systematic abuse" ponovno povratak na stari The Fall zvuk uz odličnu produkciju. Plesni, kvalitetni, rockerski, blago elektronički-techno, originalni... čak i pogodno za hit-singl.
Ali "kriza identiteta" kod njega jednostavno ne postoji.
On je veliki autor o kojem će se ispisati knjige. Jasno je da nakon debele, 30 godina dugačke karijere uz bezuvjetni utjecaj na Sonic Youth, New Order, Pixies, David Bowie-a, Fugazi, Yo La Tengo, Girls Against Boys, Pavement, Mercury REV, Flamming Lips, Coldplay..., ovi velikani (ili velikan M.E.S.) britanskog indie zvuka iz Manchestera odavno imaju svoje mjesto u enciklopedijama rocka bez obzira na komercijalni učinak.
Naslovi: 1. Over over, 2. Reformation, 3. Fall sound, 4. White line fever, 5. Insult song. 6. My door is never, 7. Coach and horses, 8. Usher, 9. Wright stuff, 10. Scenario, 11. Das boat, 12. Bad stuff, 13. Systematic abuse, 14. Outro
Ocijena (1-10): u cijeloj The Fall karijeri ovo je tek bijedna 7-mica, ali znam što je M.E.S., onda je 7,5.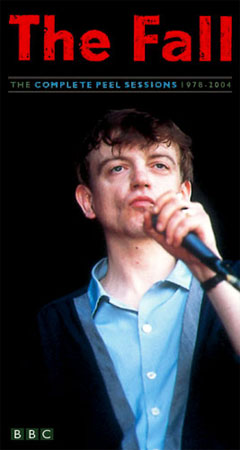 DISKOGRAFIJA
Studio albums
Live at the Witch Trials (1979)
Dragnet (1979)
Grotesque (After the Gramme) (1980)
Slates (1981)
Hex Enduction Hour (1982)
Room to Live (Undilutable Slang Truth!) (1982)
Perverted by Language (1983)
The Wonderful and Frightening World of The Fall (1984)
This Nation's Saving Grace (1985)
Bend Sinister (1986)
The Frenz Experiment (1988)
I Am Kurious, Oranj (1988)
Extricate (1990)
Shift-Work (1991)
Code: Selfish (1992)
The Infotainment Scan (1993)
Middle Class Revolt (1994)
Cerebral Caustic (1995)
The Light User Syndrome (1996)
Levitate (1997)
The Marshall Suite (1999)
The Unutterable (2000)
Are You Are Missing Winner (2001)
The Real New Fall LP (Formerly Country on the Click) (2003)
Fall Heads Roll (2005)
Reformation! Post-TLC (2007)
Part studio, part live albums
Totale's Turns (It's Now or Never) (1980)
Seminal Live (1989)
The Twenty-Seven Points (1995)
2G+2 (2002)
Interim (2004)
Live albums
Live in London 1980 (1982)
A Part of America Therein, 1981 (1982)
Fall In a Hole (1983)
BBC Radio 1 Live in Concert (1993)
In the City... (1997)
15 Ways to Leave Your Man, Live (1997)
Live to Air in Melbourne 1982 (1998)
Live Various Years (1998)
Nottingham 92 (1998)
Live 1977 (2000)
I Am as Pure as Oranj (2000)
Live in Cambridge 1988 (2000)
Austurbaejarbio (Live in Reykjavik 1983) (2001)
Live in Zagreb (2001)
Liverpool 78 (2001)
Touch Sensitive... Bootleg Box Set (2003)
The Idiot Joy Show (2003)
Live at the Phoenix Festival (2003)
Live at Deeply Vale (2005)
Live from the Vaults Los Angeles 1978 (2005)
Live from the Vaults Oldham 1978 (2005)
Live from the Vaults Retford 1978 (2005)
Live from the Vaults Glasgow 1981 (2005)
Live from the Vaults Hoff Alter Bahnoff 1981 (2005)
Live at the Knitting Factory, New York 9 April 2001 (2007)
Live at the Garage, London 20 April 2002 (2007)
Live at the Knitting Factory, LA 14 November 2001 (2007)
Live at the ATP Festival 28 April 2002 (2007)
Compilations
Main article: Compilation albums by The Fall
77-Early Years-79 (1981)
Hip Priest and Kamerads (1985)
Nord-West Gas (1986)
Palace of Swords Reversed (1987)
458489 A Sides (1990)
458489 B Sides (1990)
The Collection (1993)
Backdrop (1994)
Sinister Waltz (1996)
Fiend with a Violin (1996)
Oswald Defence Lawyer (1996)
The Archive Series (1997)
The Less You Look, the More You Find (1997)
Oxymoron (1997)
Cheetham Hill (1997)
Smile... It's the Best of (1998)
Northern Attitude (1998)
The Peel Sessions (1999)
A Past Gone Mad (2000)
Psykick Dancehall (2000)
A World Bewitched (2001)
Totally Wired - The Rough Trade Anthology (2002)
The Rough Trade Singles Box (2002)
High Tension Line (2002)
Listening In (2002)
Early Singles (2002)
It's the New Thing! The Step Forward Years (2003)
Words of Expectation - BBC Sessions (2003)
The War Against Intelligence - The Fontana Years (2003)
Rebellious Jukebox (2003)
50,000 Fall Fans Can't Be Wrong - 39 Golden Greats (2004)
The Complete Peel Sessions 1978-2004 (2005)
The Permanent Years - Paranoia Man in Cheap Sh*t Room (2006)
horvi // 12/05/2007
PS: Mogao je M.E.S. i bolje, ali i ovo je fenomenalno...ne treba više. Ne vjerujem da će ikada biti popularan kao Coldplay, Radiohead, The Smiths, Bloc Party, ali će u svakom slučaju ostati kao pravi predstavnik Britanskog alternativnog rocka. I s time se M.E.S. nosi već 30 godina bez obzira na ocijene i tiraže. Svaka mu čast!