Da M.E.S. ima sve manje i manje inspiracije govori jasna činjenica kako se unazad gotovo desetak godina njegov kreativni učinak sveo tek na polovičnu kvantitetu: dok je primjerice u prošlim dekadama izbacivao čak i po 2-3 albuma godišnje, pa po jedan obavezno svake godine, od saobraćajke koju je doživio 2005. taj količinski opus se zbirno pretvorio samo u 6 studijskih albuma i 2 EP-ija nakodnadivši manjak friškog materijala sa čak 15 živih izdanja. A to je za njegov nekada radišan elan premalo, kako je nekad i sam govorio 'ako nisam sposoban mjesečno napraviti barem jednu pjesmu, onda mi valja raspustiti bend, pa nismo mi neki jebeni Tears For Fears i producenti da smišljamo remikseve Depeche Mode i Dire Straits'.
Ali je M.E.S. postao sam svoj reciklist, a vjerojatno i recidivist. Evo recimo da se u principu i nisu osobito doživljavala njegova ponekad zanimljiva EP izdanja. Posljednje takve vrste bio je "Remainderer" (2013), solidno ostvarenje koje je prethodilo pravom albumu "Re-Mit" hipotetski shvaćeno da se stara olinjala mizantropčina vratila u dobru kreativnu formu. No, nije. Sve manje je sposoban napraviti par novih pjesama godišnje. Sustiže ga kriza neinventivnosti treće životne dobi. Sve je manje inspiracije.
Evo, konkretno, na ovome EP-iju bi se čovjek mogao poveseliti ajme, čak 7 pjesama i 34 minute materijala. Govoreći u brojkama to optimistički djeluje, no ovdje su samo 2 nove stvari, jedan instrumental naslovne
"Wise ol' man"
i četiri poznate od ranije -
"Dedication (remix)"
,
"Venice with girls"
i
"Facebook troll"
s prethodnog albuma "Sub-Lingual Tablet", te živa snimka legendarne
"No Xmas for John Quay"
prvotno objavljene na debiju "Live At Witch Trials" iz 1979. Ove stvari s prethodnog albuma su remiksevi i prerađeni snimci, upravo ono što nikad nije volio raditi i po čemu je pljuvao kad su bendovi u nedostatku kreativnosti pribjegavali recikliranju. A ove dvije nove stvari su uvijek dobrodošli stari The Fall u poznatom maniru. "Wise ol' man" počinje vokalima Elene Poulu, M.E.S. se ubacuje svojim prgavim vriskovima, a ekipa žica i palica žeže po naputcima kao u 80-im s energičnim post-punkom gotovo u hardcore tempu.
"All leave cancelled"
bi nekad spadala u njihove eksperimentarije koje su uobičavali stavljati negdje pred konac albuma ili na B-strane singlova. Zaigrali se muzičari, dobili su slobodan prostor da rade gotovo što ih volja, pa su u čak 8 minuta napravili kompleksnu stvar s mnogo izmjena ritmova i zvukova, gitarskih i synth eksperimenata, psihodelije, nakratko otišavši i u de-kompozicijsku stukturu i lagani noise u aranžmanu višeslojnog kraut-rocka. Vrlo zanimljiva kompozicija, no u principu, ove dvije nove skladbe nekoć bi bile samo običan singl.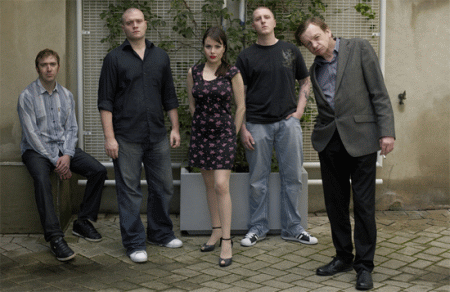 I tako eto, M.E.S. je ostatak EP-ija popunio s remiksevima koji su interesantni, blago elektronski, eksperimentalni ("Dedication" je mnogo dotjeranija i eksperimentima nadograđenija "Dedication not medication"), nešto žešći i prljaviji od originala ("Venice with girls"), a jedna je vrlo vješto sljepljena sa živim snimkom (prvobitna "Fibre book troll" preimenovana u "Facebook troll" s urnebesnim live zapisom "No Xmas for John Quay"). Nije da ovo nema interesantnog pristupa, ali ništa novog nije urađeno.
Naslovi: 1.Wise ol' man, 2.All leave cancelled, 3.Dedication (remix), 4.Wise ol' man (instr.), 5.Venice with girls, 6.Facebook troll/ No Xmas for John Quay, 7.All leave cancelled (X)
ocjena albuma [1-10]: 5

horvi // 03/04/2016