Power electronics, žanr koji nestaje, a koji je značio dosta u pravcu razmišljanja o noise muzici. Te roptaje možemo čuti kod JUANITO)))-a, sa blagom harsh oštrinom, to nestajanje svega u jednog pulse demon-a. Power u ovom slučaju, na ovom izdanju djeluje po značenju kao moć privatne arhive muzičkih izdanja.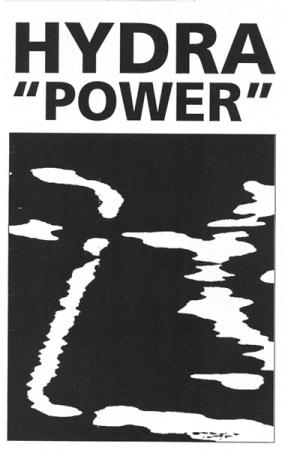 Pojednostavljenost svega onoga što znači biti muzičar, aktivacijom distorzija koje nisu baš ni toliko upotrijebljene na pravi način, ali pokušaj da se sve to uvede u određeni smisao produkcije muzike, nekog ličnog zaključka, kostur led detalja koji je trag inverzije, tropski, arhitekture kadrova, prolaženja kroz prostorije, najviše u ličnom doživljaju maturske noći, okupljanja sa određenim razlozima koji nisu baš van toga toliko "američki" kao što nam se to čini. Mogućnost zamisliti postojanje u trenutku, a biti svjestan američke kontinentalnosti. Jedino postojanje u kojoj razumijem Ameriku može biti ovo izdanje. Mislim da ostala umjetnost me ne čini ništa bližim američkom narodu, osim što su to svjetske sile u kojima postojimo kao zemlja. 
Na drugoj strani kasete može se čuti dobar uvod u ono što predstoji, uz osjećaj da će nešto trajati što se neće "pokvariti", ili je zvuk taj koji ispunjava određeni prostor koji postaje pomalo narativan. Neko ko sluša "Rita", a uočava određenu razliku ili potrebu da se dogodi to razdvajanje, između ovoga što trenutno slušam i ono što je "Rita" za noise scenu, radije ću se okrenuti power electronics, prihvatanju svega toga, iz razloga mimoilaženja iznenadnog doživljaja pokvarenosti, a još ako to traje u kontinuitetu, s razlogom smatram da su ovi projekti značajniji za ljubitelje muzike i one koji žele da opstanu u tome bez izvjesnog problema. 
Naslovi:
SIDE A
A1 Force
A2 Death's Dimension
A3 Past Life Recall
A4 Gun God (Time Killer Mix)
A1, A2, and A4 recorded at "The Space", Poughkeepsie, NY.
A3 originally released on the "V.A. Lives" tape, by IRDS, Japan.
Greg Scott : Vocals, Electronics
Mixed By, Engineer : Jacques Cohen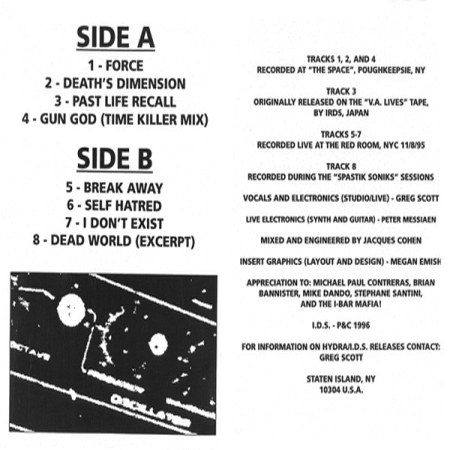 SIDE B
B1 Break Away
B2 Self Hatred
B3 I Don't Exist
B4 Dead World (Excerpt)
Tracks B1-B3 recorded live at the Red Room, NYC 11/8/95.
Track B4 recorded during the "Spastik Soniks" sessions.
Greg Scott : Vocals, Electronics
Peter Messiaen : Electronics, Synthesizer, Guitar [Live Tracks 1-3]
Mixed By, Engineer : Jacques Cohen
Greg Scott
Oct. 29,1965 - Sept 9th, 2003
R.I.P
ocjena albuma [1-10]: 7

edo žuđelović // 04/02/2023