Huh. Ne znam zašto, ali ovaj abnormalno potentan i plodan autor je prestao voditi evidenciju o realiziranim albumima. Ima ih preko 500, ali ih nećete pronaći na njegovim officijelnim web stranicama. Mnogo ih je raštrkano po brojnim izdavačima za koje valjda samo on zna…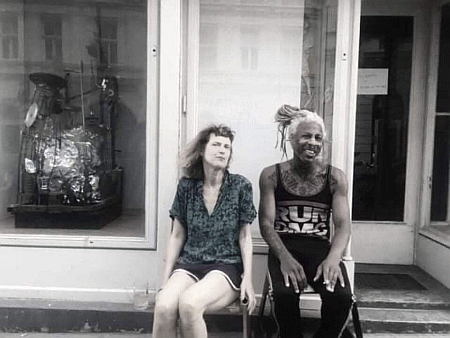 Power & Sean Derrick Cooper Marquardt © 2021
Nego, ovdje je snimak koncerta iz Beča, 16.07.2021. kada se udružio sa stanovitom
Power
, predstavnicom bečkog underground kolektiva (FatalismusSpunk - Jeschka Oszilat & Power) s kojom već ima nekoliko kolaboracija na laptopu i elektronici. Pretpostavljam da se radi o 'njoj' jer je na stražnjem ovitku prikazana slika njih dvoje. Bio je ovo nastup u sklopu Kastenkonzert #34
http://thechurchofnoisygoat.bandcamp.com/album/live-in-vienna-16-july-2021-kastenkonzert-34-ich-war-rein-und-zu-chtig-und-du-hast-feuer-in-meine-adern-gegossen
, a na istoj stranici izdavača The Churhy of Noisy Goat iz brazilskog Porto Alegrea može se pronaći još sijaset SDCM izdanja. Pravi naslov ovog albuma ima i dodatak "
Ich war rein und züchtig, und du hast Feuer in meine Adern gegossen
" ('bio sam čist i čedan, a ti si ulio vatru u moje vene').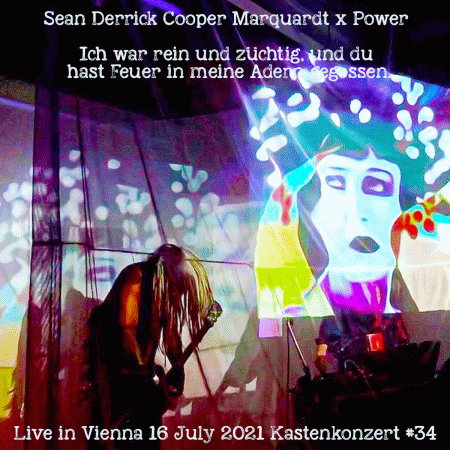 Ovdje se dugotrajni drone s uvodnim vokalnim mantrama i nezaobilaznim Sean Derrickovim gitarskim noise, atmospheric, ambient i ostalim dizajnima petlja s cut-up tehnikom samplova do namjerne neprepoznatljivosti u kontinuitetu dinamike montiranja prativši priču Salominu na specifičan soundtrack način uključujući i ples, te montirane krajolike u svrhu gradivnog koncepta. Naravno, ovo je stvaranje na licu mjesta, čista improvizacija, a kao takva ima osim ovog službenog zapisa od 30 minuta i 41 sekundu još 4 verzije istih duljina kao "
Room version #1 & #2
", "
Mixer version #1 & #2
", te "
Feuer in der Adern
". Uzbuđenja nikako ne manjka, repeticije su rijetke i sve ide uobičajenim tokom lo-fi gradacije po dobro poznatom Derrickovom klišeju.
ocjena albuma [1-10]: 7

horvi // 24/01/2022