Toliko puta spominjan u različitim kontekstima na ovim stranicama, a tek samo jednom recenziran još tamo prije više od 14 godina kada je s King Buzzom iz Melvinsa napravio onu kolaboraciju "
Juggernaut
"
www.terapija.net/mjuzik.asp?ID=4438
(2007), Velšanin
Brian Williams
iliti Lustmord je navelike zadužio drone i dark ambient/ darkwave istom onoliko kao primjerice Throbbing Gristle industrial ili Merzbow harsh-noise.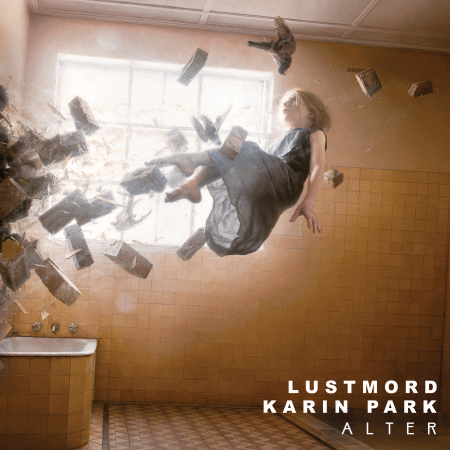 Lustmord je zadnjih godina, pa i gotovo čitavo desetljeće vrlo malo bio kreativno aktivan, pa je i to jedan od razloga što sam ga zaobilazio jer pisati o kompilacijama, remiksevima ili soundtrackovima nije njegov pravi izričaj. Ovdje se po prvi puta upustio u kolaboraciju sa švedskom
Karin Park
, multitalentiranom članicom noise rock/ sludge/ doom post-punk benda
Årabrot
čiji se vokal često uspoređuje s Bjork, međutim u ovome kontekstu on je daleko više na onoj monumentalnističkoj frekvenciji obredne Lise Gerrard, dakako iz Dead Can Dance. Usput, bila je u Močvari s bendom
www.terapija.net/koncert.asp?ID=29163
25. travnja 2019. u paketu s Mono i Jo Quail.
Ovdje je praktički sve dizjanirano u standardnom Lustmordovom stilu: gromke mračne, trome i lijene linije synthova bez ikakvih ritmičkih pomagala u sustavnim periodima harmonija iznose duboke bas trube poput jezovitih navješćenja sudnjeg dana u uobičajeno dugačkim kompozicijama do 10-11 minuta (a i nešto kraće) u kojima se Karinin vokal šeta po rubovima prokletstva vječne tame i nesnosnih bolova. Sve to nalikuje na mračnu operu eterično laganog toka čija je izvedenica riječi 'alter' velški sinonim za duboku tugu, gubitak ili čežnju za domom.
Njen vokal je na oštricama očaja, depresije, efemernih nepoznanica patnje angažirajući se za svijet koji je totalno otišao dođavola spram onoga kakvog smo nekoć poznavali. Pokazuje tu i tamo neke slabašne trunke nade u beznađu, ali do sedme pjesme "
Song of Soil
" treba doći strpljenjem jer ovaj iznimno trom i depresivno težak album traje skoro 70 minuta. I pita se ona u tom hladnokrvno-nježnom mumljanju i zavijanju 'što je ostalo u ovome svijetu?' davši konačan odgovor u završnoj "
Sele
" da je ovaj svijet mrtav i bez ikakve nade za čovjeka u njemu. Odgovor jest da ovo kao prvo nije nimalo lako štivo za slušanje kao što niti tema nije perspektivna, promišljeni je apokaliptičan horror s uzvišenim sadržajem prikazivajući ledenu hladnoću pustinja i kristala, ljepotu uništenja bez nekakvih opscenih noćnih mora razvijajući pejzaže i krajolike gdje vrijeme gubi smisao.
Naslovi: 1.Hiraeth, 2.The void between, 3.Perihelion, 4.Twin flames, 5.Entwined, 6.Kindred, 7.Song of Sol, 8.Sele
ocjena albuma [1-10]: 7

horvi // 14/09/2022