Kvintet iz Cape Towna (Južnoafrička Republika) podsjetiti će na kombinaciju Motorhead i Danzig sa snažnim heavy rockom i brzim tempovima. Osnovani su 2011., neprekidno rade u istoj postavi Kyle Lucky (vokal), Jean Labuschagne (bubnjevi), Chris Thunderbolt (bas), te Alex Krause i Chris Bornman (gitare), a do sada su već ostvarili zavidnu listu koncerata nastupajući kao predgrupa veličinama poput Bring Me The Horizon, Rise Against, Trivium, Wolfmother, Killswitch Engage, Rival Sons...
Na ovome debi albumu pucaju direktno u glavu klasicizmom r'n'r-a pojačanog snažnim gitarskim distorzijama, melodičnim intervalima, rasplesanim tempovima, hard/heavy, pa čak i punk riffovima koji su osim spomenutih Motorhead i Danzig upravo ona karika koja je manjkala The Cult u 80-im da potegnu u heavy i grunge koji su im 'pojeli' teren i pospremili ih u ropotarnicu. Kylie je kao frontmen uvjerljiv, režav, suvremen s ne pretjeranim, ali potrebitim growlovima za ovakav uistinu teški r'n'r, te je vođen vječitom poetikom sex'n'drugs'n - zna se, r'n'r. No, za razliku od nekadašnjeg svjetonazora 'živi brzo, umri mlad' jedna od hit pjesama upravo striktno upire u namjernu suvremenu digresiju - "Live fast, die last" (živi brzo, umri kasnije) pojašnjavajući etiku rockera 21. stoljeća da ne mora više ama baš sve biti u znaku raskalašenog života. Najbrža "Favorite kinda women" je posveta Lemmyiju, laganija "Sin City" neslavnoj apartheid prošlosti Južnoafričke Republike, a baladična "End of the day" posve mijenja snažno naličje u blueserski šlih djelomice prožetog sa okusom Everlast očekivano se pretvarajući u Danzig utjecaje. Dva singla "Prowler" i spomenuti "Live fast, die last" idealno kompresiraju kanaliziranu energiju benda na britkost, sažetost i divlji buntovnički elan koji ne jenjava tokom 43 minute albuma na kome ne manjka niti catchy riffova ili kompleksnijih aranžmanskih zahvata poput "Slow dance with the devil" ili naslovne "Sons of Lazarus" u kojima se okušavaju i u sludge/stoner relacijama.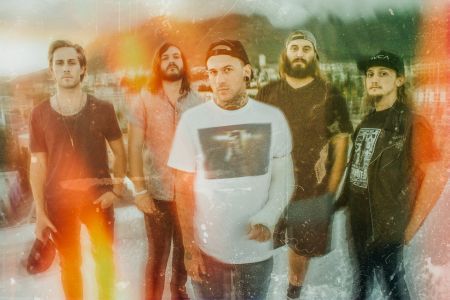 Dead Lucky
Kroz sve ove različite pjesme, no tretirane u stilski odmjerenim figurama taman na raskrižju metala i žestokog rocka, Dead Lucky su već sa svojim debi albumom najavili moguću komercijalnu karijeru s obzirom da je na ovakav spoj vrlo teško odoljeti. Uhvati na prvo slušanje isto kao AC/DC ili Ramones, a kad zgrabi, onda vjerojatno i ostaje u srcima audijencije. Prošlost je to jako lijepo dokazala, a što donosi budućnost ovim buntovno raspoloženim Južnoafrikancima nije teško predvidjeti. Imaju njemačkog distributera, europsku promociju i turneju, pa možda ih vidimo i u našim krajevima. Datum izlaska albuma je 13.III 2015.
Naslovi. 1.Sons of Lazarus, 2.King of the underworld, 3.Prowler, 4.Live fast, die last, 5.Our prayer, 6.Favorite kinda women, 7.Sin City, 8.Women of the night, 9.End of the day, 10.Slow dance with a devil, 11.A pause for the fallen, 12.Immortals
ocjena albuma [1-10]: 8

horvi // 12/03/2015