Samo nepunih mjesec dana otkako je prvi Liars rad za film "1/1" objavljen kao soundtrack za istoimenu dramu Jeremy Philipsa, izašao je novi studijski album, ali avaj... Nije sad tu nešto potrebno filozofirati da je "Titles With The World Fountain" skup ostataka sa snimanja prethodnog pravog albuma "TFCF" iz 2017. (iliti "Theme From Crying Fountain") jer se znalo dešavati da su takvi 'otpatci' ponekad kreativnije bolji i jači, već je riječ o tome da od sve one simpatične egzibicije sa čudnovatim i iščašenim metodama rada doslovce nema ništa.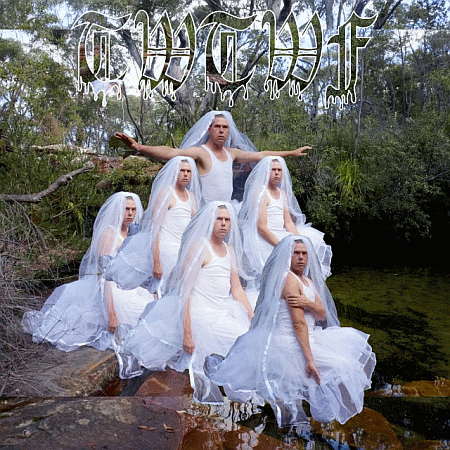 Ostali su samo poneki elektronski eksperimenti, te u vrh glave, tek 2-3 konkretne pjesme koje se nisu uspjele nagurati u koncept, no sav ostatak su zaista otpatci sa studijskog snimanja u obliku synth linija, programiranih ritmova, tek poneke gitarske dionice i šture konture koje su zamišljene, ali nisu niti polovično realizirane. Može se pretpostaviti da od ukupno 17 sklepanih pjesama
Angus Andrew
niti sam nije znao šta da radi s njima, pa ih je tek ovlaš dotjerao tako da je nekima dodao ležeran, tugaljiv i mumljajući vokal, ali u principu od svega su ostale samo nedovršene skice koje ne predstavljaju niti trećinu onih eksperimentalnih čudorija koje su nekoć kao trojac znali vrlo kreativno izraziti.
Za koliko-toliku potentnu pop pjesmu "
Murdrum
" je prvotno napravljen totalno bezvezan video spot od jedne te iste sekvence, o njemu, a i o pjesmi nije potrebno pričati; takvu nekoć kao trojac niti u napadu najblesavijeg pop entuzijazma ne bi objavili, ostala bi kao demo sve dok ne sazrije konkretna ideja, tek zahvaljujući režiseru Riley Blakewayu je realiziran daleko konkretniji video, zatim "
Double elegy
", "
Past future split
" i "
Absence blooms
" bi mogle samo proći kao sitan interval u nekoj dekompozicijskoj shemi, a još koliko-toliko urađena laganica "
Perky cut
" ili nedorečena trap/ dubstep "
On giving up
" nisu niti do koljena nečemu što bi imalo zajedničku poveznicu s "TFCF". Nadalje, nejasno je čemu nekoliko podražaja na Suicide poput instrumentalne teme "
Let's got a power right hasn't
" ili pjevane "
Feed the truth
", te cijelog niza ambijentalnih previranja, ali na sreću, sve su one vrlo kratke: može biti da su trebale biti dio 'nečega' oko čega su se očito 'odmetnici'
Aaron Hemphill
i
Julian Gross
ozbiljno gložili s Andrewom shvativši da je pretjerao u hipsterskom poimanju današnje indie glazbe uvodeći je u pop i elektroniku insinuiravši neke štoseve Radiohead.
Po ovome, kako stvari stoje, gazda se dobrano zakoprcao u vlastitoj mreži neinventivnosti što je bilo teško za očekivati nakon onako uzbudljivog i otkačenog "TFCF" albuma. Ovo čak niti ne nalikuje na neki eksperiment. Za tako nešto potrebno je daleko više odvažnosti, a toga ovdje nema. Pa nije vrag da će početi raditi kratke ambijentalne pjesmuljke sjedeći uz synth i potporu nekog sitno isprogramiranog laganog ritma? Nije on Brian Eno. Loše, jako loše. Preporučljivo samo za istinske fanove i popunu kolekcije.
Naslovi: 1.97 tears, 2.Face in ski mask bodies to the wind, 3.Murdrum, 4.Pure context, 5.Double elegy, 6.Let's got a power right hasn't, 7.Past future split, 8.P/A/M, 9.Fantail creeps, 10.Perky cut, 11.Feed the truth, 12.Gawking at the accident, 13.Absence blooms, 14.Extracts from seated sequence, 15.On giving up, 16.Sound of burning rubbish, 17.A kind of stopwatch
ocjena albuma [1-10]: 2

horvi // 29/09/2018