Nadahnuće petog albuma ekscentričnih Amerikanaca je pomahnitali svijet stacioniran uglavnom u Los Angelesu gdje su se vratili nakon gotovo deset godina života provedenog u New Yorku i Berlinu.
Kaotična karijera američkog eksperimental-rock trojca ušla je u desetu godinu postojanja sa petim studijskim albumom. I više nego dovoljno vremena koje je pokazalo da se band unatoč kreativnom napretku s albuma na album ne pomiče na ljestvici popularnosti. Prethodni album "Liars" (2007) dosegao je samo no.9 na Billboardovoj Heatseeker listi gdje se zadržao svega dva tjedna, a isti slučaj se desio i sa "Sisterworld" koji je tamo dospio 27. ožujka 2010. smjestivši se na no.11 i nakon ponovno dvije sedmice nestao s popisa. Popularnost je jedno, kvaliteta nešto sasvim drugo i koliko god se band trudio da svoje hrabre istraživačke porive nadogradi s novim teritorijima, toliko se sve više začahuruje u relativno maleni krug audijencije koji se ne proširuje niti nakon svih kritičarskih hvalospjeva. Tja, šteta... Tu po svemu sudeći nema nikakve pomoći, te će Liars i dalje ostati na underground pozicijama do daljnjeg.
"Sisterworld" je posve zatvoren album na kojem nema niti jednog koliko-toliko radiofoničnog songa kakav se primjerice pronašao na prethodniku u obliku "Plaster casts of everything", "Clear island" ili plesne "Houseclouds", već su Angus Andrew (vokal i gitara), Aaron Hemphill (udaraljke, gitara i synth) i Julian Gross (bubnjevi) odlučili da naprave rad s kojim će prvenstveno zadovoljiti svoje artističke egzibicije, a potom i svoj relativno maleni krug slušateljstva. Premda su objavljena dva singla, gospelom nadahnuti "Scissor" i punkerski lo-fi "The overachievers" u rangu ranih The Fall, album ne donosi niti najmanje komercijalne predispozicije, već veoma psihotičnu i zbrkanu atmosferu kojom predočavaju svoje viđenje ovog pomahnitalog svijeta u prilično zastrašujućem i jezovito opasnom izdanju. Bez većih gitarskih eksplozija (izuzev noisersko-punkerske "Scarecrows on a killer slant") i agresivnosti kakve su znali upriličiti na prethodnim izdanjima, album je krcat raštelanim aranžmanima s dionicama duhača i gudača ("Here comes all the people" i crna humoreska "Goodnight everybody"), razbrkanim gitarskim dionicama i melodijama koje krenu, pa stanu i često otplove u nenadane eksperimente. Naoko bi se moglo zaključiti da su ovom prokletom svijetu okrenuli leđa i pokazali mu srednji prst, no njihova je namjera očita da prikažu ništavilo i bijedu života koja je najbolje prikazana u depresivnom psihodeličnom minimalizmu "Proud evolution". Mada su se nakon dužeg perioda provedenog u New Yorku i Berlinu ponovno vratili u rodni Los Angeles (2008. su nastupili i u Zagrebu), nisu smirili svoje lucidne strasti kao što se moglo pretpostaviti da će se konačno skrasiti i usmjeriti na komponiranje relativno prihvatljivijih pjesama za širi dio indie-rock scene u rasponu od Radiohead do The Flaming Lips i Nick Cavea. Mogu to oni, ali evidentno je da ne žele.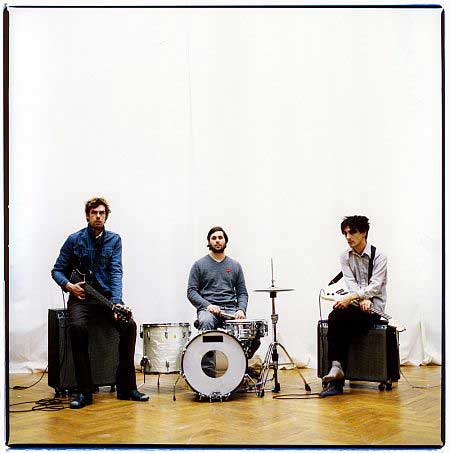 Sa ponovno čudnim i uvrnutim smislom za melodije koji se jednima može učiniti paradoksnim bezvezarijama i arogantnim koještarijama, a drugima zafrkantsko falšanje i ekscentrično ludilo, Liars su bez obzira na sav uskomešani sadržaj objavili veoma ozbiljan album čije djelovanje nije kratkog daha. Nema nikakvih praznih hodova i eksperimenata radi eksperimenta, već turobno mračna priča u zvrzlano-zbrkanom obliku o današnjem svijetu.
Paralelno s albumom objavljena je i remiksirana verzija pod naslovom "Sisterworld - Deluxe Edition Bonus Remix Disc" sa svim pjesmama na kojima učestvuju između ostalih Alan Vega - Duetonal (Suicide), Kazu Makino (Blonde Redhead), Tunde Adepimbe (TV On The Radio), Boyd Rice, Thom Yorke, Melvins i Carter Tutti (Throbbing Gristle). Remiksevi su veoma zanimljivi, svi su posve laganih tempova, puni eksperimenata, elektronike, psihodelije, minimalizma, ali ne donose vedriju i optimističniju verziju originala.
ocjena albuma [1-10]: 8

horvi // 20/08/2010