40 minuta opakog noisea, ha, tek samo uvjetno rečeno noisegazera kojeg je osmislio i dizajnirao DE nosi novu epsku priču koja ima dva kolosijeka. U principu, originalno je zamišljena i realizirana kao kozmičko putovanje u sudbinskoj svemirskoj letjelici čiji je zadatak, uzmimo poput Kubrikovog legendarnog SF filma "Odiseja u svemiru" istraživanje nepoznatih granica i prostora uz onu faktičku činjenicu da uvijek nešto krene naopačke.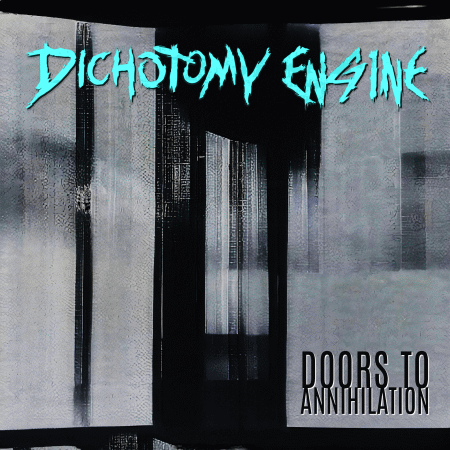 Jest, kreće se iznimno snažno i neukrotivo kroz "
The portal
" uvijen u početne ležerne repetativne šumove na koje se vrlo brzo nakaleme bučni glitchevi od kojih mogu popucati membrane zvučnika i tu se odmah čuje i osjeti prisustvo kozmičkog zvuka lukavo pretvarajući non-music u spretnu drone harmoniju s obiljem šarenih tonova. Aludirajući na avanturistički memento izgaranja, najdulja "
Pass through dimension
", ovaj puta od samo 8 minuta, naoko se ugodno stacionira poput turističke vožnje: isprva nema neke posebno naglašene varijacije laganim drone okoštavanjem u kome se čak mogu nazrijeti i neki glasovi. Ili barem nešto što asocira na njih. Tek se od sredine pojačavaju intervali prisutnosti svemirskih pejzaža s ritmičkim ambivalentnostima konvertiranja u harsh s grubom grmljavinom na samom kraju.
"
Abandon all hope
" je humanistička; osim odjeka nerazumljivog ljudskog glasa, ovo je kraći komad u kome se može dokučiti i gitarski noise u dugačkim disonantama, "
Proxima Centauri
" prouzrokuje prve veće nevolje prisustva nepoznatog zla i opasnosti bogato sceniranim pasažima dajući prostoru ("
The chamber
") mračan i neoptimističan akcent bez povratka što se nastavlja u još mučnijem "
No way out
", čvrstom i potmulom drone/doom/harsh komadu u kome na samoj završnici tišina djeluje sablasno i jezivo evidentno donoseći epilog da je ovo putovanje ustvari "
The tomb
", tj. grobnica bez spomenika i epitafa.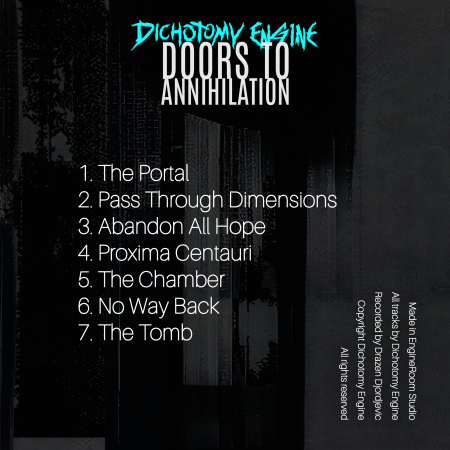 S druge strane, ova SF storija vuče i paralelne životne, ovozemaljske putešestvije 'vrata u uništenje' koja su već jako dugo otvorena za industrijsko-ekonomske poduhvate razvijene civilizacije što ne mari za ništa drugo osim za, zna se, profit, a tu se odmah jasno naziru i ti sofisticirani kompozitorski elementi ove uzbudljive fabule. Ponovno dramatičan i dinamičan u izvedbi, a i u scenariju, ovaj drugi ovogodišnji album još žustrije, pa i energičnije u nekim trenucima napada auditorij konzekventnim poveznicama ne rozgajući po nekom atmosferično bezazlenom teritoriju, čak niti ne ulazeći u emotivnost kao što to ponekad umije.
DE je pronašao svoj stil i izraz, otvorio je vlastiti široki horizont ideja u kojima se ne naziru obrisi stagniranja.
Naslovi: 1.The portal, 2.Pass through dimensions, 3.Abandon all hope, 4.Proxima Centauri, 5.The chamber, 6.No way back, 7.The tomb
ocjena albuma [1-10]: 8

horvi // 25/06/2022