U novom pohodu na osvajanje pop tržišta Brian Eno je udružio kompozitorske, sviračke i vokalne snage s Karl Hydeom, liderom pomalo zaboravljenog techno benda Underworld. Karl se ovdje nametnuo kao vodeći vokalist koji je glasovno veoma blizak Brian Enou, tj. onim njegovim rijetkim albumima na kome je maestro od produkcije ponekad znao zapjevati kroz guste naslage ambijentalne psihodelije i čudnovato sročenih tekstova koji su uvijek zapanjivali gomilom infantilnosti sa šmekom šepavo nejasne inteligencije genija u eksperimentima i hrabrim pionirskim poduhvatima studijske ekspresije. Osim toga, Karl ovdje svira gitaru, harmoniku, synth, piano i poneke udaraljke. Podsjetimo, još koncem 80-ih kada su Underworld startali s karijerom Karl je svirao gitaru, a bend je kombinirao rock, elektroniku, industrial i acid-house. Što se tiče Enoa, on je po običaju svestran instrumentalist (synth, bas gitara, programirani ritmovi, živi bubnjevi, vokali...), glazbena strana ovog albuma besprijekorno štima na visokoj art-rock razini s impozantnom sekcijom od nekih 15-ak gostujućih muzičara među kojima su Will Champion (elektronski bubnjevi), John Reynolds (obojica iz Coldplay) i stari ortak Andy Mackay (saksofon) iz vremena zajedništva Roxy Music. A to je, vjerujte, najbolji trenutak cijelog albuma bez obzira na razvikanost značaja Underworld i plitkosti Coldplay.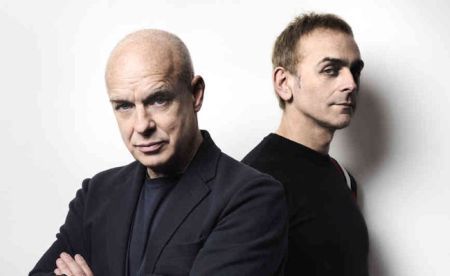 Brian Eno i Karl Hyde
Glazba fino šeta od uvodnog laganog gitarskog ambijenta "To us all", prožeta je atmosferično-prozračnim linijama synthova i klavijatura, a najveće težište usmjereno je na plesne ritmove pjesama "When I built this world" (dinamičan electro-funk/big-beat s efektima vokodera), "Who rings the bell", "Witness", "Strip it down", ponajbolje "The satellites" s fantastičnim Mackayovim 'fanfarastim' saksofonom, sve do zavodljivog rasplesanog singla "Daddy's car" koji je idealno odmjerena kombinacija Pet Shop Boys, Electronic i New Order, a i sam Hydeov vokal ima upravo ovdje tu flegmatično-patetičnu auru Neil Tenanta i Bernarda Sumnera. U svim tim pjesmama se neprestano isprepliću elementi art-rocka Roxy Music kojeg su drsko prisvojili Arcade Fire, Foals i još mnogi drugi u svojem retro izrazu što se tako zdušno smatra novom revolucijom indie-rocka. Sve je to Eno radio s Ferryijem u prvoj polovici 70-ih kada su s pravom smatrani avangardom rocka. Uostalom, pokazuje se koliko je Eno značajan inovator...
Znane minimalističke crte hipnotičkih repeticija Underworld primijećuju se u lepršavom popu "Man wakes up" i laganijoj "Mother of a dog" prošaranoj usnom harmonikom, psycho-atmosferalijama i melankoličnom surf gitarom, tako da je zvučno, tonski, aranžmanski i produkcijski album zaista pravi primjerak šminkerski rafinirane stilizacije rocka s pop i art aromama bez ikakvih eksperimenata i zadiranja u avangardne sklonosti. Ali onaj daleko slabiji dio jesu tekstovi za koje Eno nikad nije imao osobito poetsko nadahnuće; sjetite se samo neuspjele, pa i priglupe parodije "Seven deadly Fins" ('sedam smrtnih Finaca', oh kako glupa asocijacija na 'sedam smrtnih grijeha') ili neurotične "Third uncle" koju su namjerno izmasakrirali Bauhaus u žestokom minimalističkom post-punku.
On ovdje pokušava zajedno s Hydeom prikazati nešto veliko, monumentalno značajno o ljudskim životima, o stvarima koje nam se svima događaju, koje nas prate i neprestano nam se odbijaju o glavu. Oblikovane su kroz sjetne, tugaljive, sentimentalne, pa i znatiželjne teme, ali sve to nema potrebitu hrabrost i odvažnost poput njegovih starih kolega Ferryija, Bowiea i Byrnea koji su vrlo slične poetske opservacije redovito uspjevali provući kroz artistički rock kontekst s duhovitim, nadrealnim, mističnim, sofisticiranim ili bilo kakvim drugim sadržajem. Eno pokušava, ali mu ne ide potvrđujući onu staru frazu s konca 70-ih kada su neki njegovi jako dobri poznanici i suradnici tvrdili da je uvijek ostao hippy sklon filozofiranju, eksperimentiranju i stvaranju vlastitih teorija koje je malo tko uspio razumijeti.
Muzika i produkcija mu daleko bolje stoje i šteta je što na ovakvu jako dobru i primamljivu glazbu nikako nije mogao pronaći odgovarajuću kreativnu lirsku žicu. Niti on, a niti Hyde. Kakav god da jeste album u tom pogledu, uspjeh UK no.46 i USA no.194 je sasvim zadovoljavajući, ali pak s druge strane, kada se promotri kakve daleko lošije lirske strahote osvajaju čelne pozicije najprodavanijih, sve se čini da je za uobičajenu pop publiku i ovakva vrlo slaba poetika 'špansko selo'. Brian Eno ipak ništa nije naučio od poetike Bona i U2, a tolike godine radi s njima. Nažalost.
Naslovi: 1.To us all, 2.When I built this world, 3.Who rings the bell, 4.Witness, 5.Daddy's car, 6.Man wakes up, 7.Mother of a dog, 8.Strip it down, 9.The satellites
ocjena albuma [1-10]: 6

horvi // 11/07/2014