Napisati nešto novo o bendu koji je svoj prvi album objavio prije 43 godine, ima barem isto toliko studijskih albuma, i barem dvaput više live albuma, kompilacija i kojekakvih drugih izdanja i čiji su identiteti članova ostalih svih tih godina neotkriveni, bilo bi ravno čudu. Stoga ostavljam drugima da se bave usporedbama s prošlim albumima, dobrim ili lošim periodima u životu benda i krećem na ovaj konceptualni album.
Kao i svaki takav album, super ga je preslušati u komadu, jer jedino na taj način je moguće upiti cjelokupnu misao koja je treperila iznad glava benda pri snimanju i radu na albumu. Ako je i tada to moguće, s obzirom na spomenutu povijest benda. Uglavnom, ovaj se album bavi katastrofama vlakova s kraja 19og i početka 20og stoljeća, što je već s naslovnice vidljivo, dok nas na prvoj pjesmi "Horrors of the Night" dočekuje poznati zvuk vlaka u prolasku.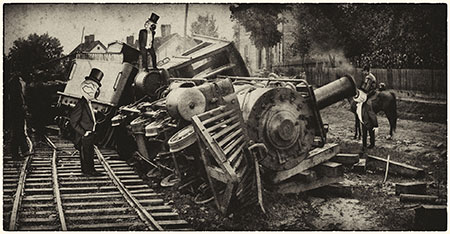 Pjesme kombiniraju recitirale novinskih izvješća, koja opisuju pokolj u tim katastrofalnim nesrećama sa željezničkim zvučnim efektima i zvukovima unesrećenih (jedikovanje ljudi, rika životinja, zvukovi slomljenih stakala...), što sve skupa čini jednu prilično šizofrenu i psihodeličnu zvučnu kulisu, no to je i očekivano s obzirom na zadanu temu.
Tako uz pomoć cirkusko/lunapark wurlitzer podloge "The Great Circus Train Wreck Of 1918" dočaravaju smrt 56-oro cirkuskih performera u nesreći u Illinoisu, dok u "Shroud Of Flames" još jasnije opisuju da su tijela poginulih bila prepoznatljiva samo po "fragments of their clothes, clinging to their limbless trunks like the scent around a rose" ili u "Killed at the Crossing" gdje imenuju žrtve, pa su tako "Mrs Folwell's brains Were scattered down the track For quite a horrid distance For each and all to see". Brrrrr!
I definitivno nije lako izdržati tih 47 minuta, pogotovo kad pred kraj onako tužno zariču slonovi ("Trains Vs Elephants"), no The Residents su nam, po tko zna kojiput otkrili jednu veliku istinu, a koju nikako ne volimo čuti. A to je da svaka borba za napretkom ima i svoju tamnu stranu, koja je najčešće i tamnija i krvavija, nego mi svi to želimo znati.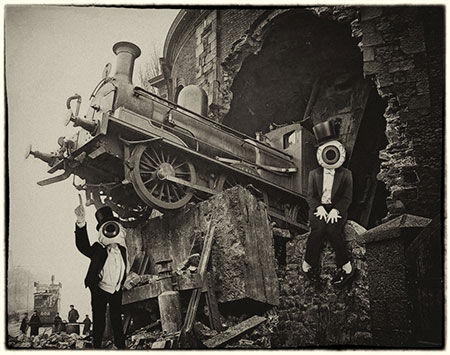 E sad, koliko je ovaj album bolji ili lošiji od prethodnih četrdeset i kusur, ostavit ću boljim poznavateljima opusa benda. A na završetku reći ću da ovaj album nije za one slabog želuca, a to se za malo koju ploču može reći.
ocjena albuma [1-10]: 7

pedja // 19/11/2017