O njima se zna sve, onoliko koliko dozvoljavaju. Uglavnom sakriveni iza maski i pseudonima mogu mijenjati članove i postave koliko god ih volja već više od 50 godina, a tako mogu unedogled. Pa ipak, dio te tajnosti je otkriven kada je 2017.
Charles Bobucku
dijagnosticiran rak na mozgu s kojim se borio vrlo kratko podljegavši mu 30. listopada 2018. u 73. godini života. On se ovim imenom služio kao solo autor realiziravši 15 albuma, a kao
Hardy Fox
(pravim imenom Hardy Winfred Fox, Jr.) 3 komada, neke od njih za austrijsku etiketu Klanggalerie iliti GG, pa je tom prilikom procurio podatak da je on jedan od glavnih kompozitora The Residents, te je bio osnivač benda napustivši ga 2016., a ujedno je bio i predsjednik etikete
The Cryptic Corporation
koja je praktički bila njihova domicilna izdavačka kuća.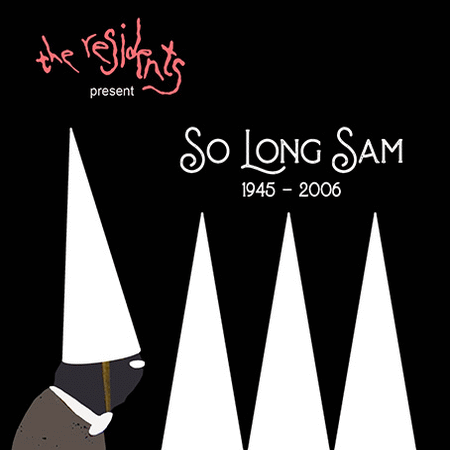 Među Stanovnike je ušao 1973. sa čuvenim debijem "
Meet the Residents
" koji se u prvom tiražu prodao u 40 komada i odonda je redovito bio jedan od njih svirajući klavijature, radeći ilustracije i obilno se baveći komponiranjem. Zadnji rad s njima bio mu je na albumu "
The Ghost of Hope
"
www.terapija.net/mjuzik.asp?ID=27213
(2017), a ovdje je izvučen jedan unikatni koncert održan u Berkeley Art Museum & Pacific Film Archive 4. lipnja 2010. kojeg je osmislio kao kabaretsku predstavu za jednog vokalistu i minijaturni gudački orkestar s bubnjem u kome je svirao klavir. Prvotno je od ovog materijala samo objavljen EP sa 4 pjesme za Robot Selling Device dok ostatak koncerta nikada do sada nije dat na raspolaganje.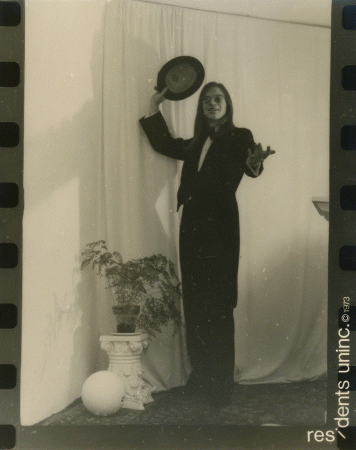 Hardy Fox tuxedoo eyeball © 1973
Riječ je o iščašenoj monodrami u kojoj Randy, dakako frontmen The Residents priča o svome djetinjstvu, lucidnom odrastanju u 50-im i 60-im godinama 20. stoljeća, o prvim nezdravim i bolesnim seksualnim iskustvima, pojavi društvene američke bolesti za materijalnim prestižem, problemima s romantikom i emocijama, pitanjima vezanim uz njegov libido, a kroz monologe se redaju uglavnom kraće varijacije popularnih pjesama tog razdoblja koje je upijao.
Ovaj album je podijeljen na dva CD-a: prvi je kompletan audio zapis koncerta, a drugi sadrži demo snimke koje su za njega pripremali na probama, te je kuriozitet veći time što je ovaj koncert odigran samo jednom u ovakvoj postavi, dok je drugi puta, godinu dana kasnije održan samo u klavirskom performensu. Koliko se može čuti, u pretrpanoj dvorani koncertni monolog počinje zbunjeno, naravno namjerno, s nelagodnim uvodnikom jer pretpostavka jest da nitko od prisutnih nije bio upućen u točan sastav, namjeru, namjenu i sadržaj. Stoga su prve tri teme "
September song
", "
Sixteen tons/ September song
" i "
Ode to Billie Joe
" odigrane s nesigurnošću, međutim, muzikanti su bili vraški potkovani u gudačkim frakcijama, a Randyjev vokal iz trenutka u naredni sve fleksibilnije zaorivši najšašavije i najotkačenije u valjda najbolesnijoj i najbizarnijoj obradi Cashove "
Ring of fire
" povukavši sav ostatak nastupa vodu na vlastiti mlin gdje se nižu nevjerojatni biseri komike, satire, ironije, cinizma i dobro znane ekscentričnosti po kojoj su jedinstveni.
Tako se dalje kotrljaju monthypytonovski masakri "
True love never runs smooth
" velikog hita Gene Pitneya iz 1962., a kad je najavio da je nova glazba otišla u pakao, iskasapljen je Ricky Martin "
Livin' la vida loca
", pa onda Bo Diddley "
Who do you love
", velebni "
Moon river
" Henry Mancinija za film "Breakfast at Tiffany" (u originalu je pjevala Audrey Hepburn, a pjesma osim što je dobila prestižnu nagradu za najbolju pjesmu i bila no.1, kao singl je prodana u tada nevjerojatna 2 milijuna primjeraka). Zatim slijede "
Walk on by
" Burt Bacharacha, hit koji je 1963. proslavio Dionne Warwick i onda spomenuta trka u materijalnom prestižu kada su se američki adolescenti nadmetali s odjećom, žvakama, frizurama, a naravno i time tko će imati bolji automobil, pokazivajući bogatstvo svojih roditelja i poziciju na društvenoj ljestvici, pa je u tu svrhu Steppenwolf dobio zasluženu porciju kurčenja "
Born to be wild
", ha-ha-ha. Niti Stonesi nisu pošteđeni s "
Paint it, black
", a svakako ovdje do potpunog izražaja dolazi sve ono što na albumima misterioznih Stanovnika mnogima nije bilo jasno u 70-im zašto su onoliko ismijavali Beatlese, Beach Boyse, Elvisa, James Browna i masu one-wonder hitmejkera, odgovor je potpun: pop obrazac od 3-4 minute je najprimitivniji oblik umjetničke komunikacije svedene na trivijalnost pučke zabave kojoj su neprekidno redali šamaranja s konstruktivnim kritičkim prikazima ljigavog show-biza.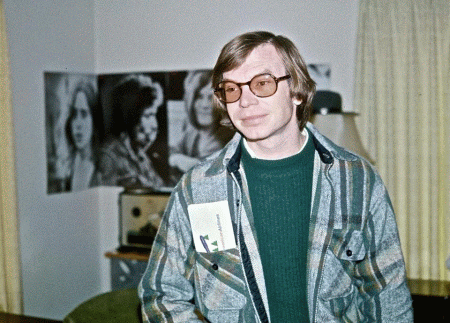 Hardy Fox 1974 © Reinhardt
Za sada još nije poznato ima li Hardy Fox sličnih neobjavljenih poduhvata, no kako je kod Stanovnika, koliko god da ih je preostalo od originalne postave teško uopće bilo što hipotetski nagađati s obzirom da su neprekidno aktivni već 5 desetljeća, ta mogućnost je posve otvorena. Ah, da, drugi CD s demo snimkama nimalo ne odskače od koncertnog senzibiliteta. Ludilo u ideji i izvedbi je besprijekorno, a naravno, malo koji radio urednik će se pokazati hrabrim da barem neke od ovih komercijalno prepoznatljivih pjesama uvrsti u prime-time program od recimo 6 do 18 h jer ovo nisu tamo neki Richard Cheese, 2 Cellos, Maksim Mrvica, Weird Al Yankovic, banalizirajmo dalje, Rokeri s Moravu, Vatrogasci i ostala comedy/ parody/ cover trupa koje ima u izobilju. Nitko od relevantno poznatih izvođača ne može poput Stanovnika odvaliti ovakvu zajebanciju od obrada, pa čak i sprdačinu na visokoj profesionalnoj umjetničkoj razini.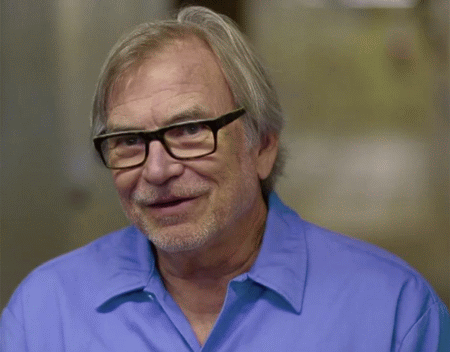 Hardy Fox © 2015
Naslovi CD1: 1.Introduction, 2.Sam opening monolog, 3.September song, 4.Sixteen tons/ September song, 5.Ode to Billie Joe, 6.South monolog, 7.Ring of fire, 8.Suette monolog, 9.True love never runs smooth, 10.Only love song monolog, 11.Livin' la vida loca, 12.Young stud monolog, 13.Who do you love, 14.Soft stuff monolog, 15.Moon river, 16.Walk on by, 17.Car monolog, 18.Born to be wild, 19.Drafted monolog, 20.Mack the knife, 21.Geenormous whanger monolog, 22.Kissed and captured monolog, 23.Paint it black, 24.Torture monolog, 25.The windmills of your mind, 26.Mac dies monolog, 27.Happy trails
Naslovi CD2: 1. September Song (Demo) 2. Sixteen Tons (Demo) 3. Ode To Billy Joe (Demo) 4. Ring Of Fire (Demo) 5. True Love Never Runs Smooth (Demo) 6. Livin' La Vida Loca (Demo) 7. Who Do You Love (Demo) 8. Moon River (Demo) 9. Walk On By (Demo) 10. Born To Be Wild (Demo) 11. Mack The Knife (Demo) 12. Paint It Black (Demo) 13. The Windmills Of Your Mind (Demo) 14. Happy Trails (Demo) 15. Mac Arthur Park (Demo)
ocjena albuma [1-10]: 8

horvi // 19/10/2022