Kod The Residents se izgleda događaju neke bitne unutarnje reforme. Otkako ih je 2011. napustio glavni vokalist i došao na zamjenu stanoviti Randy Rose kako stoji u službenom priopćenju, uspjeli su realizirati samo jedan, iznenađujuće kreativan album s njime ("Choochie Brake", 2012), dok je "Night Train To Nowhere!" bio eksperimentalni drone/ spoken-word rad na kome su sakupljene snimke starog pjevača koji priča bizarne humoreske i dogodovštine o automehaničaru, zlatnom retriveru, lezbijkama, prodavačima pizze, biznismenima, fanovima Leonard Cohena i različitim likovima koje je sretao po peronima i hodnicima željezničkih stanica i po vagonima kada je išao u posjet svojoj bolesnoj majci. U međuvremenu su objavili nekoliko obljetničkih kompilacija povodom 40 godina rada i po svemu sudeći, odlučili nastavili stvarati samo instrumentalne radove. Da li nisu zadovoljni s novim vokalistom ili je on samo bio nužna zamjena može se tek nagađati, no na ovome albumu vokali su vrlo rijetki, a zbog uobičajene nedostupnosti detaljnijih informacija i te vokale, dakako elektronski modulirane mogao je izvesti bilo tko od kurentnog trojca.
Fokusirani samo na instrumentalizaciju, uglavnom elektronsku s ponešto analognih zvukova (ksilofon, violina, piano, harfa, saksofon), satkali su album koji ima soundtrack finese mada nije specijalno urađen po nikakvom scenariju, naputku, sinopsisu ili nekom sličnom namjenskom predlošku. Stiče se dojam da su to samo, a i uglavnom Chuckove i Bobove ideje koje su im se motale tko zna koliko dugo po glavi, pa kad već nemaju nikakvu konkretnu priču, poslužile su im za pletenje materijala koji se razvukao na 52 minute.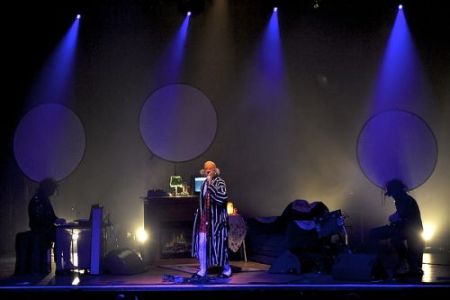 Residents live
Ovdje ima 11 relativno klasičnih komada u, hm, pop formatu, odnosno tajmingu do 5 minuta i samo jedna, uvodna "Mush-room" koja iznosi nešto manje od 11 minuta. Upravo je ta naslovna skladba i okosnica čitavog albuma: osim što služi i kao stanoviti 'prolog', u njoj je gotovo sabijen, iliti razvučen stilski opseg kojeg su razrađivali na ostatku materijala. Osjeća se u skladbi elemenata Ennio Morriconea, Angelo Badalamentija i nekih sličnih filmskih kompozitora koji su na specifičan ambijentalan način dekorirali svoje radove za celuloidne podloge. Prisutne su noćne scene, kreket žaba, zrikavci, atmosfera šume, udaljeni krikovi, te i vokali, jedni od vrlo rijetkih na cijelom albumu. Kroz kompleksan aranžman nižu valove skokova s percepcije na percepciju - od psihodelije, plesnijih tempova, synth zvuka 80-ih, drone i tribal sekvenci, ethno/world-music motiva... Jedna od najkraćih "Musical chairs in 3/4" dođe kao revival inteligentnijeg synth-popa 80-ih nalik na Ryuichia Sakamota i David Sylviana s jezovitim udaraljkama i gotovo zagrobnim orkestralnim sintetičkim harmama, a onda redaju različite varijacije elektronike izmješane s istočnjačkom pentatonikom ("Stick and logs" uz potporu citre i harfe), različitim ritmičkim improvizacijama i jednostavnijim melodijama u kojima zapetljani aranžmani s nekonvencionalnim koreografijama često izbacuju slušatelja izvan središta zbivanja, no uostalom, njihova glazba oduvijek je imala takav cilj. Pronađe se karnevalskih komada ("Yellow marrow"), posezanja u menuet ("When the wealthy were wise"), špageti-western ambijenata ("Song for grace"), a i d'n'b tempova izmješanih s klasičnom glazbom ("Between a rock and a hard space"), kao i konceptualnih laid-back predložaka za nešto vizualno što bi se u njihovom slučaju moralo odvijati na pozornici (završne "The birth of mush room", uznemirujuće zbunjujuća "The dream I almost remember" sa zujanjem muhe i elektronski orkestrirana "Only room for one more mush").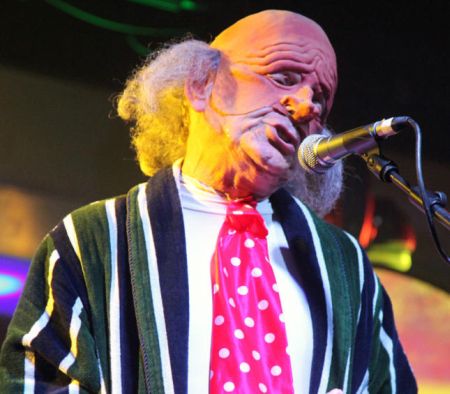 Residents live
U kompletu se može reći da je glazba donekle komercijalna i groteskno 'slatka' u onoj mjeri kada uživate u noćnoj mori s laganijim horror-trip ugođajem, ali definitivno nije 'pop'. Po omotnici, a i naslovima kompozicija očita je sugestija radnje stacionirana na gljive, odnosno gljivu (nigdje se ne spominje množina), međutim koja je točna namjena i poanta albuma s obzirom na redovito nepredvidivi kreativni pristup benda teško je zaključiti. Čak i ono što nam se kod njih čini evidentnim potezom često pada u vodu kada fabulu uprizore uživo kroz svoj glazbeno-vizualni igrokaz.
Naslovi: 1.Mush-room, 2.Musical chairs in 3/4, 3.Stick and logs, 4.Dung beetles at work, 5.Broken brake, 6.Yellow marrow, 7.When the wealthy were wise, 8.Song for grace, 9.Between a rock and a hard space, 10.The birth of mush room, 11.The dream I almost remember, 12.Only room for one more mush
ocjena albuma [1-10]: 6

horvi // 15/02/2014