Svi su se zaželjeli žive svirke, koncerata i turneja. Pogotovo veliki bendovi i izvođači kojima su turneje važnija žetva od utrška na studijskim albumima. Paradise Lost su jedan od njih, te se pripremajući za britansku promociju zadnjeg albuma "
Obsidian
" objavljenom u prvom valu pandemije 2020., a turneja je zakazana za veljaču 2022. s Moonspell, odlučili su pokazati kako bi to trebalo zvučati.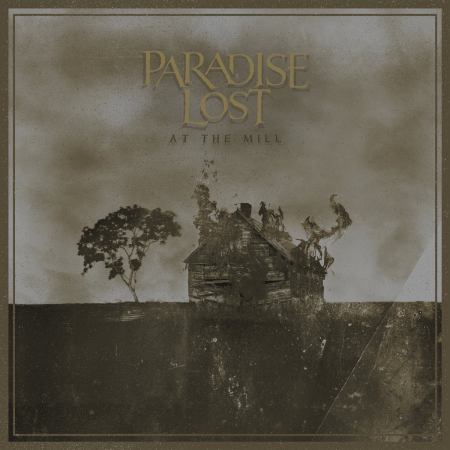 Otišli su u noćni klub The Mill u Bradfordu u blizini svojeg Halifaxa i snimili živi album, dakako bez publike u trajanju od nepunih 75 minuta, protežirajući elem, otprilike ono što bi se trebalo čuti na zacrtanoj turneji. Ako ste ih gledali uživo, onda znate što valja očekivati, međutim, ovdje se sad nameću one stare uobičajene boljke takozvane promocije. Ne dobiva se pregled spomenutog albuma jer su na set listi samo 3 pjesme - "
Fall from grace
", "
Ghosts
" i "
Darker thoughts
" porazbacane po redoslijedu, te ako je suditi po ovome albumu, ta promocija bi opet mogla biti 'predstaviti ćemo vam novi album, evo jedne pjesme s njega', a potom šta drugo nego - best of.
Paradise Lost at the Mill © 2021
Tja. Šesnaest poredanih pjesama predstavlja presjek njihove bogate 30-godišnje karijere miješanjem teže, a i one pristupačnije strane pazeći da se sve skupa uklapaju u katalog od recimo ranih komada "
Gothic
", "
Widow
", "
Embers fire
", EP-ija "
As I die
" i pjesme "
Shadowkings
" s kultnog albuma "Draconian Times" (1995) preko onog "
One Second
" koji je 1997. mnoge fanove razjario i naljutio jer su otišli u elektroniku i synthove, no ovdje je zvuk oblikovan u klasičnom gothic-metal stilu, a ostatak te faze je samo prisutan u harmonijama i klavirskim staccatima, te pjesmom "
So much is lost
" s narednog, još kontraverznijeg LP-ija "Host" (1999).
Teži zvuci su "
The enemy
", "
Faith divides us - death unites us
", "
Requiem
", odnosno onaj dio faze kada su ostavili synthove i elektroniku protežirajući od albuma do albuma po jednu izabranu pjesmu, dakako uspješnicu bezeciranu za koncertni delirij. Sva ta različita lica benda od gothica, preko death-doom i rock žanrova jesu ukalupljena i aranžirana tako da nemaju nikakvih oscilacija ostavljajući dojam da su sve pjesme mahom iz otprilike istog perioda jer oni su praktički samo mijenjali zvuk, a ne stil. Pogrešno bi bilo očekivati neke iznenadne skokove na ovakvoj set listi, no bez publike i onog feedbacka, huka, žara, aplauza i ovacija ovo je jednostavno rečeno vrlo dosadno i zamorno za slušanje u kompletu bez obzira na manje-više best-of karakter.
Naslovi: 1.Widow, 2.Fall from grace, 3.Blood and chaos, 4.Faith divides us - death unites us, 5.Gothic, 6.Shadowkings, 7.One second, 8.Ghosts, 9.The enemy, 10.As I die, 11.Requiem, 12.No hope in sight, 13.Embers fire, 14.Beneath broken earth, 15.So much is lost, 16.Darker thoughts
ocjena albuma [1-10]: 8

horvi // 15/08/2021