Nastavak nove kompilacijske sage o ex-Yu dark/gothic, electro, industrial, eksperimental i inih pripadajućih uglavnom minimalističkih žanrova kompilator Mihajlo je sastavio od 17 izvođača iz Srbije, te od 3 iz Hrvatske. Premda kompilacija ovaj puta nije toliko raznovrsna i bogata kao što je to bio slučaj s prethodnom "D:S vol.3" u trajanju od gotovo 100 minuta, ovdje se na (samo) 80 minuta jasno naziru svi tragovi skrivenog mračnjaštva koji malo-pomalo dolaze na vidjelo. Bio bih prestrog za izjavu da je početni dio kompilacije poprilično linearan i ne nudi svoja određena zadovoljstva, ali drugi dio sadrži nekoliko specijalnih poslastica. Prije svega to je TAMERLAN (www.myspace.com/fullmoonfestival) iz Beograda u fantastičnom instrumentalu "Like Gods at dawn" gdje se provlači zvuk sjajno ugođene ambijentalne etno world-music neo-folk akustične gitare u spregi sa električnom gitarom (ponajbolji dio kompilacije), zatim COSMOMOMACHIA (www.myspace.com/jasik7), također iz Beograda u veoma kreativnom eksperimentalno-ambijentalnom broju "Rotorion Maudit", pa također beogradski dotjerani minimalistički elektronski eksperimental SEANCE 13 u instrumentalu "Temple ov chaos" i emotivna elektronska horror skladba "Duboko" GHOST DESIGN (www.myspace.com/virusband12348) iz Beograda.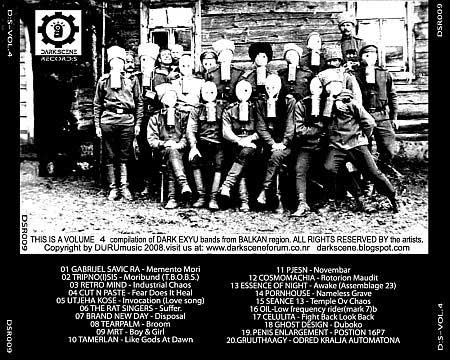 Specifičan dio onog pravog izvornog electro industriala je PORNHOUSE (www.myspace.com/pornhouse018) iz Niša koji imaju djelomično određene crte Throbbing Gristle, a i novovjekovnih majstora electro-noisea poput francuskih Nocturne ili PPF. Izuzetak od čitavog materijala čini akustični gitarski kantautor PJESN (www.myspace.com/pjesn) iz Majdanpeka s kompozicijom "Novembar" u stilu zadarskog Čopora, solidan Caveovski gothic rock band CELULITA iz Novog Sada (pjesma "Fight back look back") i posve drugačiji stil GRUUTHAAGY (www.myspace.com/gruuthaagy) iz Požege koji u završnoj kompoziciji "Odred kralja Automatona" koristi vox-extended tehniku za stvaranje plesnog noise ambijenta. Kod većine ostalih izvođača koji uglavnom svi odreda koriste engleski jezik primjetna je tipična boljka furke za što boljim izgovorom što im odnosi dobar dio samog kreativnog sadržaja. Od prvog dijela kompilacije vrijedi spomenuti TRIPNO(I)SIS (www.myspace.com/johnnytripnosis) iz Pančeva u stilu koji na određeni način povezuje reference electro industriala Nine Inch Nails s Einsturzende Neubauten i ranim Caveovim The Bad Seeds, zatim najenergičnije skladbe cijele kompilacije "Industrial chaos" RETRO MIND iz Kruševca i "Fear does it heal" metal-industrial orijentiranih CUT'N'PASTE (www.myspace.com/cutnpasteband) iz Petrovaradina, te meni posve nepoznatih gothic rockera UTJEHA KOSE (www.myspace.com/utjehakose) iz Donje Brele (30-tak km južnije od Splita) koji se očigledno furaju na Bauhaus i Peter Murphya samo im industrial ritam mašina nikako dobro ne stoji spram sasvim solidnog vokala i pjesme "Invocation (love song)". Uz nekolicinu ispodprosječnih izvođača na kompilaciji su prisutni još vrlo dobri MRT i TEARPALM.
Na kraju valja istaknuti da su sve kompozicije odlično snimljene, te treba obratiti pažnju na poleđinu omota koja sadrži tko zna koliko staru fotografiju neke vojničke čete ispred brvnare kada su se soldati možda nakratko pripremili za maškare u vrijeme 1. svjetskog rata (a možda još i prije).
Dosta tužna, mračna i neoptimistična kompilacija koja ništa pozitivno ne govori o današnjici.
ocjena albuma [1-10]: 7

horvi // 25/01/2009